Honour Dr Martin Luther King Jr with this embroidery project
Published on

20 May 2021
By

Shikira Alleyne
2

min read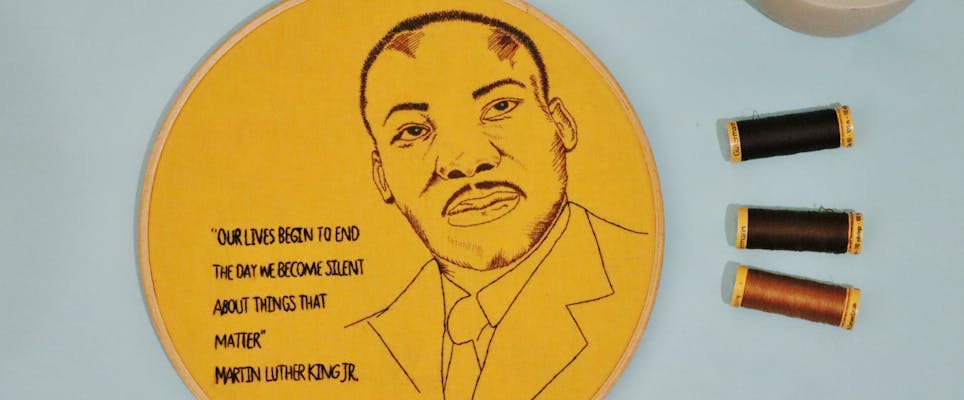 Stitch up a beautiful Dr Martin Luther King Jr is an inspiration to many, why not celebrate this historical leader's life and his powerful message, with a beautiful embroidered portrait? 
I've been wanting to create a sketchy embroidery piece and figured this was the perfect opportunity to get drawing and try out a new technique, as well as remembering MLKs life and work. Let's get stitching!
This embroidery project is really intuitive, it's all about observing and placing the right amount of stitches in different places to achieve a tonal difference to give the piece dimension. I'll be working in a sort of clockwise motion, working my way around the face. But of course, you don't have to work like this if you feel like you have a good flow with your stitches, keep going until you achieve the desired effect!
I personally found it easier to keep the hoop the right way up when working, just like if you were drawing or painting! You can always move your hoop to an arms length so you can see it from a distance and decide if an area needs more or less shading to keep everything in perspective.
Materials
in colours 1712 (Dark brown), 1523 (Chestnut Brown), 1335 (Dark tan)

in colour 310 (black)

in Mustard colour

Carbon Paper for transferring the image

Pencil

Wooden magnetic wall hanging parts

Cutting mat

Rotary cutter

Pattern Master Ruler
Need a Stitch Guide?
If you need more guidance on the stitches featured in this tutorial, be sure to watch this brilliant video which explains all the beginners embroidery stitches.
Let's Get Sitching!
Print out the drawing template and transfer this image onto the fabric using carbon paper. Its really important you trace all the shaded areas by drawing in clear hatching lines because these will become nice clean stitches. For this reason you should keep your marks very clean and clear so they can be nicely covered with stitches. Attach your embroidery hoop making sure the fabric is nice and taut like a drum.
Start off with the hair first by threading your needle with colour cotton 1712 and using small stitches which cross each other in a random way. Start working on filling the hair area. Once you've done a layer of random crossed stitches add another layer on top.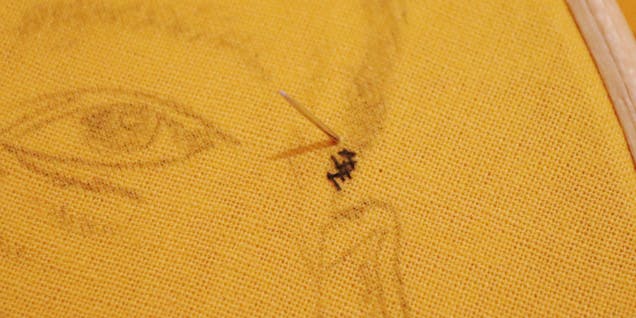 As you can see here, I've been building up my stitches randomly crossing over until the area has been filled. I then move along in the same manner building layers.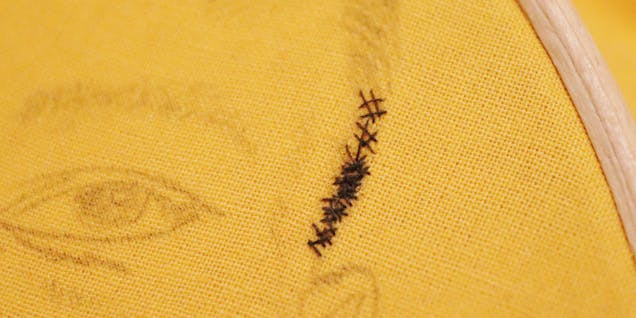 Keep adding layers of this colour until you are happy with the shade of the hair. Then change the colour thread to cotton colour 1523 doing the same type of stitches. This layer is to make the hair less flat in colour, adding another dimension.  This is also a great time to look at your work from a distance.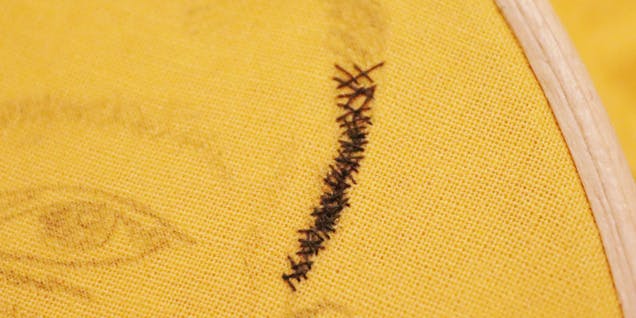 Pro Tip
I would recommend you keep viewing your work at various points in working this pattern. What I found really helped was treating it like a painting by constantly referencing the original drawing. This is to see where needs extra stitches for depth. If you would like it to be a deeper shade you can just add another layer or add stitches to areas which need filling more.
Once the hair is completed change the thread colour to 1523. We are now stitching the shading around the forehead down to the ear. Follow the lines of shading in the original drawing and add full length stitches for each line that represents the hatching.
Once you've stitch in one direction stitch full length stitches in the other direction so the overall affect gives the impression of cross hatching. You can also add shading by stitching in between your already stitched lines to create a depth of colour.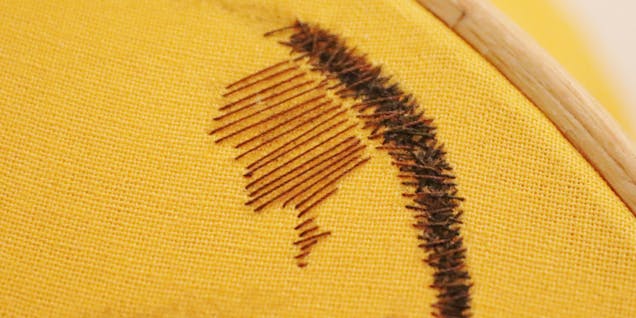 Pro Tip
You should really let you eye guide you on how much stitches to add for this area. Keep checking your work from a distance to ensure you are achieving good definition. 
Here you see I am adding stitches in between stitches I've already created. This was mentioned in the tip above and is another way to add depth.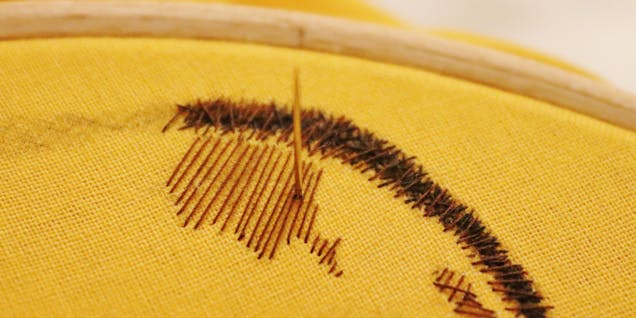 This is the perfect example of what I mean by cross hatching your stitches.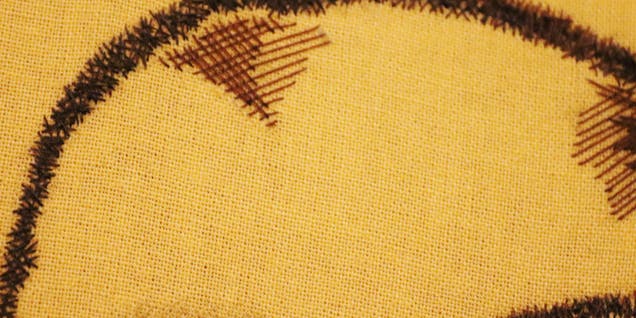 With the same colour thread (1523) move onto the ears. Using a split stitch follow the outline of the ear. At this point you should also do small stitches for any lines which make up shading. For example, the top of the ear lobe were you can use a type of satin stitch to fill.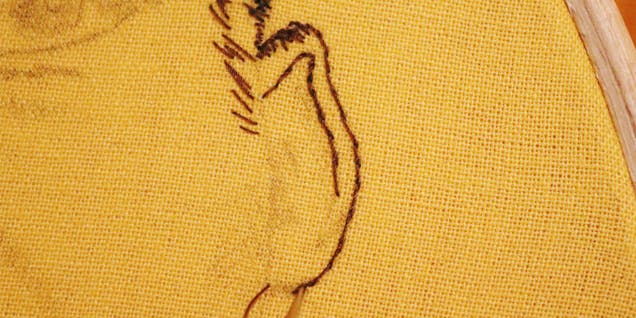 Pro Tip
Remember, keep checking the original drawing for guidance and feel for were you think could do with an extra stitch or two (or three).
Once the ear is complete continue with the same colour using a split stitch moving down along the outline of the face. Take it a far as you'd like along this line. At some points I went back over to fill in shaded areas along the jaw line with full length stitches.
After doing one layer, I referenced the drawing and felt that it needed more depth so added more stitches in between which are shorter (see next picture). Moving down along the jaw line to chin I made my stitches slanted to make them cross over like hatching. I then thought it could do with a slight gradient in colour so used thread colour 1335 and stitched into this area again layering over the top.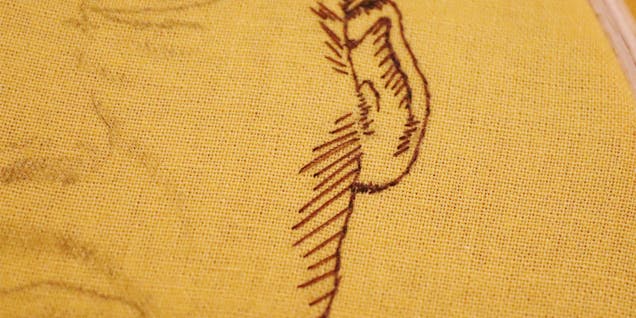 This is an example of what I was meaning in the previous step. Adding shorter stitches in between my long stitches.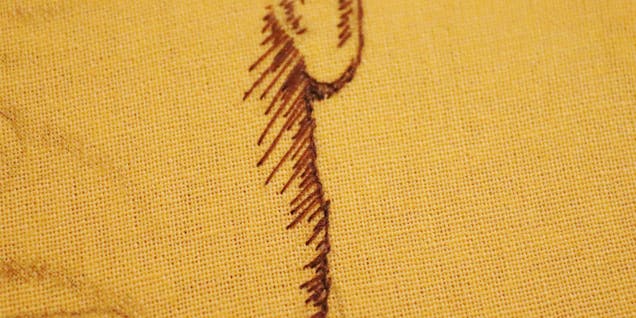 Again, as mentioned in step 9, here you see the split stitch following along the jaw line and the start of adding the definition to the chin.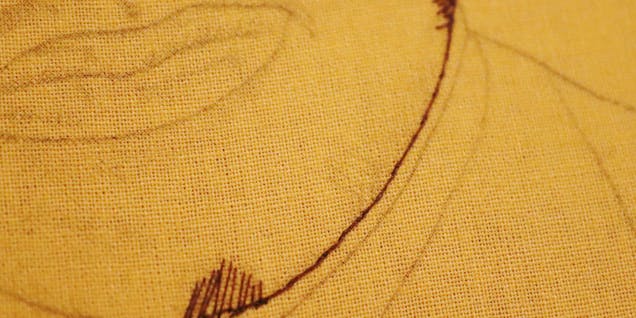 As we continue to build up definition around that jaw line you can see there is a mix of cross hatching stitches along with long and short stitches. Here you can also see how the addition of thread colour 1335 (mentioned in step 9) creates this feather like effect because it is so light in colour.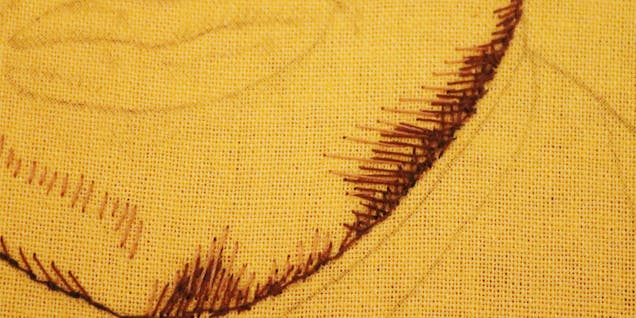 This is just the continuation of that jaw line on the other side. Again, to get that definition in shade, we add hatching stitches which appear close together and then there are some stitches which are a bit more further apart.
Using that thread colour 1335 I've also added some stitch lines under the lip.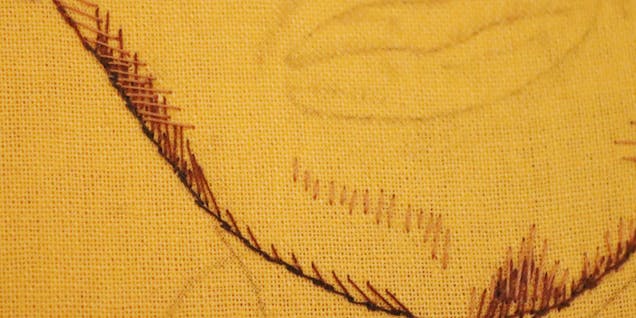 Moving onto the nose area – I'm using thread colour 1712 to create satin stitches which are both wide and narrow in width. I guess this could be replaced with a split stitch for outlines but I used satin stitches to give more depth to the lines. I also went in with lighter shade cotton 1335 by stitching into the darke satin stitches.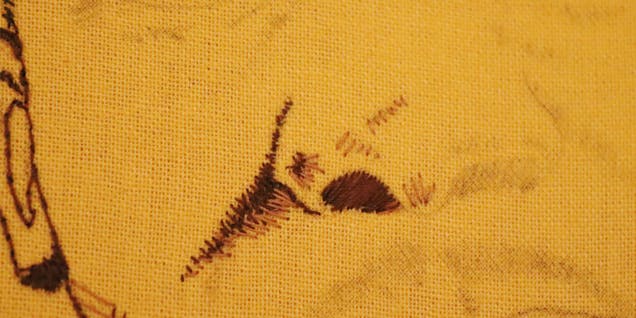 Pro Tip
I would use the lighter thread for faint shaded areas and darker thread for dark areas. Hopefully you can find a flow for deciding which colour to go with.
Once I completed the nose area I started on the eye. I used split stitches just to get the outline of the eye. Some stitch lines are doubled by stitching a two lines right up against each other to create a thick line. The inside of the eye was created using a satin stitch.
Each time, I am referencing the original drawing to check for shading to help to decide which colour thread to use. I also moved onto the eyebrow which is formed in the same way as the hair using random sized seed like stitches and layering between colours  1712 and 1523. The next few steps will fully explain how to stitch the eye.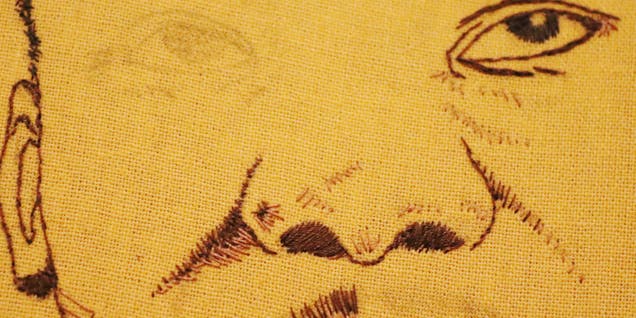 Use thread colour 1523 for the eye and a split stitch for the outline. Stitch two lines side by side to create thicker lines. Stitch tiny dash lines to begin the shading around the nose. Keep referencing the drawing to check for your shaded areas. I filled in the areas which are dark in the drawing using this same colour.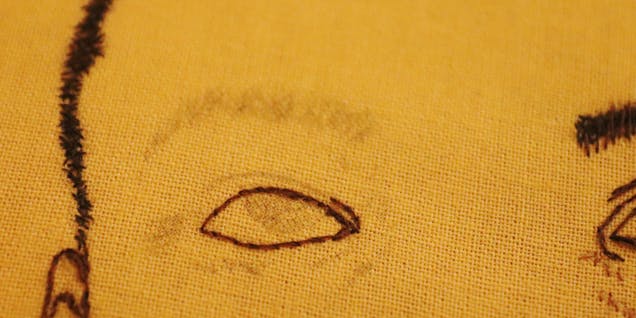 This demonstrates the tiny stitches which begin that shading under the eye.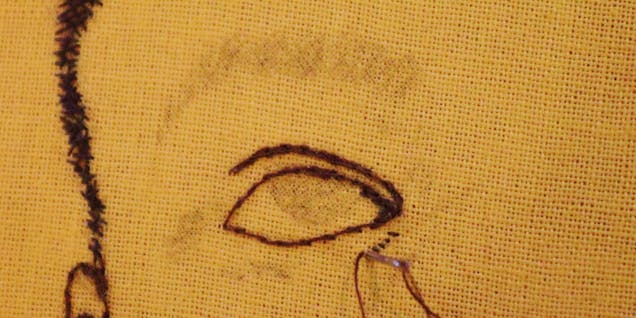 Keep focusing on the eye area with this stitches as mentioned in the previous step 16. Notice these stitches are a bit further apart compared to step 17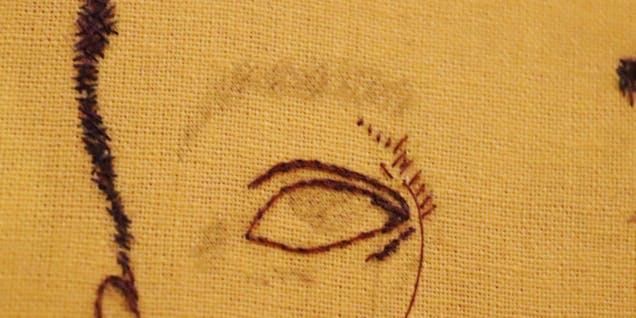 Use thread colour 1713 to fill in the iris of the eye. Continue with the same colour and for the brows, stitch seed stitches which will turn into cross stitches when layering your second colour 1523. I used more of the darker 1713 thread and would add a little of the 1523 just to soften the overall colour of the brows.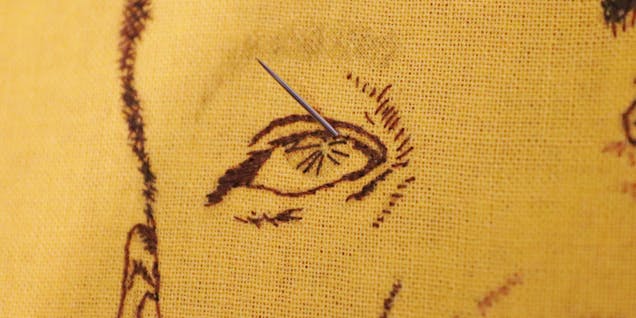 Just to show you, this is what your seed stitches should look like. From here you will then keep layering the same stitches on top of each other till you achieve the desired depth of colour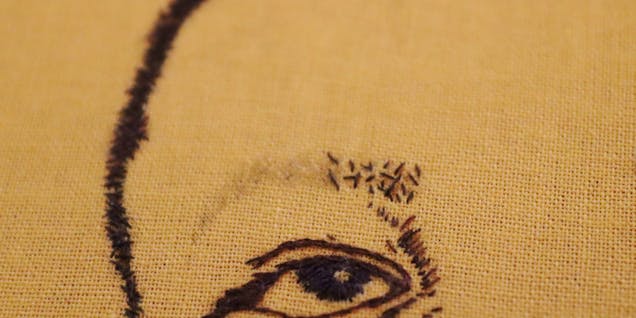 Here you see the completed eye and brow achieved by building up those seed stitches.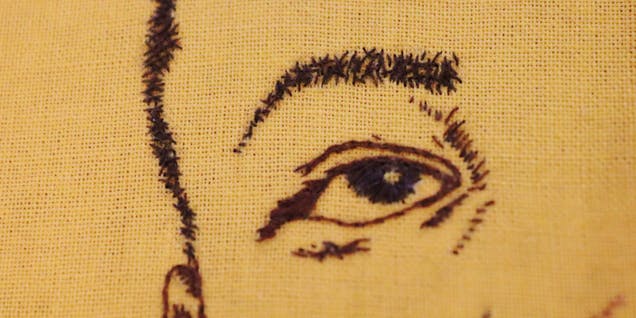 For the moustache, I'm using colour 1523 and a very loose satin stitch. I also layered a little bit of colour 1335 were the two sides of the moustache meets.
Using thread colour 1523, I did a split stitch for the outline of the lips then stitched very short stitches to create the shading on the lips with the same colour. I also went in with the darker brown 1712 just to add depth in the middle of the lip line.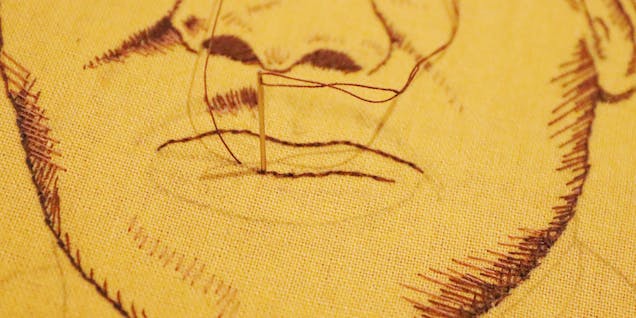 Here you see the almost completed moustache and lips using the methods from previous step.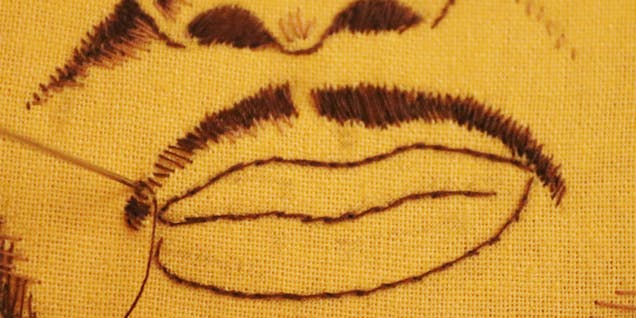 Split stitch all of the suit outline using 1 strand of dmc 310. Do the same for the quote but instead use 2 strands of thread. For the lettering, I use more short split stitches for areas which are curved and longer stitches for areas which are straight.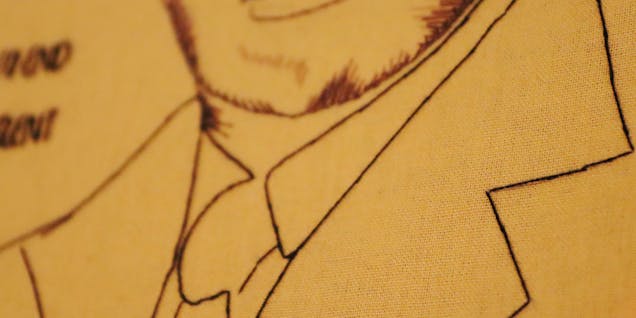 This is just to demonstrate my small split stiches for curved letters.
And here is the completed text.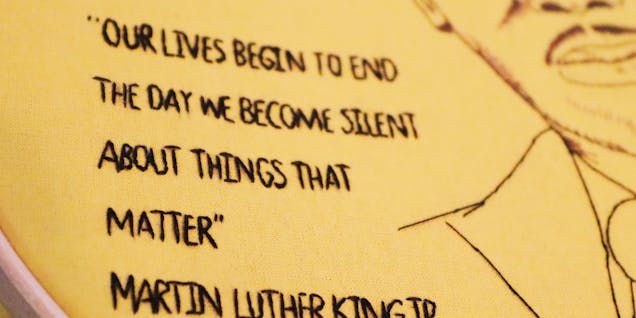 To finish use thread colour 1523 just to add the shading to the neck area using long and short stitches.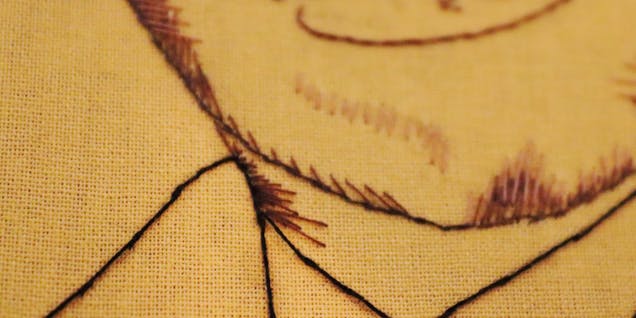 To complete the design I decided to use one of these magnetic wall hanging clips, so I squared off all the edges to my desired size and attached the wooden clips to each end.
Alternatively you can finish the hoop by flipping your work to the wrong side and cut the excess fabric away leaving about 1 inch excess fabric from the embroidery hoop. Stitch a running stitch all the way around the remaining fabric. With the excess thread pull through the thread making the fabric gather into the middle of the back of your hoop. Knot you thread and your hoop is ready to be hung up for all eyes to see.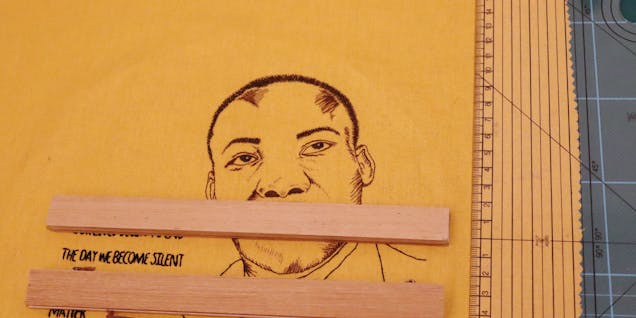 This is the completed wall hanging. Alternatively you can keep it in the hoop as pictured in the very first image on this tutorial.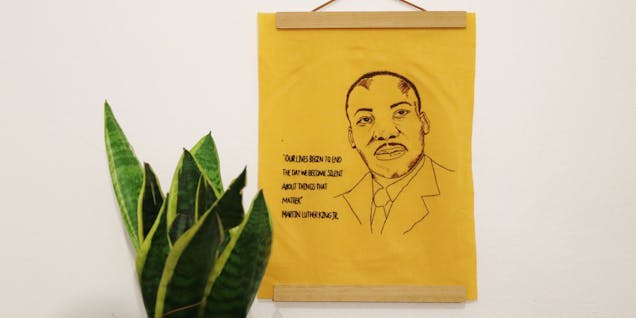 Want More Inspiration?
For more iconic embroidery portraits, take a look at the Black Change Makers Collection which features embroidery patterns of Colin Kaepernick and Storzy to name a few.