Ultimate guide to knitting and crocheting for babies + 44 free baby patterns!
Published on

23 April 2019
3

min read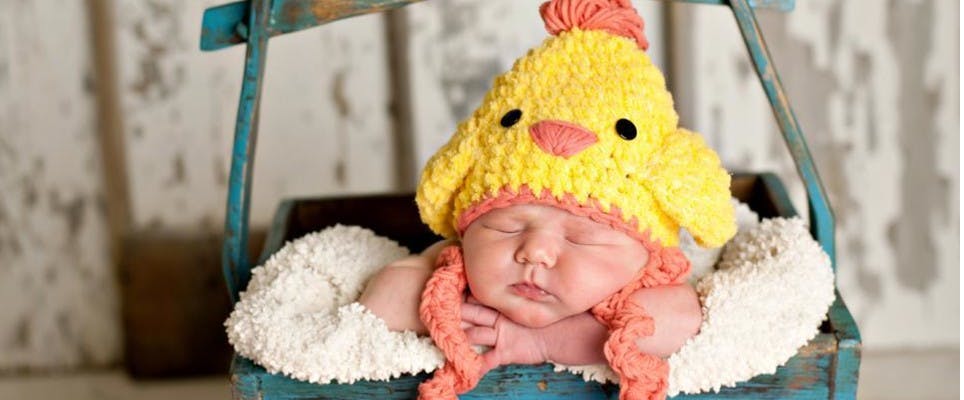 Snuggly crochet blankets, adorable knitted booties and cute-as-a-button knitted baby hats, oh baby, there's so many cutie pie garments to make! For us makers, new little arrivals mean one thing - an excuse to knit and crochet fabulous baby outfits and teensy-weensy adorable baby accessories! Try a crochet baby blanket for a totally perfect and precious gift for a new parent, or something to keep their little tootsies toasty with cute little knit or crochet baby booties. Oh boy, oh girl! There's so many free baby patterns to choose from - you're in for a treat.
Free crochet baby blanket patterns
Master how to crochet a granny square and you'll be able to crochet an easy baby blanket in the time it takes to sing 'twinkle twinkle little star' backwards. Baby blankets, are a great way to test out your new skills - intarsia, star-shaped crochet or fabulous striped crochet garments, put those new stitch techniques into practice!
Easy crochet baby blankets
We love keeping things simple. Tea, cake, yarn, and a pattern beginners through to advanced crocheters will love to make. Easy crochet baby blankets coming your way!
Crochet baby hats
A crocheted baby hat is possibly the sweetest thing you could make with a skein of yarn and your trusty crochet hook. Here are six of our favourites for you to crochet!
More crochet baby patterns
If you're anything like us, then you simply can't get crochet baby patterns in your life! Crochet these sweet patterns for your children, grandchildren, friends, or for charity. There's always an excuse to crochet something perfect and petit!
Knitted baby blanket patterns
Knitting a baby blanket when there's a bundle of joy on their way, makes a sweet gift for a new parent and a warm, comforter for the new baby. If you know how to cast on, knit stitch and cast off, you can knit an easy baby blanket - just like that! If you want to show off more advanced techniques, try knitting an afghan baby blanket, a colour striped blanket or something a little bit different, like a delicate lace blanket shawl, perfect for baby's first birthday, christening or name giving!
Easy knit baby blankets
Let's keep things easy and fun. These sweet knit baby blankets are all suitable for beginners so everyone can knit something special for the babies in their lives.
Knitted baby hats
Knitters rejoice at this gorgeous list of knitted baby hats with that will inspire you to knit and purl all day long. Your baby will stay warm and toasty in these lovely knits!
More knitted baby patterns
From dresses to jumpers, socks to jackets, these knitting baby patterns will keep your needles moving and your heart melting. Adorable little outfits coming your way!
Baby booties crochet & knitting patterns
Keep little toes toasty with these knitting and crochet baby booties! Pick up your hook or needles, dive into your stash, and make, make, make!
Now that you've got your patterns sorted, how are you going to pick the yarn? Don't fret - we can help you choose! Your baby will be dressed to impress in no time!