Your ultimate guide to knitting and crocheting socks
Published on

4 October 2019
By

Merion
5

min read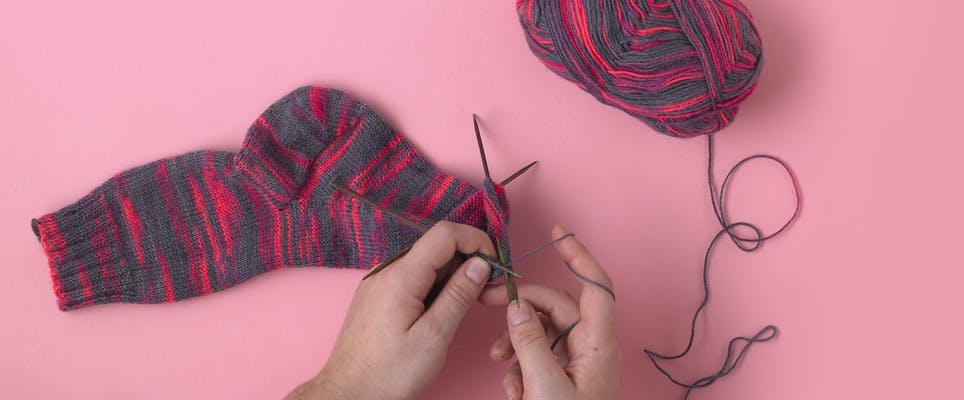 Socks, socks, socks! Stripey socks, chunky socks, knitted socks, crocheted socks, boot socks, yoga socks - we've got them all! We've knitted socks since the dawn of time, and now we're thrilled that crocheted socks are catching up, with fabulous indie designers jumping on the sock wagon to show that socks can be crocheted too.
Handmade socks are the ultimate gift of love, and a little project bag with socks inside makes a fabulous on-the-go WIP. Great for planes, trains and waiting rooms, you can take your socks wherever you go - and because you don't need that much yarn, you can splurge on exciting sock yarns in all kinds of colours and try out techniques you haven't tried before - there are more patterns in the yarn cosmos than you could ever make - it's a never-ending world of sock joy!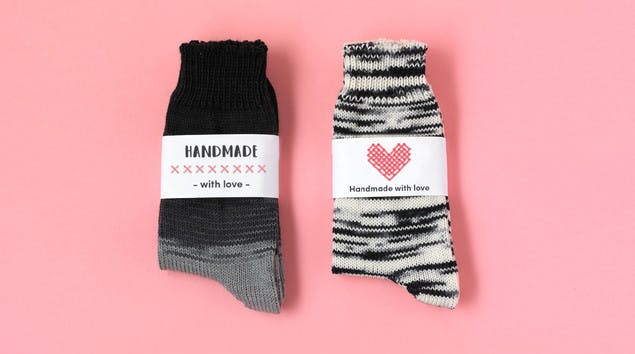 Make it personal!
When you're gifting your hand crafted pair of socks, make it extra special with our FREE printable sock wraps! Just download your wraps from the buttons below, and print, then cut into strips. Colour in or embroider and wrap around the socks, securing with tape - and yippee, your handmade socks are ready to give!
How to knit socks
There are lots of different ways to knit socks - top down, toe up, two-at-a-time - it can feel overwhelming at the start, but the beauty of learning how to knit socks is that there is always something new to learn, even for seasoned sock knitters! For beginners, it is good to start with a traditional top down (cuff down) sock, and learn how to work in the round, either using double pointed needles or circular needles with the magic loop technique.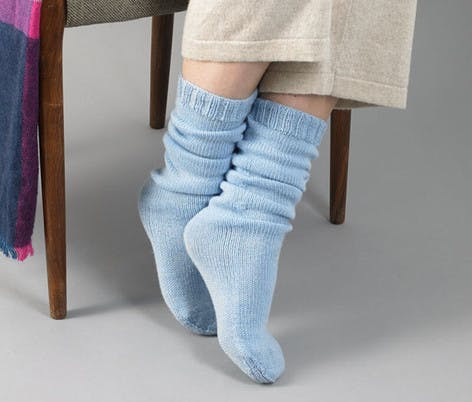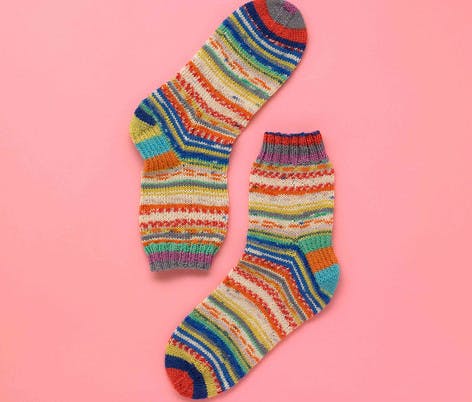 Our favourite knitted sock patterns
How to crochet socks
Crochet socks are fabulous! Gone are the days when socks were only knitted. There are lots of fabulous crocheted sock patterns to explore, using just the same heady selection of fabulous sock yarn.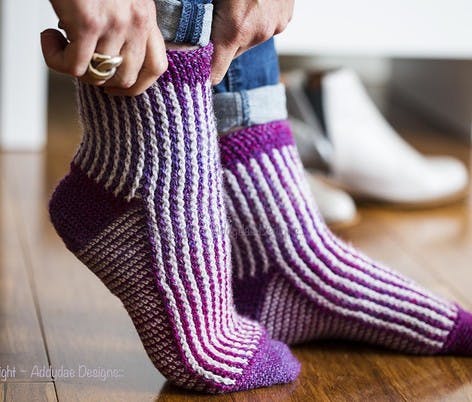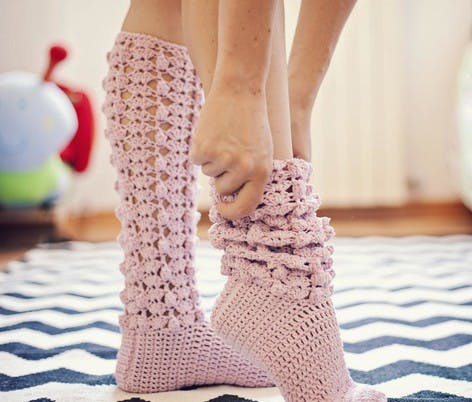 Our favourite crochet sock patterns
Free sock knitting & crochet patterns
Do you need to brighten up your sock collection? It's high time you added some new friends to your sock collection, and what better way to do that, than with a free pattern!
Tools you need for socks
DPNs or magic loop? Sock knitting needles are very personal. Some people love double pointed needles, and other people swear by circulars and the magic loop technique for knitted socks. The best advice is to try them and discover what suits your hands best - for some knitters, juggling four or five double pointed needles is paradise, and others will never be torn from their circulars.
Crocheted socks need no more than a crochet hook that is the right size for the yarn you are using - although it is worth considering, when working a close fabric, what kind of personal tension you have. If you tend to work loosely, it would be wise to go down a hook size to produce a comfy, close worked fabric.
For knitting and crochet, you might want to consider whether to use metal, wooden or bamboo needles and hooks. If you're new to socks, metal will slip a little bit more, and while that can be great for sticky yarns, working with bamboo or wood will keep those stitches straight for beginners!
For both knitted and crocheted socks, you will need a tapestry needle to sew in ends, and for knitted socks, graft the toes of top-down socks with Kitchener Stitch.
Knitted and crocheted socks for babies
There's nothing cuter than a pair of baby socks, but a handmade pair of baby socks just might take the cake. Knit or crochet your little ones patterned socks or solids - just as long as they're adorably cute and cosy (which they will be), we're happy!
Sock yarn for knitting and crochet
It is wise to stick to natural fibres for sock yarns, avoiding 100% acrylic yarns - a blend is best, to make sure your socks are washable, and even a small percentage of nylon will help to keep your socks in shape and make them safe to wash. Paintbox Yarns Socks is a hardy 75% super wash wool, 25% polyamide sock yarn that comes in four exciting stories: Zebra, Fair Isle, Stripes and Pixel, and each story contains seven fabulous colourways! West Yorkshire Spinners 4ply is a great favourite with sock fans, and Regia yarns are super popular worldwide thanks to their fabulous range of variegated colourways, and their yarns are hardwearing and will withstand lots of machine washing too! For pure luxury, try Debbie Bliss Toast, a deliciously soft, warm blend of merino wool, cashmere and polyamide.