How to host a knitflix night
Published on

4 August 2020
5

min read
Samantha Brunson is the founder of Bobble Club House which hosts knitting and crafting knitflix events in New York City. The self-confessed "elderly millennial" will share her tried and tested tips for hosting your very own virtual stitchalong with friends.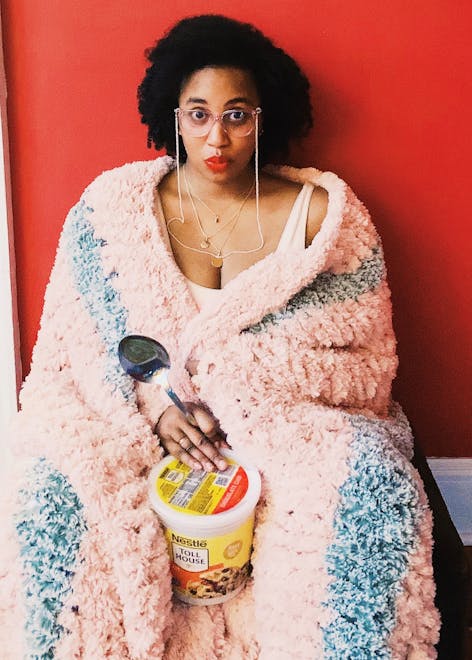 If you had asked me to write this same post this time last year I would have made a very different list! I'm Samantha of @BobbleClubHouse and this time last year I was busy organising one of my monthly Knitflix nights at my studio in New York. I hosted gatherings where people from all over the city could come together and craft while watching their favourite TV shows and movies! Also known as all of our favourite things wrapped in one craft night! Chances are if you are reading this you are no stranger to the joys of a night in with a good craft project and a marathon of shows. There's no reason why you have to do that alone. 
A lot has changed in the past few months. Now more than ever, it's important to find new ways to connect with your friends and loved ones. A Knitflix night is the perfect way to spend a night in. Even if it does have to be done virtually. Here are a few simple things you can do to host the perfect virtual Knitflix night!
First things first, where and how?
Ok, so you want to have a virtual craft night with your friends... but how? All of the tools that people are using to make their work lives easier can also be used to help your love of crafting! You have a few options when it comes to picking out a platform. Zoom is probably going to be your best bet. You can send out an invite to your friends all over the world and share your screen so that you are all watching the show at the same time! But just remember that Zoom calls only last 1 hour so pick a tv show instead of a movie. If you want to watch something longer google hangouts is the option for you. But then you will all have to watch the movie on a different device. If you are doing it this way I would have everyone do a countdown before you all press play. So that you won't have one friend laughing or crying before everyone else gets to that scene.
Headphones for everyone
Something that you might not consider when setting up a Knitflix night is the echo that can occur when you can hear a video playing on your computer and everyone else's computers too. If everyone has headphones on you can enjoy the show you're watching without hearing it playback on everyone else's screens. It's a little thing but it will make a big difference. Once everyone has their headphones in you will only be able to hear the movie and everyone's reactions.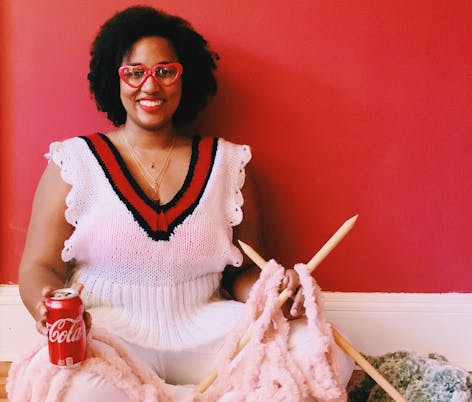 Pick a conversation starter! 
Always pick a movie or TV show that would be a good conversation starter. This tip would be the same no matter how you decide to host your Knitflix night. I tend to stay away from picking shows that require you to pay close attention. You need to choose things that won't cause you to drop your stitches, dc when you should have made a sc, and won't throw your tension off. At the same time, part of the fun of a knitflix night is getting the chance to chat and catch up with your friends. Choose a movie or show that encourages conversation. My go-to would be anything that you've already watched. Going with something that you and your friends have already seen gives you the chance to watch your stitches and is an instant conversation starter for your friends. The goal is to laugh and take a break. The show is just the backdrop to your party, not the main focus. 
Get cosy 
The best part of a virtual Knitflix night is that you can get as cosy as you want! Throw on your favourite jumper, joggers, or pair of cosy socks and you're ready to go! You might not feel comfortable going to a movie theater while wearing your pajamas or wrapped in a blanket. But with a virtual Knitflix party, you can do exactly that! So take advantage of it. Surround yourself with all of your favourite snacks. Choose snacks that are yarn friendly (no sticky sweets) and place them within arms reach! Just don't forget to mute your microphone when you are chewing so that everyone won't have to hear it in their ears. The goal is to make this a fun and cosy experience for everyone who shows up!
Bring a friend!
If you're looking for a way to meet new people from the comfort of your home a Knitflix night could be exactly what you need. You might want to have a simple night in with your friends but this could also be an opportunity for you to branch out and meet other crafters! Try asking everyone you invite to invite a friend to the party. You could end up meeting your new best friend and finishing a WIP all at the same time. 
This might not be how I would have hosted a Knitflix night a year ago. But this could be the beginning of a great night in and an even better monthly tradition!