Feel the fear, make the sweater
Published on

22 June 2020
8

min read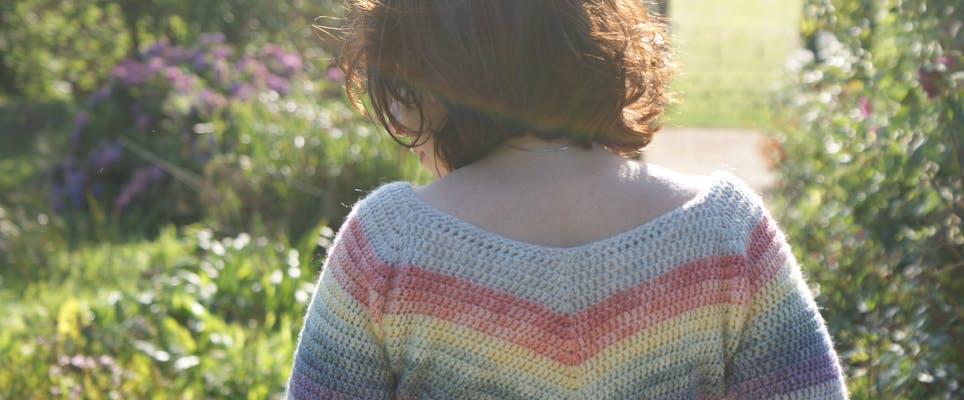 Michelle AKA Dora Does is a fantastic crochet designer who aims to dispel the myth that garment making is only for advanced crocheters. Based from her home in Cambridge, Dora designs contemporary homeware patterns and practical, modern garments and accessories. All with an added hint of whimsy, joy and a splash of colour! Dora's aim is to help other crocheters build their confidence and start the journey of a lifetime.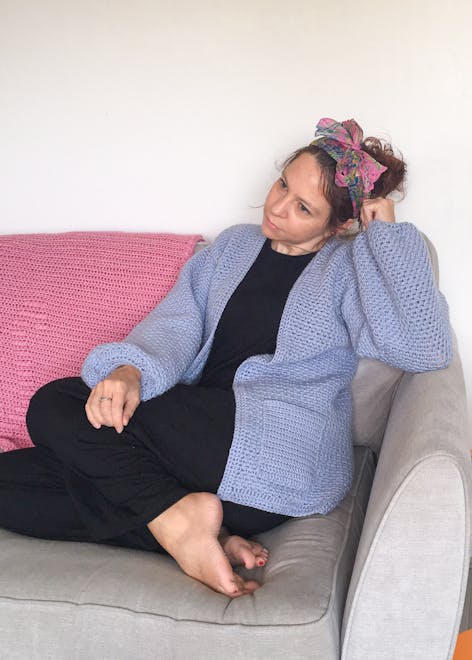 Experimenting, failing, learning and building my confidence with a hook and yarn has helped my confidence grow in other areas of my life. I have a sneaky feeling it can do the same for you.
I still remember the first time I finished a crochet sweater. It was the Urban Crossover sweater, run as a crochet-a-long by Jennifer Pionk from A Crocheted Simplicity. I was incredibly sceptical about being able to crochet a garment, but I learned so much in that CAL. It wasn't perfect, but I made a sweater that actually fit and I was over the moon! It turned out, it wasn't that hard after all. 
With that one sweater, I began to learn some of the things I didn't even know that I didn't know and I wanted to keep learning!
My garment design journey
As I started to design my own crochet clothes, I became painfully aware of my limited knowledge of garment construction. I needed to up my game if I wanted to create good quality patterns. So I got stuck into research mode, learning from any source I could find. 
I knew from the start that I wanted to design modern wearable garments. The kind of thing you could wear to the office or to meet friends and say "Thanks, I made it!". I also knew I needed solid, foundational knowledge to achieve that. Putting your own patterns out is scary, but developing a deeper understanding of garment design gave me more confidence in what I was creating. It wasn't a quick process and I'm still learning with every new design.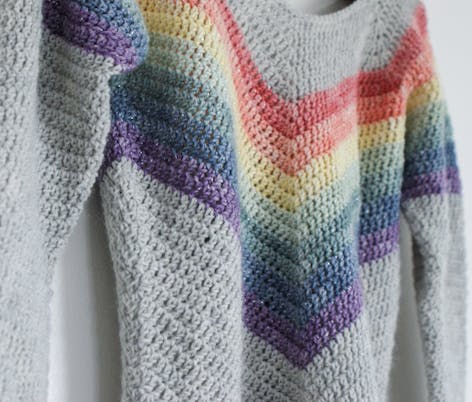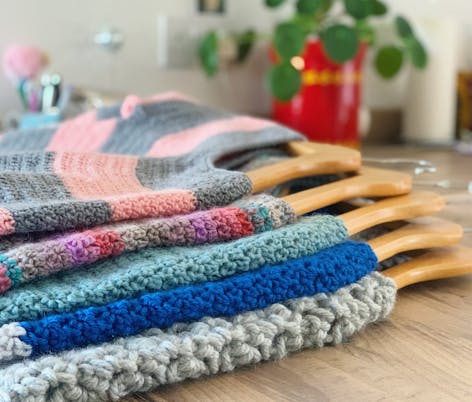 Noticing the fear
As I started to publish my designs, I read more and more comments like "I love that but I could never make a sweater" or "clothes are too hard for me to crochet". I remembered having the same thoughts, reservations and fears. But now I knew the secret; If you can crochet a rectangle, then you can crochet a simple sweater, if you can make a hat in the round you can make a round yoke pullover. You just need a bit of extra prep work, some patience and a dose of confidence. I needed to find a way to convince people that they could do this too.
I thought about this for a few months and in late 2018, I decided to go for it and created the My Crochet Wardrobe facebook group. A space to open the discussion about the challenges, real and assumed, that crochet garments can present. Since then, it has grown into a place where crocheters can get advice, guidance and cheerleading in their own journeys. There are no silly questions, no expectations that you should know what this or that word means. Just generous crocheters, designers and tech editors who have an interest in garment making. 
I have begun to introduce more flexibility in my designs in an effort to encourage people to try their first garment. Most recently, I created the Any Yarn Will Do sweater which is a top down, seamless sweater designed specifically with beginner garment makers in mind. It can be made in any of 5 different yarn weights, giving you flexibility with gauge. 
The discussions I've had with makers have inspired many blog posts aimed at tackling the common sticking points such as construction styles, gauge, yarn choice, adjustments and much more. You can browse some of them here. But the thing that's harder to address, is the fear of getting started. 
Feel the fear...
The title of this article is inspired by the mother of all self-help books; "Feel the Fear and Do it Anyway" by Susan Jeffers. The title kind of says it all; the way to deal with unhelpful fear is to accept its presence and carry on regardless. By running from fear you give it more power, by naming it you take away some of that power.
So below, I name some of the scary things. Fear thrives on assumptions, misconception and the unknown, but once you start to unpack it, the obstacles fall away. I could write a separate essay on each but, for brevity, I've just tackled the basics. The point is that you are not alone in these concerns and there is a solution!
If I don't love it, I will have wasted my time: 
This happens and I won't deny it can be disappointing and frustrating. But isn't that a reflection of life? With every project that doesn't go to plan, you can learn something for next time. For me, crochet is about enjoying the process as much as the finished result. When you've frogged as many projects as I have, you learn to be philosophical about these things!
What if it doesn't fit?
This might be the most common concern and complaint about garments. However, there are some simple ways to minimise the risk.  Be thoughtful when choosing your pattern. Does it suit your body shape? Have a look in your wardrobe for guidance. Check your gauge and sizing as you go.  Ask the designer about suggestions for alterations if they aren't included in the pattern. We are all different shapes and sizes and it's impossible for one pattern to accommodate them all, but crochet is incredibly adaptable!
I don't want to waste the yarn if it goes wrong
Most yarn is not a single use item! When you start out, choose a robust yarn that you can reuse if it doesn't turn out the way you want.
I don't know how to put all the pieces together
Construction styles, pattern pieces and dealing with seams can feel very daunting. Have a look at the schematic before you start and check out this article on the 6 most common constructions styles.
I don't like sewing
Learn the mattress stitch, or choose a top down design with no seaming!
I don't understand all the terms
Like learning stitch names, terms like blocking, yoke, raglan and ease can be intimidating. I put together this jargon buster for exactly that reason. Go easy on yourself, it will come with practice!
I don't understand / can't meet gauge / tension
This is a big one. But once you realise gauge / tension (used interchangeably) is just a unit of measure it will become easier. Tension can vary with how you sit, your mood, or even what you're watching on Netflix. It will always be a potential wildcard. When you start out, choose patterns which are loose fitting or more forgiving of gauge variation. Recognise what your crochet style is (tight, loose, short / tall stitches) and you will be able to adjust patterns to match.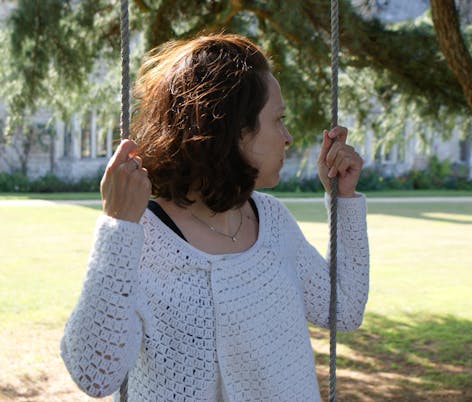 ....and make the sweater
Successfully crocheting garments does take preparation, attention to detail and commitment. It may be simpler to make another scarf or blanket, but I feel that the challenge makes the achievement so much sweeter. So I hope I have convinced you it's worth a try! If so, I'll leave you with my top 5 tips to get you on your way: 
Read the pattern through before you start
Not every single instruction, but get an understanding of how the project is going to progress.
Make a swatch
Just make it! The bigger the better! It's a chance to get used to the stitch pattern as well as check your tension. 
Choose a yarn similar to that used in the pattern to achieve a similar look
With experience, choosing yarn will become more intuitive, but when starting out, keep it simple.
Check your work as you go
Check you remain on gauge throughout the pattern. Try it on if you can and measure your pieces. Learn from my hours of frogging and keep an eye on where you're at!
If you get stuck, ask for help!!!!
Whether it is from the designer or on another social media forum. There is lots of help out there and there will likely be others who have had the same problems, so reach out!
I hope this has helped demystify some of the fears surrounding crochet garments and started to help you believe that it's not beyond your reach. I genuinely believe that confidence is contagious. Experimenting, failing, learning and building my confidence with a hook and yarn has helped my confidence grow in other areas of my life. I have a sneaky feeling it can do the same for you. So feel the fear and make the sweater!
Discover Dora Does Patterns!