While I'm not a huge fan of cold weather, I do love the change in seasons, and I really love my winter gear. From wool hats to sweaters, scarves, and socks, it's time to knit up some warm and cosy clothes.
Lines Mittens by Tin Can Knits
If these are warm enough for a Canadian winter, they're warm enough for just about anywhere. Patterns reminiscent of water droplets, these mittens by Tin Can Knits at the top of my wish list this winter.
Eleonora Wristwarmers by MillaMia
These wristwarmers are perfect for those cold days when you need to warm your hands and be able to use your phone, or strum your guitar. The gorgeous MillaMia Naturally Soft Merino wool yarn makes them extra comfortable.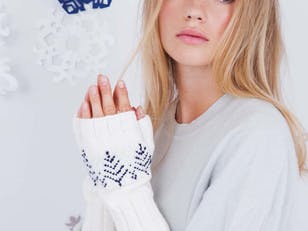 Giganto-blanket by Laura Birek
This unconventional blanket from Laura Birek doesn't use your average needles, instead it calls for 1 1/2″ PVC pipes and slightly-felted superwash, un-spun wool roving. Could this be the most comfortable blanket ever? It sure looks like it.