Diwali Craft & Gift Ideas
Published on

22 September 2020
3

min read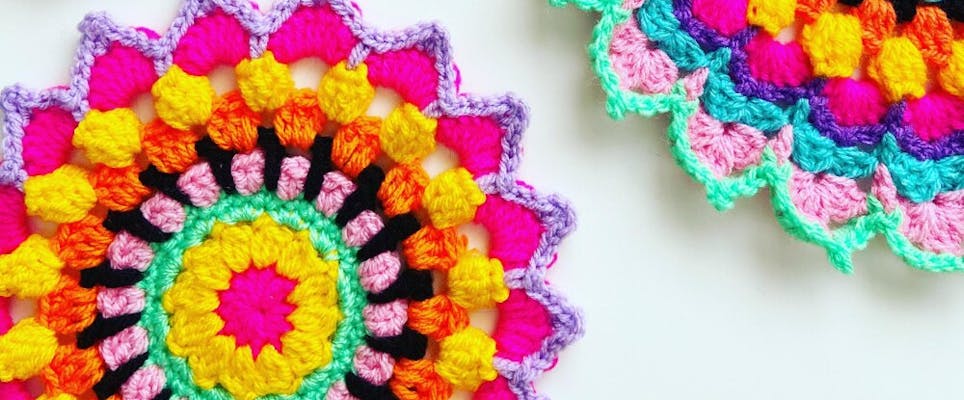 Starry lights, vibrant colours, stunning fireworks and beautiful bejewelled sweets, that can only mean one thing – Diwali! The Hindu festival of lights is a celebration of goodness, light and knowledge, where the goddess of prosperity, Lakshmi is often believed to pay a visit. We've gathered the brightest Diwali decoration ideas to make at home, not to mention Diwali gift ideas for your friends and loved ones. Celebrate November 14th 2020 with these Diwali-inspired makes!
Crochet magnificent mandalas 
Grab your crochet hook and the brightest, most colourful yarn you've got in your stash – it's time to start mandala making! These gorgeously intricate circular figures represent the universe in Hindu and Buddhist symbolism, and they make the perfect vibrant Diwali craft to brighten your home. Why not make a bunch and scatter them, as a Diwali decoration idea, for a dinner party or string them up to make decorative garland? 
Stitch stunning starry designs
Diwali is all about letting the light in, and what could be brighter than the moon which illuminates the sky every night? These gorgeous star and moon cross stitch and embroidery designs make the perfect project for any beginner crafters. Stitch on to bright fabrics and frame them as a delightful Diwali party decoration idea; embroider onto cushions for beautiful home decor or stitch on to garments to carry the light with you wherever you go!
If the stars aren't up your street, this gorgeous paisley embroidery will make a great repeating pattern on garments, home accessories and more. 
Brilliantly bright home decor
Fireworks and illuminations aren't just for outdoors! Bring a touch of the brightness of Diwali into your home with our top makes. All these patterns would look fabulous in brighter colour schemes, so don't be afraid to think outside the box when it comes to your shade choices!
Light up your home
You can't celebrate the festival of light without a few candles! Grab your tea lights (imitation battery-powered ones are advised!) and get to work on these gorgeous little tealight cosies and decorations. We guarantee these makes will be a talking point, perfect for if you're entertaining over the Diwali festival.
Wear bright, feel bright
If you're having a Diwali celebration, why not create something vibrant and exciting to wear? These shawls make the perfect addition to any outfit, and a wonderful Diwali gift idea for someone special, especially as the weather gets colder. Switch the colours to suit your wardrobe, and don't forget to make it extra bright for the festival of light!
DIY Diwali craft projects to make together
Whether you're looking for a family project to make together or fun craft you can enjoy on the day these tutorials will guide you step-by-step. These gorgeous jam jar tea light covers are a beautiful way to light up your home after dark, and this beautiful bright temperature blanket is perfect for snuggling up on the veranda or porch to watch the fireworks. When it comes to Diwali crafts for kids, these easy tassel necklaces are so easy to make in their favourite colour - they'll love wearing at the celebration!
Make these Diwali-inspired crafts with these step-by-step tutorials