Want to learn a new craft? Join like-minded folk for one of our fab craft evenings coming up this spring. Whether you're a total craft newbie, looking to unwind with some mindful makes or enjoy a fun evening with some fellow craftaholics, these classes will have you in stitches!
These craft workshops will give you the warm and fuzzies! From making crocheted lavender scented pockets to dazzling macrame plant holders, take your pick of the bunch, join the experts and enjoy a fun crafty evening sponsored by us!
Here's what's coming up so why not book your spot today.
20th March - Punch needle workshop
Learn how to make your very own gorgeous wall hanging with this fabulous workshop. What was originally a rug-making technique, the punch needle wall hanging is officially in vogue! Creating gorgeous tiny puff pockets of thread to produce deliriously cute textured designs you'll love this fun technique. You'll be introduced to all the tools and our craft experts show you how to make your very own bespoke wall hanging.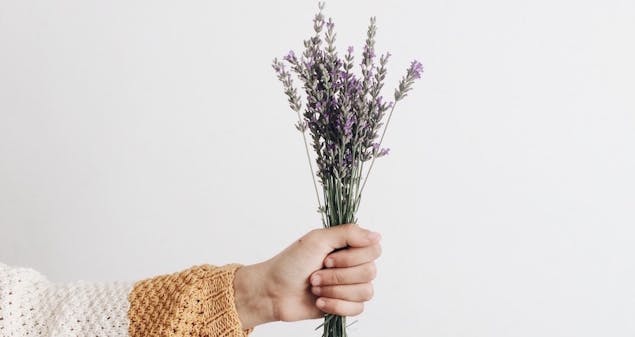 29th March & 31st May - Punch needle workshop
Come and join us to learn the relaxing craft, punch needle! Punch needle an adorable bear design together with a sublime sunset or get creative and design your own. Cake and all tools included and yours to keep after the workshop!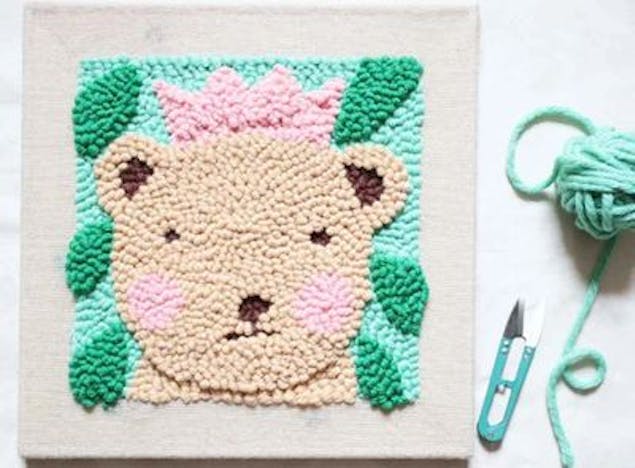 2nd April - Stitch away stress with crochet
Always wanted to learn how to crochet but didn't know where to start? This workshop will have you hooked! You'll be introduced to the basic crochet stitches in this relaxed and friendly craft class, where you'll get to crochet your very own blissful lavender scented pocket. Perfect for popping in drawers or an airing cupboard for scented linens and clothing.
23rd April - Learn to crochet granny square
Are you retro ready? Learn how to crochet the classic granny square in this fabulous beginners class. Brilliant if you've always wanted to make your very own beautiful blankets, cosy cushions and awesome accessories. Once you've learnt how to make one, you won't want to stop!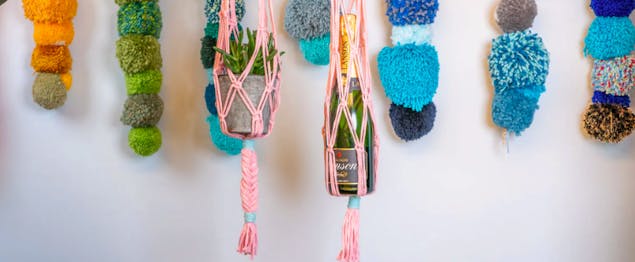 14th May - Macrame plant holder workshop
Quit hanging around and join us for our Macrame Plant Holder workshop. Needle-less to say (we couldn't resist!) you don't need any nifty knitting skills to join. Get ready for an evening of knotty braidy yarny goodness that will result in this gorgeous handmade decor.
Classes with Sew Yeah coming up!
Were also collaborating with craft queen Christine Leech also known in the makesphere as the fabulous Sew Yeah for some seriously fun crafty evenings. Take a look at what's coming up.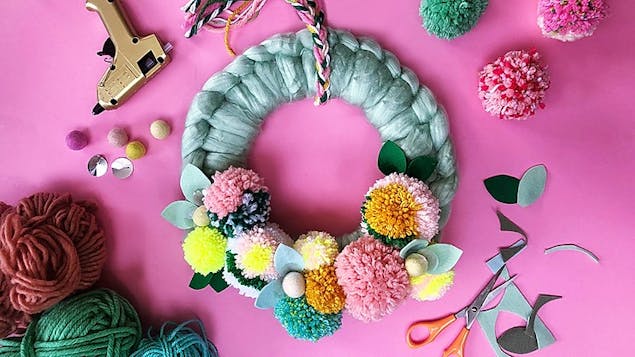 26th March - Make a spring wreath with Sew Yeah
The weather might be unpredictable but this beautiful Spring Wreath is bloomin' lovely! Sew Yeah will teach you how to make gorgeous pom pom carnations to create this fresh and lovely decorative wreath that will brighten any space in your abode.
28th April - Sew your own project bag with Sew Yeah
Got a stash that can't be tamed? Are you a maker always on the go? This super handy (and super cute!) project bag is the perfect accessory. Join Sew Yeah and make your very own with this amazing origami inspired project bag!
More classes to be announced soon...