How to make super sensational cocktail cupcakes
Published on

14 June 2022
1

min read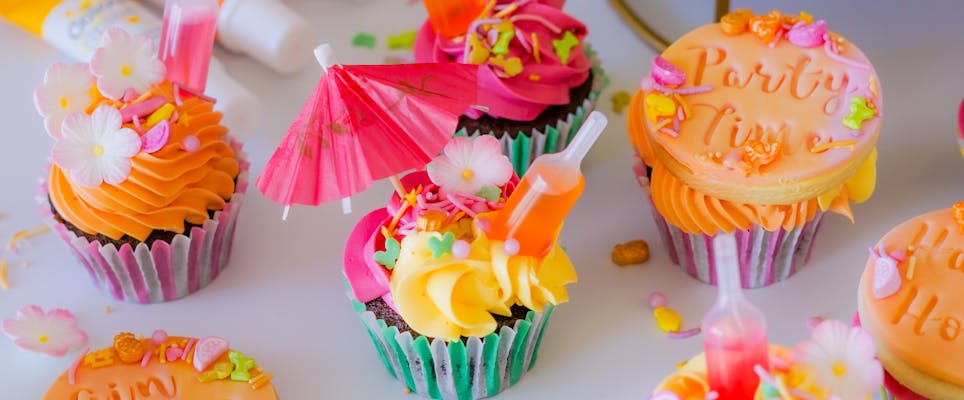 Summer is here and it's time to cele-bake with some sensational cocktail cupcakes! Happy hour is in the kitchen from now on, so pop on your dancing shoes and grab your whisk as we take you through this super fun cocktail themed cupcake bake by Bake Works. Whether you like piña colada or a mocktail is more your style, these party cocktail cupcakes are bound to be the life and soul of your summer party. Come on bakers, let's go party!
Materials
Cupcakes

Buttercream

Fondant icing

PME Fun Fonts Cupcake/Cookie

Plastic dessert pipettes like Wilton Shot Tops and infusion of your choice (e.g. milk, alcoholic or non-alcoholic drink)

Cocktail umbrellas
Let's get the party started with these simple steps!
First off, bake your cupcakes and prepare your buttercream.
Next, separate your fondant into three and dye each a cute colour with food colouring.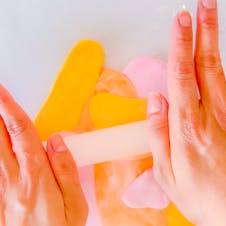 Add the different colours of fondant together and roll out.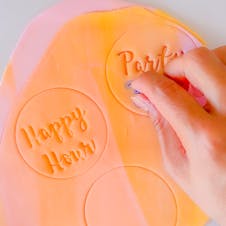 Once rolled out, cut 7cm wide discs into the fondant with a cookie cutter. Then use a fondant stamp to add a fun text of your choice.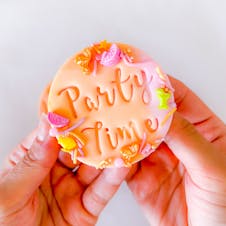 Add a little water to your fondant disc using a damp brush and let sit for a minute. Decorate the damp areas with sprinkles. Set aside to top your cupcakes later.
Next, prepare the cocktail infusion/liquid you would like to insert into the cupcakes.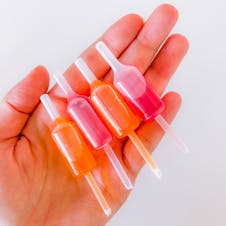 Cut the tip of the plastic dessert pipette, squeeze and insert the tip into your infusion. Stop squeezing and the pipette will fill with the liquid. Set these aside for decoration later.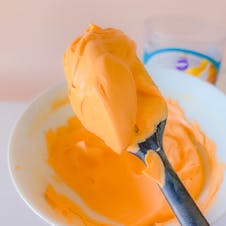 Then prepare three bowls with buttercream. Give them a good stir and add a food colouring of your choice to each. Mix thoroughly until the colour is evenly distributed and all air bubbles are gone.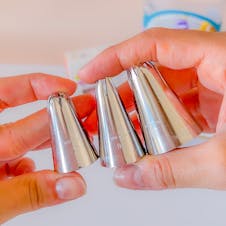 Next, prepare three piping bags with piping tips 6B, 1M and 2D. Fill the piping bags with your colourful buttercream.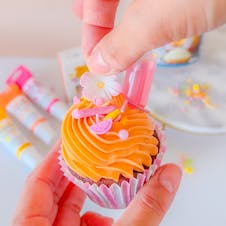 Start piping your cupcakes as you like, insert the pipette and decorate with sprinkles, edible sugar flowers and your fun fondant discs.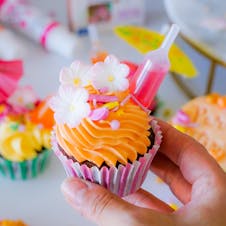 …and your beautiful cupcake is finished. Time to party!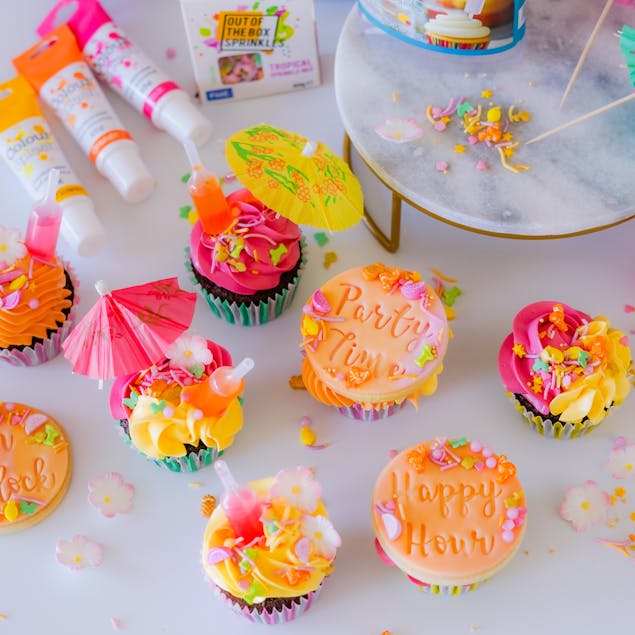 Discover more cake decoration and baking inspiration