Dress like a diamond of the first water with these Bridgerton inspired makes
Published on

14 March 2022
2

min read
Our hearts are already pounding at the thought of Bridgerton season two! With new debutantes and couples to swoon over, get ready for more dreamy set design, steamy romance and gorgeous costumes.
Create a wardrobe fit for the diamond of the first water and become this season's incomparable. With elegant empire waist lines, dramatic lace shawls and romantic accessories, create your very own regency inspired look.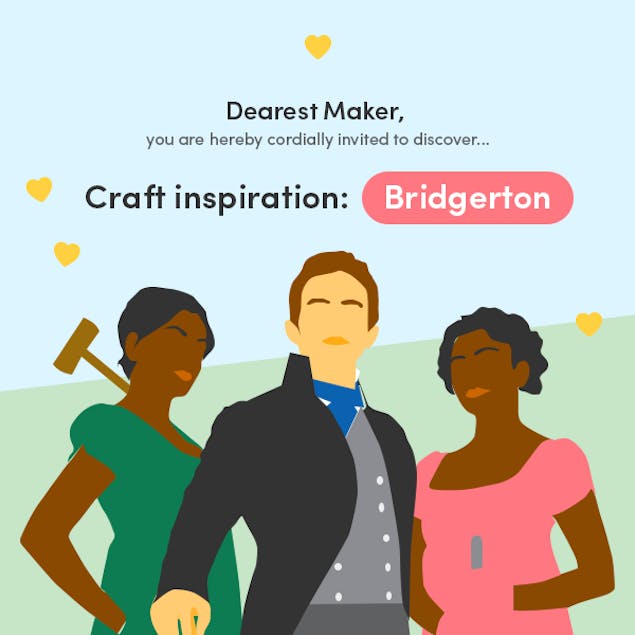 Add a touch of regencycore to your spring/summer style
While the women of Bridgerton would take a trip to the Modiste for a new gown, we have a wardrobe filled with sewing patterns right here! Bring a touch of elegance to your everyday looks with detailed lace fabrics, structured corsets and cute collars.
Dress like a debutante
Empire waist dresses were the stars of Bridgerton's costume design and these stylish sewing patterns are perfect for creating a look to impress Queen Charlotte herself. Whether you want something reminiscent of the regency-era or a dress that brings the trend into the 21st century, there are so many ways to wear an empire waist dress. And if you're looking for structure, create your own corset to style too!
Romantic regency inspired knitwear
Even Lady Whistledown couldn't find fault in this beautiful selection of regency inspired knitwear. Romantic frills, delicate detailing and soft feminine fits are the hallmark of any heroine and these patterns don't disappoint! 
Add sparkle to the season with these accessories 
No trip to the modiste would be complete without selecting accessories to compliment your outfit and since the modiste is all booked up for the season, you'll have to show off your own creativity and make your own gorgeous accessories for the ball.
Elegant embroidery patterns and kits
Learning the art of embroidery is a must for any Lady of the ton, so while you're waiting for suitors to arrive with flowers, why not learn to stitch different flowers of your own? Needlework needn't be boring, embroider designs that dazzle even the most notorious rakes by adding these delicate details to your dresses.
Learn simple stitches with this tutorial, as featured on the BBC!