With the festive season right around the corner, what better time is there to pick up your needles, hooks and thread and get making for the holidays? Knitted jumpers, crocheted blankets, beautiful embroidery, the possibilities are endless!
If you've been organised, you'll still have lots of time to make something special for your friends and family. We've collected some of our favourite patterns and projects for you to get your needles and hooks into! Whether you're knitting a cosy jumper for a friend, or crocheting a gorgeous blanket for your grandma, we've got you covered.
The hero jumpers!
Cosy jumpers and cardies for the festive period make the perfect present for just about anyone. Chunky and simple, or bright and bold, there's something for everyone. These are the bigguns'. They might take you a little bit longer to make, but they're worth it!
How about something a little speedier?
Determined to knit or crochet a jumper for Christmas but swiftly running out of time? Here are 6 speedier (and easier!) patterns to knit and hook up before the big day!
Big, beautiful blankets!
There's nothing better than warming up beneath a cosy blanket during the holidays! These throws are sure to keep all your loved ones toasty this festive season.
Twisted Cables Throw
This gorgeous knitted blanket makes a picture perfect present for the holidays, and so easy to personalise! The classic twisted cables design gives this beautiful blanket a sophisticated edge.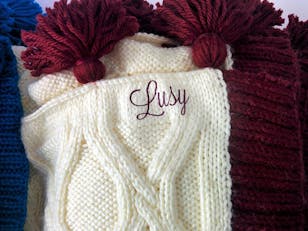 Sew it begins! Embroidery & cross stitch projects
Needle and thread at the ready? Make someone's heart skip a stitch this festive season and embroider or cross stitch a design they'll just fall in love with! Why not embroider on to a jumper for a little extra festive sparkle?
Lydia Sweater in Debbie Bliss Erin Tweed
This gorgeous jumper is made all the more beautiful by the embroidered floral design.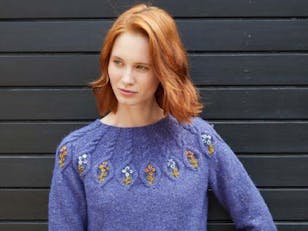 Welcome to Yarnia!
Whatever the project, we're sure you'll find the perfect yarn from our huge selection! Acrylic, wool, DK or chunky, bright pink or soft cream, the possibilities are endless.
Best for the festive fun!