Crochet a reusable tote with Paintbox Yarns
Learn how to make a fabulous planet friendly tote bag designed by Kate Eastwood in Paintbox Yarns Recycled Cotton Worsted. Check out our written instructions or follow along with the video tutorial!
TUTORIAL: How to crochet a tote bag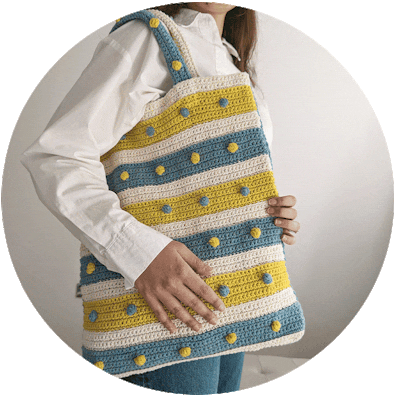 Find the yarns you love
Ready for your next project? Browse our huge range of knitting and crochet yarn. Find great quality wool from all your favourite yarn brands.
Discover brands from the LoveCrafts family
Welcome to LoveCrafts, your home to shop, share and dream in crafts. Makers, discover thousands of crochet patterns and knitting patterns to inspire your next project. Stock up your yarn supply with Lion Brand, Rowan, Paintbox Yarns and more. Explore wonderful fibres like oh-so-warm alpaca yarn and merino wool, or find yarns by weight, from classic aran and worsted weight to super chunky yarn. Fill up your fabric and stitching stash with the latest fabrics, cross stitch kits and embroidery supplies you need too. What are you waiting for? Grab your needles, hooks, and hoops and start making!