Threading a lifeline with Women for Women International
Published on

21 February 2019
By

Merion
4

min read
When there is an outbreak of war or violence, women suffer most – they experience trauma, sexual violence and the death of loved ones. After the conflict is over, the world's attention moves on, but women are left to rebuild their families and communities. Together, with our charity partner Women for Women International, we want to help women survivors of war forge a new path for themselves and inspire hope for the future. Through the sales of The Yarn Collective, we donate 1% of profits to Women for Women International. This year, as well as continuing the commitment, we're doing something extra special for International Women's Day. Ten incredible designers have each donated a pattern, and for the month of March all proceeds from this collection will go to Women for Women International. Let's help to change the world, one woman at a time.
Providing a lifeline
Women for Women International supports women who live in some of the world's most dangerous places. Women enrol on the charity's year-long training programme, where they learn how to earn and save money, improve their family's health and make their voices heard at home and in their community. Since 1993, the charity has helped almost half a million marginalised women survivors of war in Afghanistan, Bosnia and Herzegovina, the Democratic Republic of Congo, Iraq, Kosovo, Nigeria, Rwanda and South Sudan.
Meet Faith, a Women for Women International programme graduate from Nigeria. Faith chose knitting as her vocational skill because there is always a demand for clothes. Now, she sells the clothes she knits to her neighbours and at the market. She has also started to produce uniform jumpers for the local school. Photo Credit: Monilekan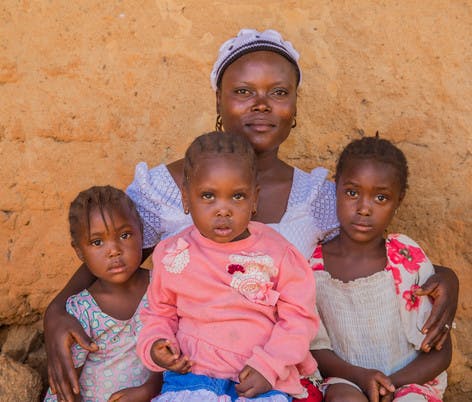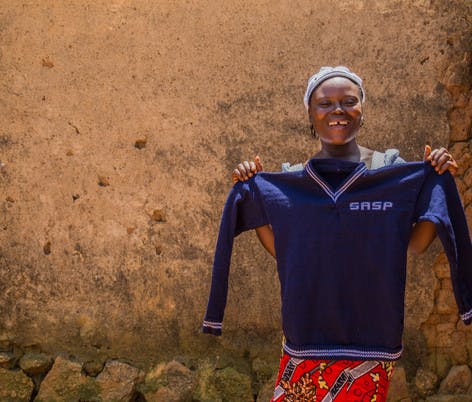 Knit for the sisterhood
We're proud that 1% of profits from The Yarn Collective is donated to Women for Women International. So far, we have raised enough money to sponsor a sister through the charity's training programme. Our sister's name is Sikitu, she is from the Democratic Republic of Congo and she is the proud mother of one girl. Sikitu has experienced things that nobody should ever have to go through – but she is incredibly resilient, resourceful and courageous. Now, thanks to the Yarn Collective, she has found a safe place where she can build friendships, learn new skills, find her voice, and create a brighter future for herself and her family. Sikitu can even choose to learn craft as a vocational skill, from knitting and tailoring to embroidery as well as other skills such as poultry farming, brick making and beadwork.
Stronger women build stronger nations"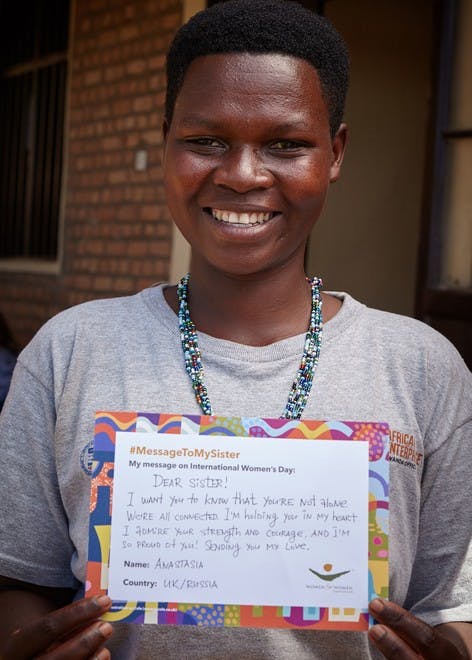 #MessageToMySister
During times of extreme crisis and suffering, friendships and human connections can be just as important to survival as food and shelter. That's why we are asking our community to support Women for Women International's campaign, #MessageToMySister. We'd love you to write a message of hope, friendship and sisterhood to a woman survivor of war.
All you need to do is write your message on the postcard you received in the post with your LoveKnitting order or download a postcard for your message, take a photo and post it on social media, tagging @loveknittingcom / @lovecrochetcom and @womenforwomenuk and use the hashtag #MessageToMySister
Your message will be translated and hand-delivered to a woman on the charity's programme, connecting her to the global sisterhood.
Photo Credit: Aidan O'Neill
One woman can change anything, many women can change everything"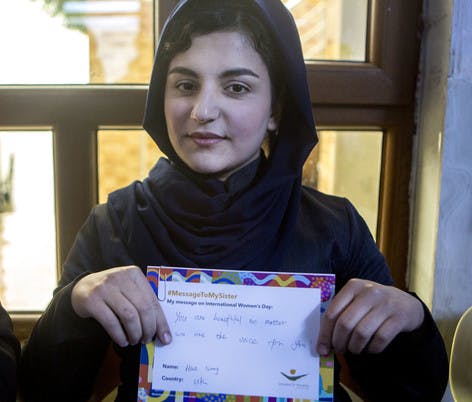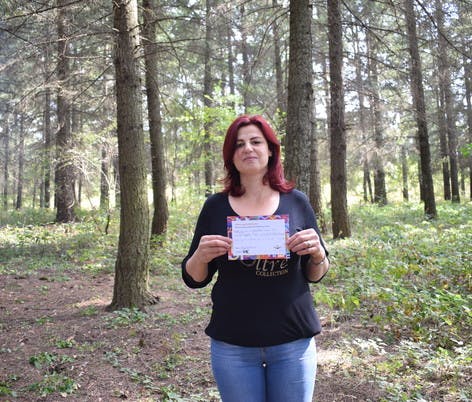 Photo Credit: Alison Baskerville and Women for Women International
Make a friendship bracelet in support of your sisters worldwide!
Sisters in Women for Women International's programme in Rwanda have made and sold friendship bracelets to earn an income for their family. So we decided to create a special friendship bracelet for you to give to the treasured sisters in your own life to show them, this International Women's Day, how much you love and support them. We also hope that every time your sister looks at the friendship bracelet, she is reminded of the global sisterhood and the life-changing work of Women for Women International.
Show your support: patterns for International Women's Day
To celebrate International Women's Day, we have a special collection of patterns for you. Ten incredible designers have each donated a pattern, and for the month of March all of the proceeds will be donated to the charity.
Explore The Yarn Collective Yarns
UK Charity Registration Number: 1115109.