The LoveCrafts Show episode 8: Call her by her name: Gaye, GG, iconic orange lady, goddess
Published on

29 April 2020
By

Holly Butteriss
2

min read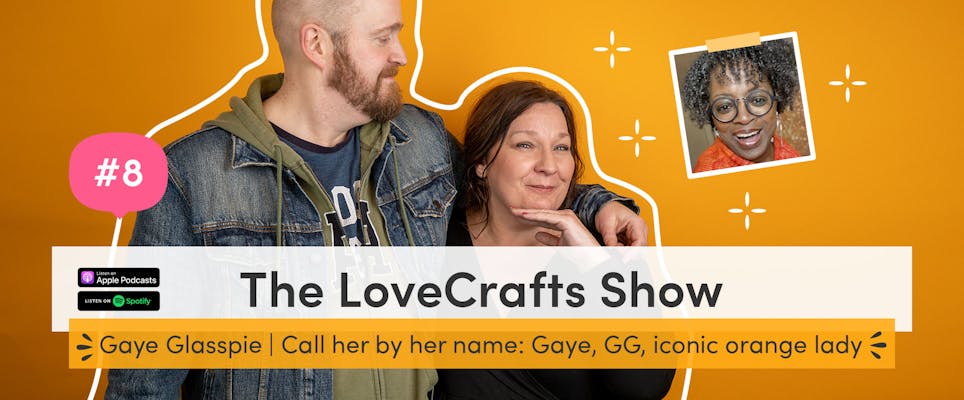 This week on The LoveCrafts Show we've got the one and only Gaye Glasspie chatting to Uncle X and Merino! That's right, the iconic orange goddess of GG Made It Instagram fame joined us for a chat about the therapeutic qualities of crafting, the colour orange (how could we not?!) and the important conversations around diversity in our community.
Tips, tricks, advice and a fair amount of silliness, this is The LoveCrafts Show!
Don't forget to send us lots of lovely messages, responses and questions to show@lovecrafts.com or you can send us a voice message!
Lots of lovely things we mentioned and extra nuggets!
Check out the goddess of orange, otherwise known as GGmadeit on Instagram and YouTube! (1:00)
Is craft your therapy too? Check out of guide to mindful making. (1:50)
Need some premie patterns? We've got the cutest roundup of knits to make for the tiniest ones! (3:00)
Wanna teach yourself to knit or level up your skills? Browse our guide to knitting! (6:10)
The bigger the better right? Browse chunky yarns!(8:27) 
Intimidated by all the different kinds of yarn out there? Have no fear! We've got a complete guide to yarn buying with everything you need to know! (10:03)
The joy of making: Black History Month is packed with more information, influencers and inspiration for you to check out. (15:26)
Check out GG's KAL! Or check out our roundup of upcoming online workshops to get involved with the community! (24:00)
Not sure who Stevie West is? You're missing out, discover this iconic knitwear designer now. (25:30)
Shop our favourite orange yarns and make like GG!