19 of the best sweater vest patterns this season
Published on

21 February 2023
4

min read
Knitted sweater vests are getting a revamp! Whether it's a remixed cabled classic or a campus-cool knit in lollypop shades, this crop of knitted sweater vest patterns are making cosy layers cool again. From preppy to classic, statement or minimalist, sleeveless silhouettes are back. Which one is your favourite?
1. Vicky's Vest
For a bright preppy knit that will bring some zing to any outfit Vicky's Vest is a top pick. Designed in lollypop shades, these college cool knits are beginner-friendly so even knitting newbies can amp up the handmade style stakes at work or on campus!
2. Snug Season Sweater Vest
As sweater weather rolls in, this super snug sweater vest from Paintbox Yarns is the one! With cosy cables and simple knit, purl repeats this is the best to layer for the changing of the seasons. What's more, the pattern it's completely free!
3. Neve tank top
This irresistible snow-soft cashmere and merino tunic-style tank sees plump cables flow through its longline silhouette for maximum impact. Dressed up or dressed down, you'll love curling up with this unforgettable Debbie Bliss pattern on long winter nights!
4. The Classic V-Neck Vest 
This chic and slouchy classic V-neck vest by Bethany Mulcahy is effortlessly cool. Knit in one piece from back to front for a knitted sweater vest that's superb for layering when the weather gets chilly.
5. Anyday Vest
This beautiful Anyday Vest by Lily Kate France is a top pick for makers and there's no wonder! With its beautiful minimalist chunky design and flattering shape that can be worn any day of the week, it's certainly on our knit-list this autumn!
6. Keaton Vest
Remixing the iconic Annie Hall-style with modern cropped cut, the Keaton Vest is an instant classic. Designed by Two of Wands, this cabled pattern is best for experienced knitters with a few stitches under their belt. Great for teaming with a dress or wearing with jeans for a cosy fashion ode to the city that never sleeps!
7. Lana Vest 
For a knitted sweater vest that reminds us of windswept walks and beaten coastal paths, the Lana Vest is sure to ignite the imagination with its whimsical collision of cables. Ambitious yet classic, with its slouchy v-neck and loose fitting drape, we can't get enough of this charming vest by Irene Lin!
8. Caroline Vest 
This beautiful beginners knitted vest pattern in oatmeal coloured yarn is a wardrobe staple. Worked top down this minimalist Caroline vest by Vanessa Pellisa is designed in DK worsted yarn for a chic and versatile knit you can layer to your hearts content!
9. Contrast Vest 
In case you had major style envy for the kid's version of the Contrast Vest, you're in luck! This adult sized version is just as cool for grown ups. Crammed with modern fairisle motifs like its miniature, this edition boasts an elongated shape and effortlessly slouchy fit that you'll love wearing as a statement piece.
10. Simple Tank Top
This beautiful classic design reminds us of wild walks and cream teas. The Simple Tank by Debbie Bliss is so easy to make, even beginners can knit up!
11. Sugar Maple vest
For those chilly days nothing beats a low-key woolly knit that you can pair with jeans for immediate comfort. We can't get enough of this beautiful boxy Sugar Maple Vest by Evin Bail O'Keeffe.
12. Latke Vest by Alix Kramer
We absolutely adore this cheeky sweater vest design by Alix Kramer. This Hanukkah colourwork vest is worked in panels for the body and uses intarsia, or duplicate stitch to add the cheeky phrase to the front. If you want to buff up on your intarsia first, follow along with Merion's How to Knit Intarsia video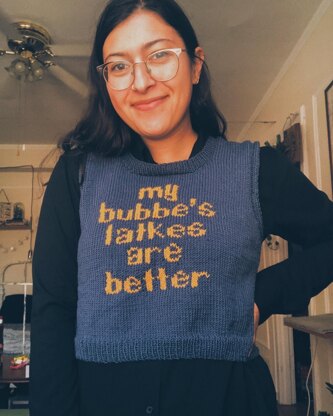 13. Vest Slipover
This fab beginner's aran Vest Slipover by Knitty Little Thing is so easy to make with its classic design. Easily adapted for a fitted look, with positive or negative ease, this classic knitted sweater vest will keep you cosy and on-trend through the changing seasons.
More sweater vest pattern picks we love!