In this joyful season of twinkling lights, snuggling up in the warm and all round hygge feelings we can't help but get excited about all the sewing opportunities that are ahead of us. When it gets cold there's a wardrobe staple that can often get overlooked, the skirt, but we're here to change all that. There's nothing like pulling on some cable knit tights, your favourite knee high boots and a trendy little jumbo-cord mini skirt you've made yourself to make your heart warm. Or grabbing some chunky woolly socks, a pair of Dr Martens and whipping up an ankle length maxi skirt to go with it.
We've got together a fabulous collection of perfect skirt sewing patterns to go with whatever long, short, tight, sock, boot combo you could dream of this winter.
Yoke waisted skirt
If you've got your eye on the gorgeous tartan skirt in Godisable Jacob's fab picture above, then this yoke waisted skirt is for you. Tartan plaid is just everywhere at the moment, and it's a gorgeous way to bring some colour and pattern to your winter wardrobe. This pattern by McCall's has a flattering yoked waist and a variety of skirt combinations so that you can pick the one that's just right for you. A woolly woven little tartan number is definitely the one we'll be wearing.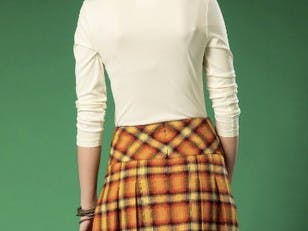 High waisted pencil skirt
This high waisted pencil skirt pattern by Sew Over It is the epitome of 50's chic. Stitch this up in anything from a heavy cotton to a suedette, and when you've paired it with some seamed nylons you'll be the ultimate in vintage glamour.
Flared skirts and culottes
We're going to throw a bit of a curve ball in here with this fantastic set of five flared skirts and culotte patterns by McCall's. Culottes are just our favourite garment this season, flattering on the figure, all the elegance of a skirt, and paired with a chunky pair of lace up ankle boots and you couldn't be trendier.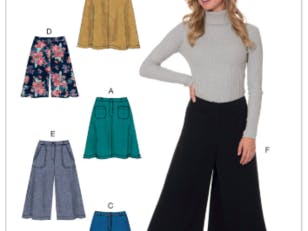 Tie waisted skirt
Go in to any high street store this winter and you'll see tie waisted bows on almost everything. This pattern by Simple Sew gives you a fabulous skirt duo to make and all the instructions to create a beautiful bow, but why put it on the back? Seeing as you're making it yourself you can get as creative as you like, now that's what we call bespoke.
Skirt in three lengths
Maxi skirts and all that all that drapey flowing fabric can often be thought of as a summer thing, but this collection of skirt patterns by McCall's is brought right into winter with sumptuous velvets, satins and wools. This is also a brilliant beginners sewing pattern and can be whipped up in an afternoon, so you better get your woolly socks out and at the ready!
Grace dress and skirt
Simple Sew know how to make a sewing pattern for a party and this skirt-dress combo is no exception. Made in a bold print or an elegant block colour, the combination of movement in the skirt with a pair of knee high boots will leave you looking fabulous at any winter gathering.