Make the sweetest mini paper carnations for Mother's Day
Published on

20 April 2021
1

min read
When it comes to paper flowers, no one does it quite like Sara Kim from HandmadeBySaraKim. Her intricate floral paper designs have become a favourite with brides, and they're about to become a firm favourite with mums too! Here Sara Kim shows you how to make the sweetest mini floral carnations, wrapped up as a bouquet and as a gorgeous gift box – perfect for Mother's Day or mum's birthday.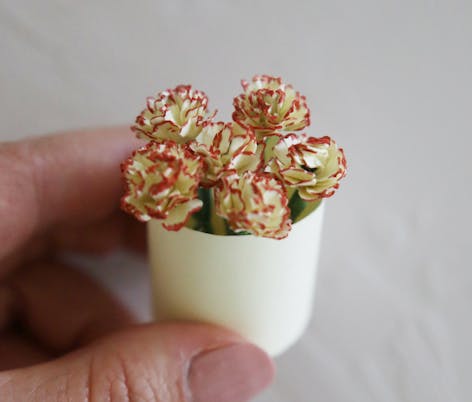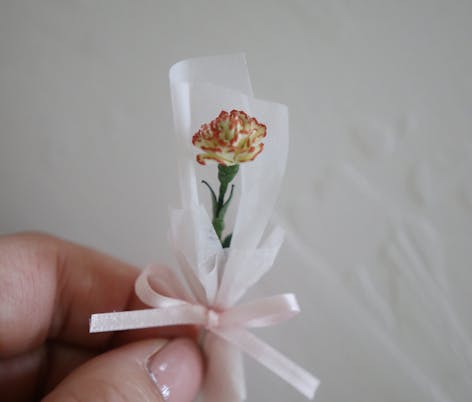 Materials
Ivory cardstock

Green wire

Pink marker

Floral wire (22 gauge)

Floral tape

Pink tissue paper

Scissors

Tacky glue

Poking tool
How to make a mini paper carnation bouquet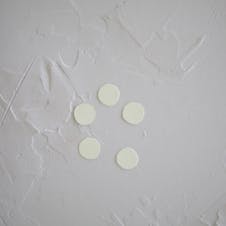 Cut 5 circles about 1in in diameter. You can make them bigger if you like, they don't have to be perfect!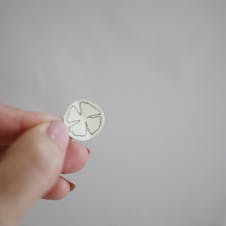 Fold the circle in half and then in half again. Using the four creases to guide you, cut a 4-petal flower with jagged edges at the tip of each petal. You could draw it out once to help guide you, and you can cut the shapes freehand once you get the hang of it.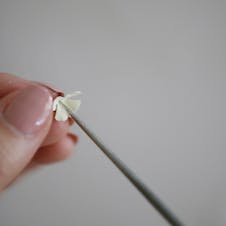 Once you have the 4-petal flower shape cut out, shape each petal with a stick with some petals curling in and some curling out. Poke the centre with the stick or poking tool.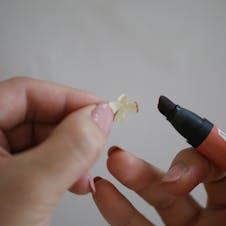 Take a pink marker and mark just the edges of each petal. Repeat for all 5 flowers.  
Cut a 2in piece of floral wire and curl one side, then poke a flower through. Glue the tip then squeeze the flower together onto the curled wire tip. Add the other 4 flowers, gluing every time and pushing in toward first one.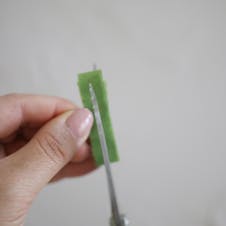 Cut the floral tape down the centre to create a thinner strip of floral tape.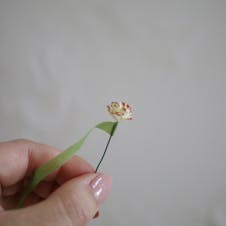 Wrap the floral tape in the same place a few times to create a thick area right below the flower to mimic the carnations then wrap the rest just once. You can add small leaves if you want.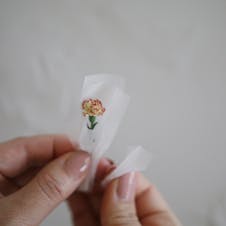 Wrap the mini carnations with pink tissue paper like a wrapped bouquet gift. Add on a blank card or use as gift topper. 
How to make a mini paper carnation gift box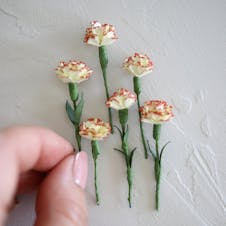 Follow the steps above to create 6 mini paper carnations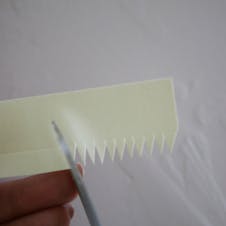 Cut a strip of ivory paper to 4in x 1in. Crease down ¼in and use that line as a reference to cut small triangles along the line.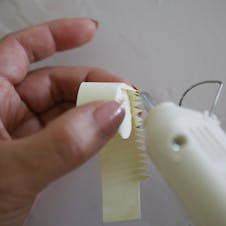 Cut a 1in circle and carefully fold the triangles around the circle to create the base of the gift box. Glue 2 or 3 triangles at a time, going around the rim of the circle.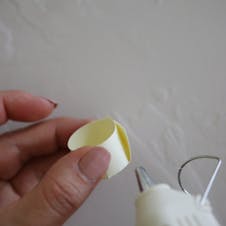 Glue the ends in place to create a circular box.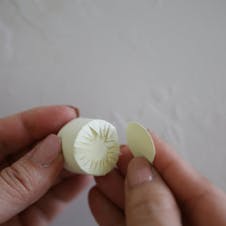 Add another same size circle to cover the triangles on the base.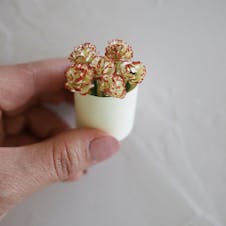 Place your mini paper carnations into the box. You can add a little glue at the bottom to keep them in place if you wish.
Discover more paper craft inspiration