These are a few of our favourite (yarny) things
Published on

8 March 2019
By

Merion
3

min read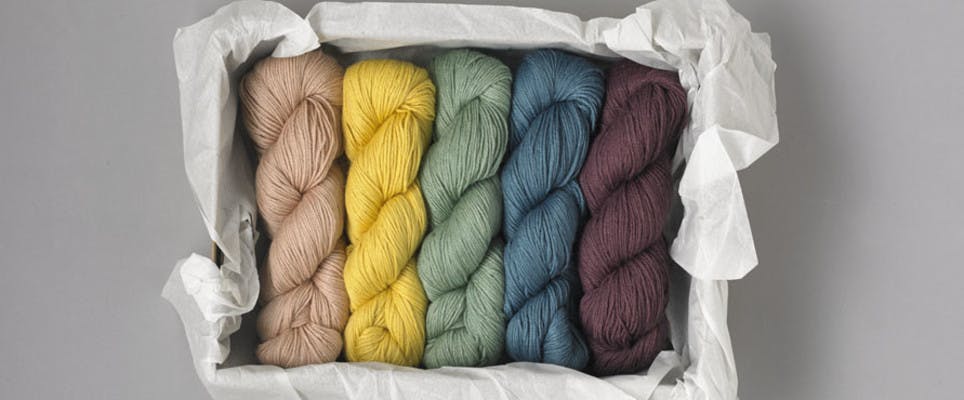 Raindrops on roses, and whiskers on kittens, bright copper kettles and warm woollen mittens... we absolutely love warm woollen mittens here at LoveCrafts, but what else are we lusting after this month? We've had a whirl around the office to find out what our team of makers loves best.
Super knitter and crocheter Louise, from the Smiles team, loves MillaMia Naturally Soft Cotton. She says, "I have two projects (both shawls by Boo Knits) on the go at the moment, and another two planned (a third shawl and a pair of fingerless mitts). It's perfect for super soft vegan/allergy friendly accessories."
Amazing Ella, from our Digital Patterns team, wouldn't be without her tape measure or two - one for home and one to pop in a current project bag. You could knit or crochet yourself a little tape measure cosy to keep it safe!
Multi-talented Sian from our content team is a keen sock-knitter, artist and singer, and she absolutely loves this fabulous new sock pattern from designer Alice Neal, the Sandra Dee socks. "As a fan of musicals, and of sock projects, it was obvious I was going to love this pattern!" she says - and we know she will love the yarn too - they are knitted in Debbie Bliss Toast 4ply, a cosy cashmere blend that is super soft and delicious to wear.
Intrepid crocheter Jen, who has just completed a 24 hour marathon for charity (amazing!) loves a new crochet pattern. She can work the tiniest stitches, so she's so good at amigurumi and flowers! These are her three top faves...
Supersonic Claire, who is one of the most talented knitters we have ever seen, votes for Lykke interchangeable Driftwood needle tips. "They're so smooth and comfortable in the hands," she says, "and the word Lykke is Norwegian for happy - that makes me happy!"
Fabulous Isabel knits and crochets, and wears her makes to work, she is such an inspiration! Along with Jen, Isabel works in the email team and between them they scan through hundreds of patterns every week. These are her top three!
Merion is madly in love with the new yarn from The Yarn Collective, Rivoli Sport. It's a heady blend of merino wool, alpaca and silk and the colours have been curated by designer Nadia Crétin-Léchenne, who has created designs especially for the yarn. "I fell in love with the colour palette - it is designed with great works of art in mind, and I couldn't resist Henri Plum and Vincent Yellow!"
What's your favourite thing this month? Are you feeling inspired?
Upload a project to the community with hottag #MySpringWIP to win £25 to spend at LoveKnitting or LoveCrochet!
How to enter the competition
1. Upload a new project to our community.
2. Post photos of the Spring project you're making (tell us why you're making it in the description too).
3. Use the hottag '#MySpringWIP'.
Easy as that! Enter before the midnight 30th April! 
Never shared a make before? Fear not, here's a guide on how to create a project.