Want to learn a new skill? Why not try mosaic crochet! Maybe you've been crocheting for a while and have seen mosaic crochet but haven't dared to try yet. With this step-by-step video tutorial you'll learn how to do mosaic crochet. Quickly, you'll realize that mosaic crochet is an easy way to create geometric shapes and to bring interesting trendy effects to your work. Bring your crochet hook and some yarn and let's learn how to do mosaic crochet!
Materials
4 mm crochet hook
Scissors
What is mosaic crochet?
Mosaic crochet is a way to work with colours while crocheting to bring out a pattern in your work. It is crocheted over two rows, meaning that you work with one colour for two rows and then change to the second colour for two rows. The stitches you need to know to make mosaic crochet are (in US terminology) single crochet, double crochet over 2 rows (also known as long double crochet) and chains.
What does worked over two rows mean?
For mosaic crochet you usually have a mosaic chart. The chart is different to other crochet charts in the way that every row on the chart represents two rows. You work the right side row as according to the chart (from right to left). Your wrong side row is the mirror image of your right side row, except for where you made a long double crochet which is replaced with a single crochet.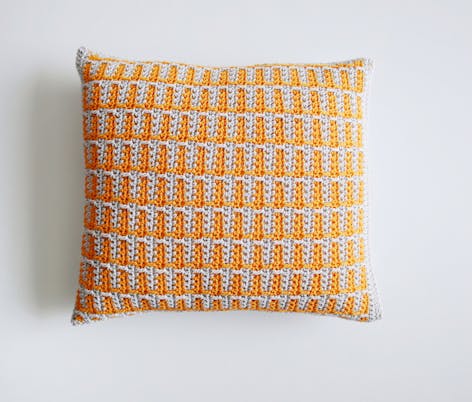 Seems complicated?
Using the pattern above, you create a swatch and learn a stitch repeat that you then can move forward to use to create your own mosaic crochet pillow. What is great about the swatch is that it makes a great coaster. Make the swatch many times to learn and at the same time get great coasters for your home! This pattern has every row written out, so you do not have to remember the rules above. This way, you'll first learn how to work with the different stitches used in mosaic crochet (i.e. it doesn't include the typical mosaic crochet chart).
Check out the video for step-by-step instructions and download the free pattern for the coasters and pillow to get started!
More mosaic crochet patterns
Learn more fun stitch techniques!