Guide: How to Take a Measurement
Published on

30 October 2018
By

Emma
2

min read
One of the joys of making your own clothes is that you can get them fit properly. Things bought off the peg have been made to an average size, and as we all know, there's no such thing as average!  (There's a lovely story that when the US Airforce was designing the perfect cockpit, they took the measurements of 100 pilots, worked out the average size and designed it accordingly. When it was finished, not one of them fitted in it.) To get your garment to fit you in all the right places, all you need to know is how to take your measurements.
Here's our guide to how to do it.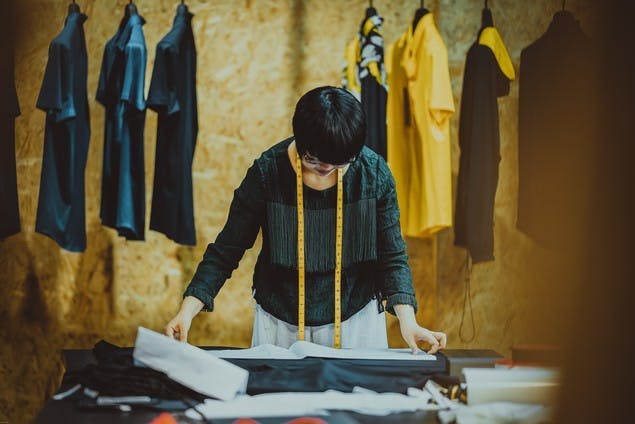 How to take a woman's measurement
Ladies, bust, waist and hip and the basic measurements you'll need when making a top, and the inside leg is your foundation when making trousers.
Bust - you need to measure the fullest part of your bust for this, making sure that the tape measure stays level across your back as well as your front.  
Waist - it may sound obvious, but your waist is area below your rib cage and above your belly button. When you're taking the measurement make sure you're tummy is relaxed and check that the tape measure stays level all the way around.
Hips - this measurement is around the widest part of your hips so includes your bum as well.
Inside leg - you need to measure from the very top of your inner thigh, all the way down to the floor to get an inside leg measurement. To get an accurate measurement, make sure that the tape measure stays as straight as possible.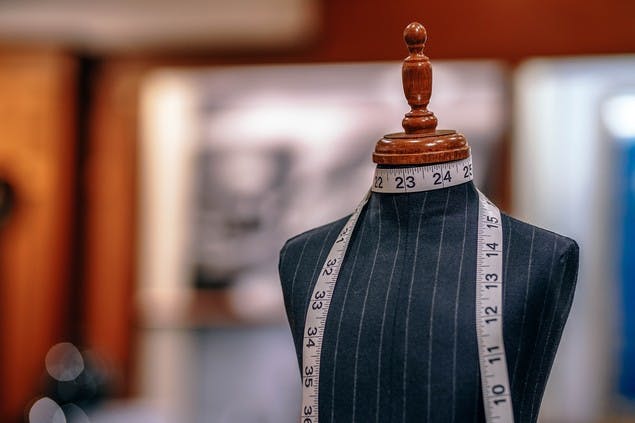 How to take a man's measurement
Gentlemen, you'll need to find your neck, chest, waist and inside leg for basic measurements, but you can get really bespoke with extra measurements too.
Neck - this measurement is taken at where the neck joins the shoulder muscles, make sure you don't pull the tape measure too tight!
Chest - the same as a bust measurement for women, this is taken around the fullest part of the chest, making sure that the tape measure stays level across the back as well as the front.
Waist - there can be two waistlines for men; the 'natural' waist which is the narrowest part of the body, between the rib cage and the belly button, or the 'belly button' waist, which is  lower, and often where the waistband of a pair of trousers will sit.
Inside leg - some will say measure to the floor, others, the ankle bone. Really you need to measure to wherever you want your finished trousers to sit which is often between the ankle bone and the floor.