How to make a t-shirt quilt: your complete guide
Published on

16 March 2020
By

Holly Butteriss
3

min read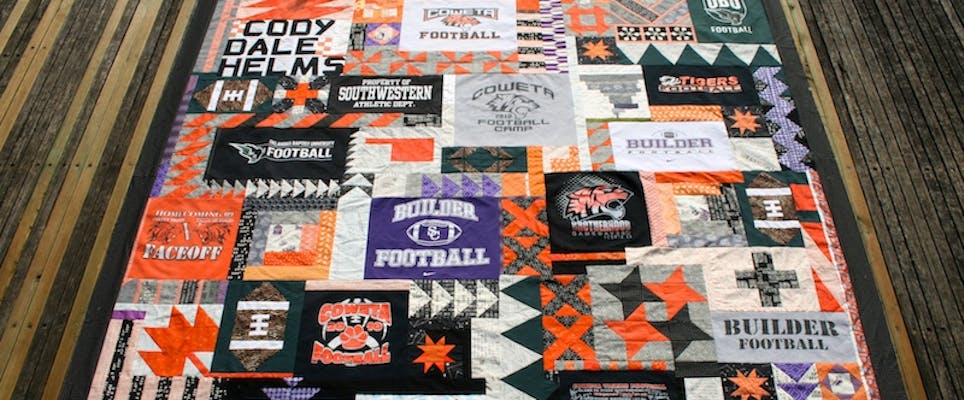 Why not preserve all your beloved favourite t-shirts and make one of these awesome t-shirt quilts! Grab your sewing machine, rotary cutter and pins and get going!
What is a t-shirt quilt?
You know all those old t-shirts you have cluttering a drawer in your wardrobe? The old favourite t-shirts, the ones you were given for free, or you bought at concerts or on holiday? Maybe a couple you've held on to from your childhood, we're talking about the t-shirts you haven't worn for years or are strictly in the pyjama section of your wardrobe. You keep them because they have some sentimental value for you that means you can't bear to throw them away, but you know they're just taking up valuable wardrobe space.!
Well, this is where the t-shirt quilt comes in! Sometimes called a memory quilt, a t-shirt quilt uses all the designs on your treasured t-shirts to  create a cosy quilt! T-shirt quilts are a fun way to preserve the memories these t-shirts hold for you in a way that's super creative, sustainable!
If you're not a seasoned quilter, check out our super helpful step by step how to make a quilt tutorial to get up to speed on the basics and Kate Owen's cheat binding method!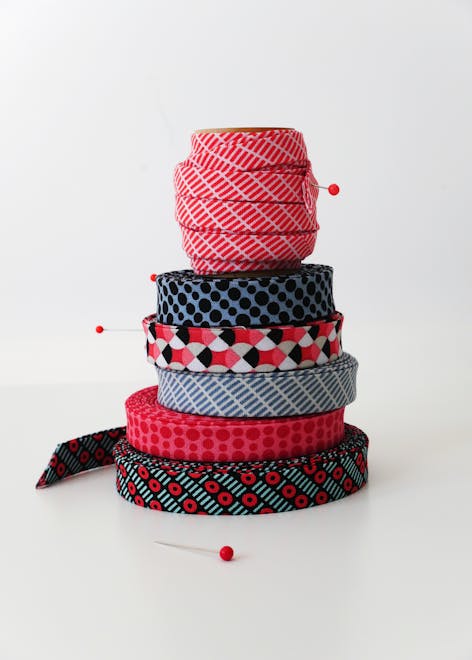 What you need
Your favourite old t-shirts - you can use as many t-shirts as you want for your quilt. The more t-shirts, the bigger the final quilt!
Sewing machine
How to make a t-shirt quilt
First things first, collect up all your favourite t-shirts and make sure you have enough for the size quilt you want to make. There are a couple things to consider before start: 
How big are your t-shirts?
Will you cut every panel to be the same size? 
How large do you want your quilt to be? Do you have enough t-shirts to make a shirt quilt that big?
Do you want to frame the t-shirts with borders to help them stand out and make your t-shirt quilt bigger?
That's a lot to consider, but it's important you figure out what you want your finished product to look like before start cutting the shirts. It's also probably a good idea to wash and dry all your t-shirts before you start so that everything is fresh!
Time to cut the shirts! Focusing on the main design that you want to feature in your t-shirt quilt, cut as close to the seams of the t-shirt as possible using a sharp rotary cutter, so you have extra fabric to work with! For example if you want the finished panel to measure 12x12", cut it 14x14" - you'll trim this back after fusing!
Now you've cut all your shirts, you need to lay out all your panels and play around with how they fit together until you're happy with the overall design. 
Fuse your interfacing to the shirts, following the manufacturer's guidelines to make sure they're closely bonded before trimming back to the unfinished dimensions. 
Now it's time to add in any sashing to separate and frame your t-shirt panels or add  patchwork to break up the t-shirt pattern.
To finish your quilt, do as you normally would and use a ½" seam allowance to sew your panels together, press the seams open and apply binding to the edges!
Top tips!
Try to keep the design on your t-shirt centred and avoid cutting off any part of the design to give your shirt quilt a clean finish.
Use a brightly coloured or fun patterned fabric for the back of your t-shirt quilt to make it really pop!
Has your t-shirt got a cool design on the front and back? Use both sides in your t-shirt quilt!
It's tempting to stick with easy rows and columns when making a t-shirt quilt, but try creating a dynamic and interesting layout with your t-shirt panels.
Get inspired by these amazing t-shirt quilts!
The truly inspiring Molli Sparkles is a quilting extraordinaire and this gorgeous t-shirt quilt is definitely one we wish we could get cosy under!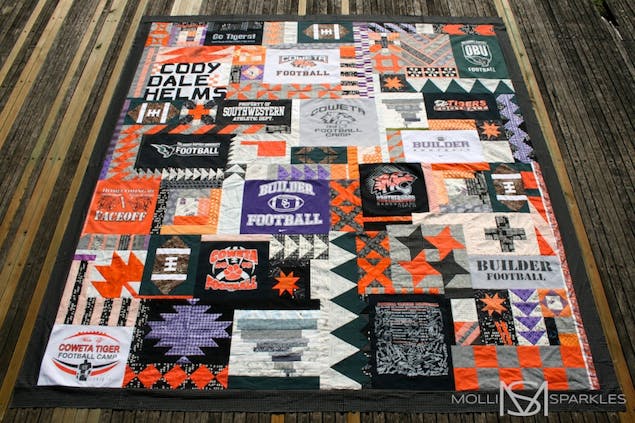 Charlie is a self confessed fitness junkie and is always looking for new ways to display her medals, race bibs and you guessed it  - t-shirts! Charlie's fantastic memory quilt is one we have no doubt she'll treasure forever.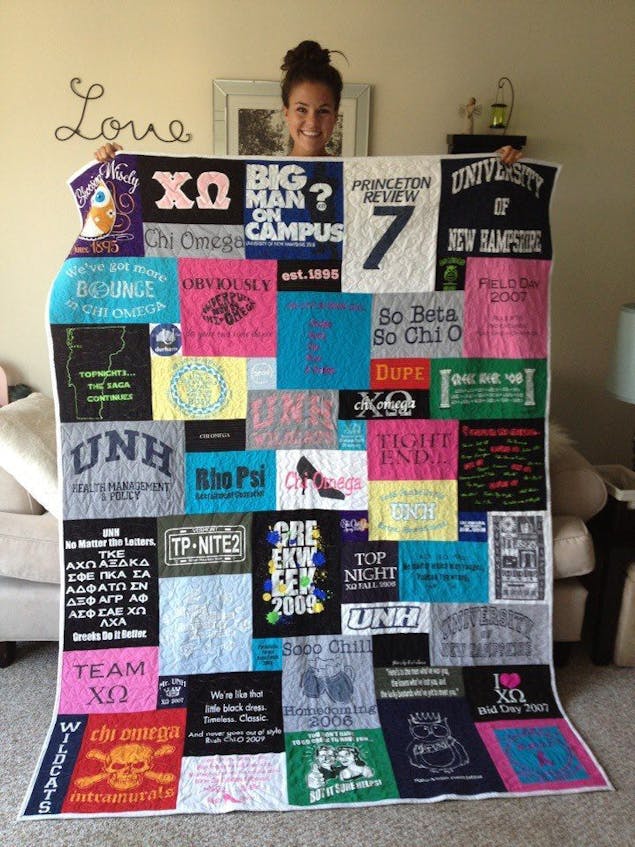 Kayla's gift for her retiring principal truly captures the heart of t-shirt quilting, preserving memories and getting creative with them!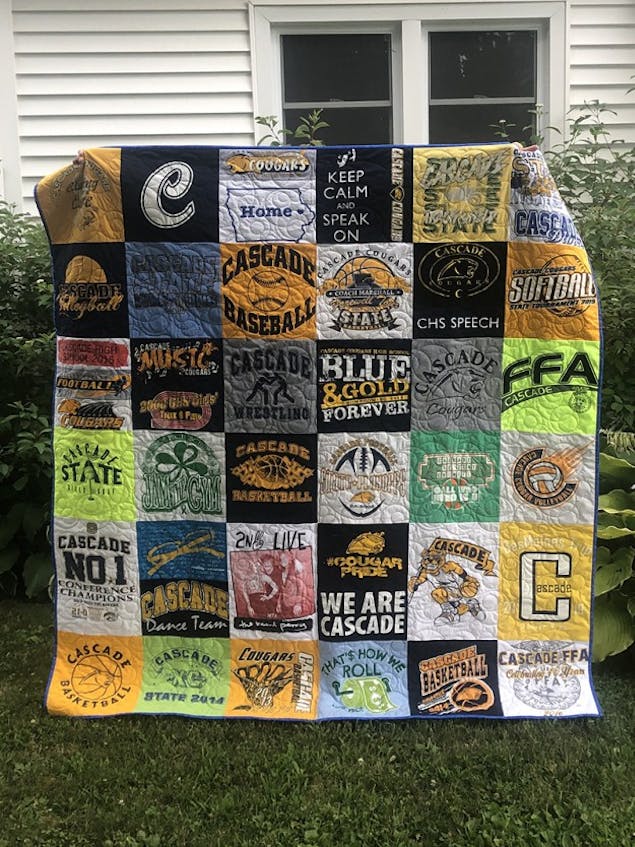 Monicapare's t-shirt quilt is another fantastic example of how all those old t-shirts cluttering your wardrobe can be repurposed and given a new home in a gorgeous keepsake you can pass down from generation to generation.