How to crochet a mermaid blanket - 3 FREE patterns!
Published on

10 June 2019
1

min read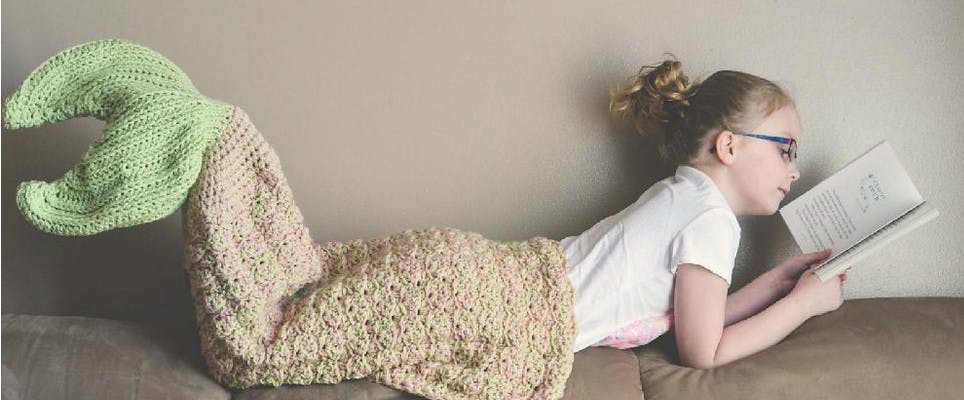 Do you dream of being a mermaid? Mermaid tail blankets are the cosiest and sweetest blankets ever. They're oh-so perfect for snuggling down into to watch a movie on a rainy afternoon, or curling up with a good book! Crocheted into a fish tail shape with a fabulous flipper at the end, mermaid blankets can even be converted to shark blankets for those Jaws fans.

Don't buy your mermaid tail, crochet your own and make it suit your style and your life perfectly. Crochet your mermaid tail in simple stitches and use self striping yarn, or add extra shell and scalloped edging for a seaside feel. The possibilities are endless!
Children's mermaid tail blankets
The little ones in our life love to dress up! With mermaids always being a fun mythical creature to dress up as, we predict many mini mermaid tail blankets your future.
Adult mermaid tail blankets
Adults love to dress up too. We all love to be cosy and snug and the mermaid tail blanket is the perfect way to get warm and toasty while reading a great book or watching something on tv. Crochet one of these adult sized mermaid tail blankets for yourself - you've never been so cosy!
Shark and fish tail crochet blankets
Want something a little different to a classic mermaid tail? Crochet a shark or fish blanket to cosy up in!
Mermaid tail crochet yarns
Ocean hues, chunky weights, and soft-on-the-skin fibres, these yarns are all perfect for crocheting your own mermaid tail!