Guide to precut fabrics
Published on

13 July 2020
By

Yaz
3

min read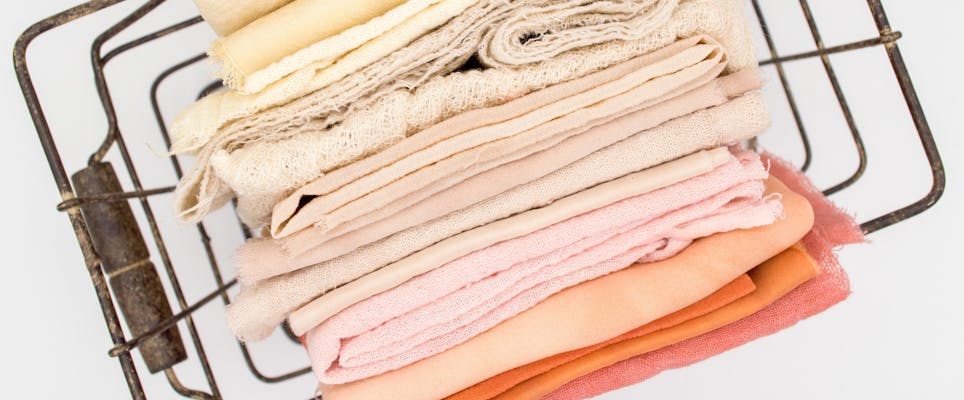 Getting a little befuddled when it comes to choosing precut fabric? We've got you covered! Whether you're embarking on your very first patchwork quilt or taking part in your own sewing bee. We're here to make sure you know your fat quarters from your jelly rolls in this handy guide to precut sewing fabrics!
Fat quarters
But why is it called fat quarter? 
Great question! A fat quarter gets its name because it measures a quarter of a yard of fabric. If you were to cut a regular quarter yard from a bolt of fabric it would usually measure roughly 9" by 42". 
A 'fat' quarter has the same surface area as a regular quarter yard, but instead comes in a super handy square-like dimension. Fat quarters are the perfect shape and size for making snuggly patchwork quilts, cushions and bags, to name a few!  
Fat quarters are great as they can be easily cut into smaller squares or triangles, to suit your sewing project!
What is the standard size of a fat quarter?
Great for sewing starters and a handy precut piece of fabric, a fat quarter usually measures around 18" x 21-22" (this might vary a touch depending on brand and type!). 

Strip roll precuts  
From tonga strips to jelly rolls, different fabric brands love to have their own quirky names to describe their precut bundles of strip material.  

But what is a jelly roll?
Jelly roll is the fab name Moda Fabrics originally coined to call their strip roll precuts. Jelly rolls are unique because of the wonderful way the fabric strips are rolled together and cut with a zigzag edge to stop fraying! 
Each bundle of jelly roll usually includes 40 strips, enough to sew almost 3 yards of fabric in total. Each strip measures 44" x 2 ½" . 
What is the standard size of strip roll precuts?
Strip roll precuts is the umbrella name for all those gorgeous bundles of precut fabric, measuring 2 ½ " inches in width and roughly 44-45" in length (depending on how long the bolt of fabric is). 
Our fave strip roll and jelly roll precuts
Charm packs
Charm packs are created to make all your patchwork dreams come true! Easy to choose, charm packs can vary anywhere from 42 pieces per pack to 101.  From solid hues to fun designs, they are quilting essential.
What is the standard size of a charm pack precept?
Charm pack are made up of 5" precuts, great for beginner patchwork or special projects, where all the material you need is already prepped and ready for sewing.
Choose your own charm pack
Find the perfect project for your precuts