8 brilliant DIY thank you card ideas 
Published on

6 June 2022
3

min read
There are a million and one ways to say thank you, but giving a handmade card has to be one of the best! Say thanks for a generous gift or to a helpful hero with a gorgeous homemade thank you card. Whether you're wanting to show some teacher appreciation at the end of term or send a personal message to friends or family members who've been there through the tough times  – we've got the thank you card design for you. You can thank us later!
1. A cosmic thank you! 
Sometimes a huge thank you doesn't cut it. Say a gigantic galactic thank you with a cosmic shimmer card! We love this tutorial by Crafi Potential making the most of Cosmic Shimmer glittering potential. Receive a smile just as shiny from your loved one when you give them this handmade thank you card!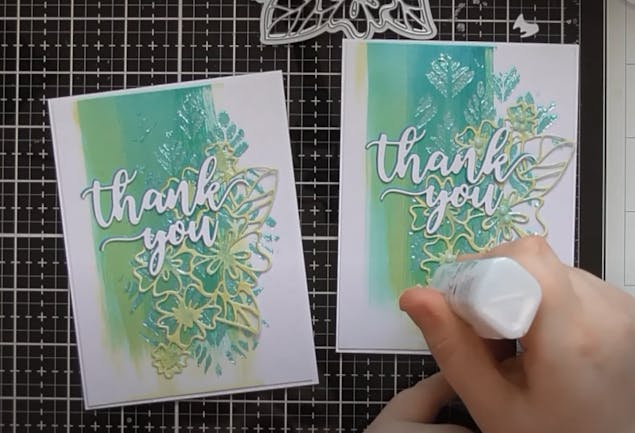 2. Darling DIY thank you note 
If you're feeling like saying thank you just because… a note is just the ticket. Take inspiration from Maggie Holmes' darling thank you note to create a cluster of special thank you's! Choose your favourite patterned papers to emboss and decorate with stamps. Share some of your most cherished memories by making a photo holder. Why not make a sleeve to pop in a well deserved gift card as an extra treat!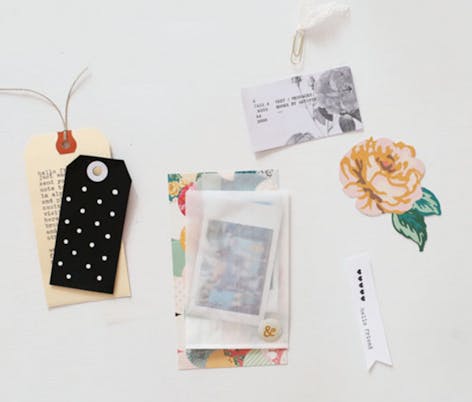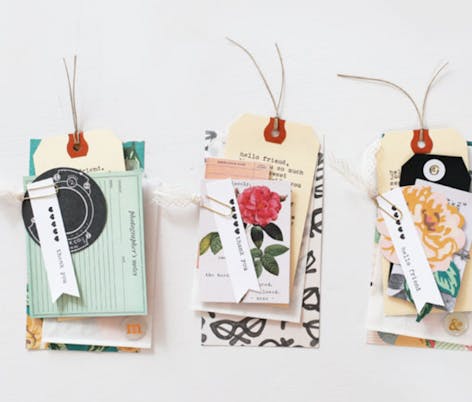 3. Say thank you with flowers
Giving flowers as a thank you is always appreciated. But a custom thank you card with beautiful flowers will never fade. We love this colourful creation by Paige Taylore Evans using a floral die cut. Try cutting multiple flowers and inlaying them to create a 3D bouquet design.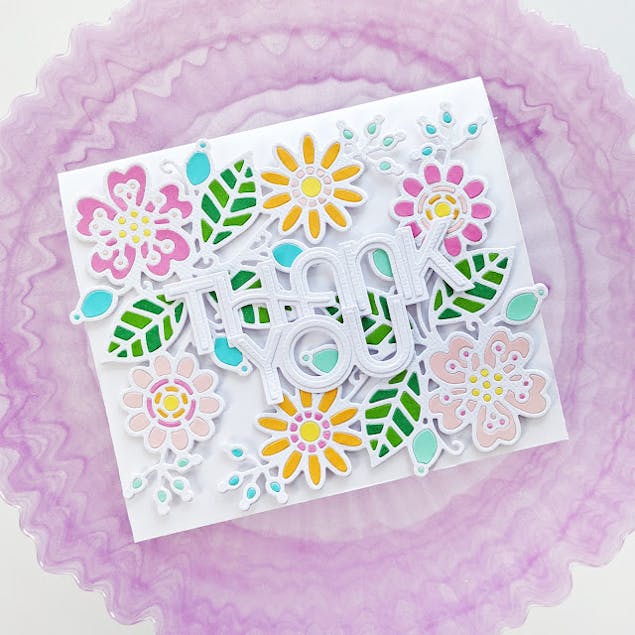 4. Grow your gratitude
Show how much you care by cutting some planter pots full of green! Take a leaf out of Sizzix's book and craft a 3D planter card for your loved one. We love Sizzix's macramé planter! Use some ink for the perfect plant effect.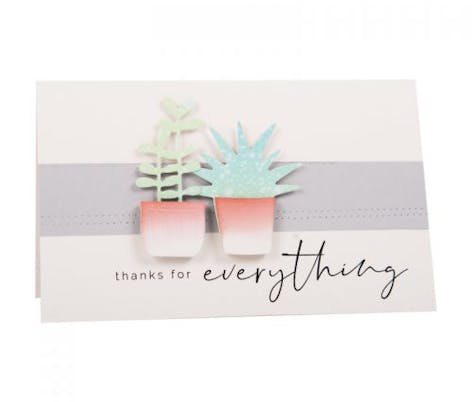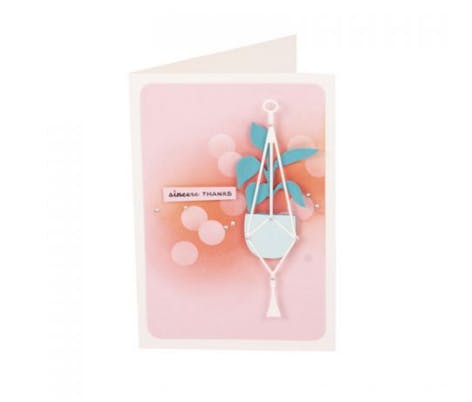 5. Pop-up thank you card
Sometimes feelings of thanks just pop up and you have to express it! Show how much you value your friend with an amazing pop-up card. Finish with some die cut flowers like Crafter's companion or use a bold colour like this brilliant orange Sizzix design.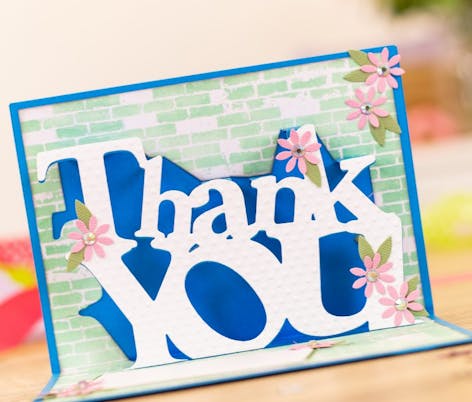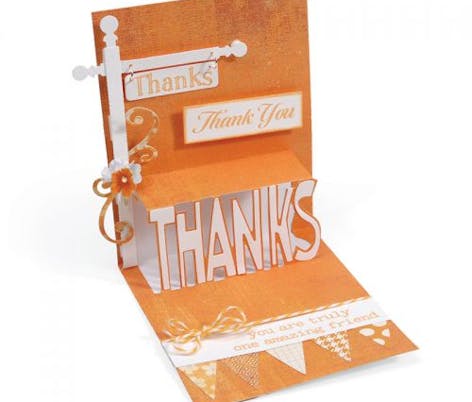 6. Dying to say thank you! 
Put your thank you first with die cut thank yous. Create a colourful background for your thank you message like in I'm In Heaven. Or use Crafter's Companion as a card template and embellished with more die cut delights inspired by the Crafter's Companion beautiful butterflies.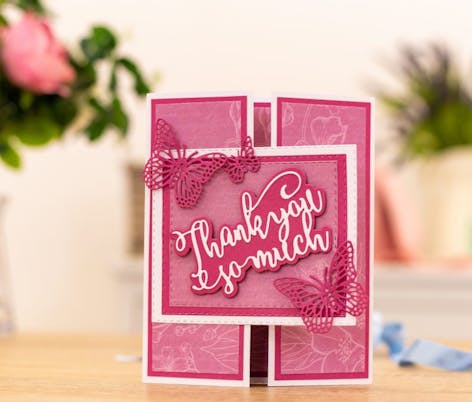 7. Shaker thank you card
Shake a leg, it's time to get creative! We love these fun sequin-filled thank you cards! Stencil a geometric shape like Everything Art & Craft's hexagon design and fill your shaker card with confetti. Or use your favourite sequins and a beautiful coloured backdrop like Ellen Hutson's unicorn design, a perfect kids thank you card!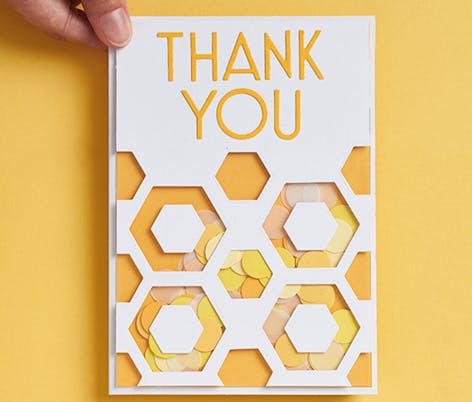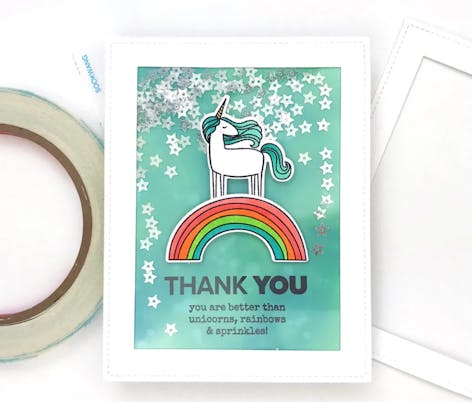 8. Easy washi tape thank you card
If you're stuck for time and need to write a thank you note with a personal touch, try out a washi tape card. This is also a fantastic thank you card idea for kids they will love making! Craft a clever bunting card with washi tape using twine or string. Or shape your washi tape into little banners to write a heartfelt thanks onto. Super simple, quick and easy!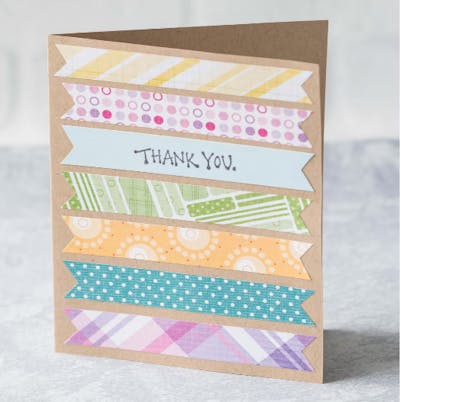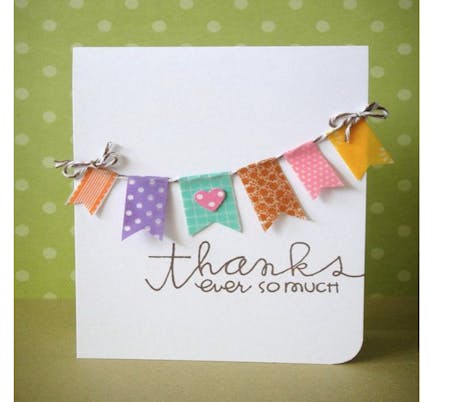 Discover more paper craft inspiration!