Crochet a plant pot cover!
Published on

8 September 2020
3

min read
Lauren from She Starts Again shares her super easy tutorial for a crochet plant pot cover. Using a recycled jar or old candle and some leftover, eco-friendly yarn, this project is the perfect stash buster!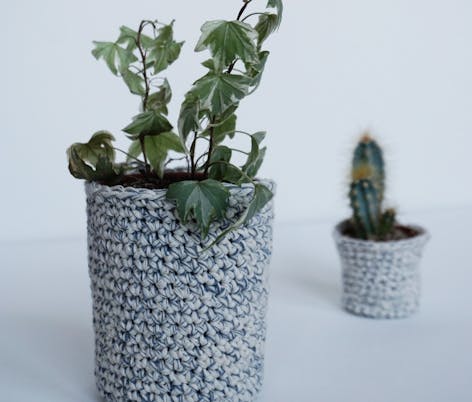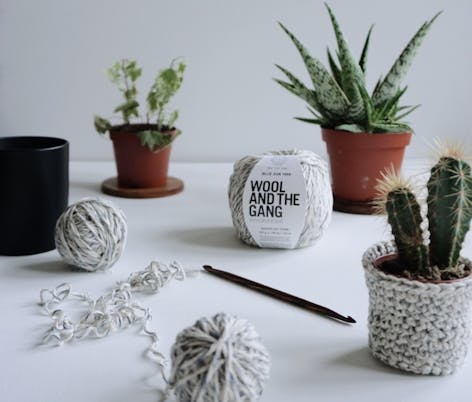 I'm all about eco-friendly yarns and modern, neutral-coloured crochet and so Billie Jean Yarn from Wool and the Gang ticks all my boxes, as it's made from upcycled cotton and denim scraps. The Washed Out Denim colourway is my favourite for understated home décor and I've already designed a contemporary granny square blanket and a potholder for the kitchen with this yarn.
In this tutorial, I'm using leftover Billie Jean yarn to make a modern, crocheted plant pot cover, using a recycled candle as my base pot.
Exact tension is not essential for this project, as you can measure by sight against your pot/jar, but 4 rounds will measure around 1" in height, and 2 rounds will give 1" in diameter.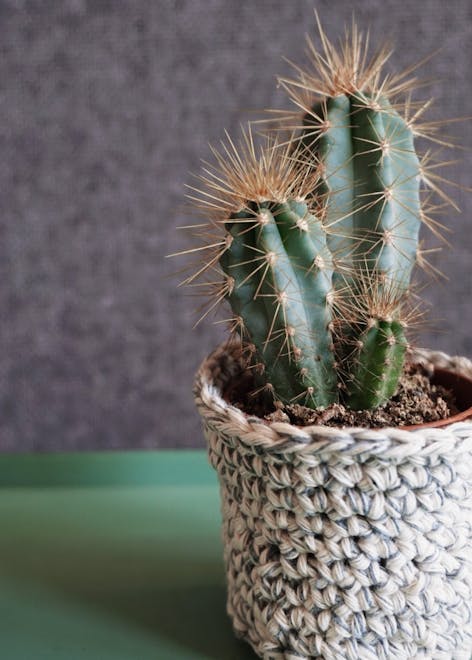 Abbreviations
This tutorial uses UK crochet terms.
Ch – chain
Dc – double crochet
Sl st - slip stitch     
Rnd(s) – round(s)                                                                                                              
St(s) - stitch(es)
BLO – back loop only
RS – right side
Finding a pot
Recycle a jar – or use a spoon to scrape out the wax from a finished candle – to use as your plant pot base. Any recycled container that your plant fits into will work and then you'll spruce it up with your crocheted pot cover!
Keep your plant in the plastic pot it came in and don't worry if it doesn't fit all the way down into your recycled jar/pot. The lip of the plastic pot might sit above the lip of your recycled pot but this is a bonus, as it gives extra drainage, preventing root rot and your crocheted pot cover will hide the unsightly plastic.
Alternatively, if you have a plant that doesn't require much watering, like my mini cactus here, you can put your crochet cover directly over the plastic pot.
Crocheting your pot cover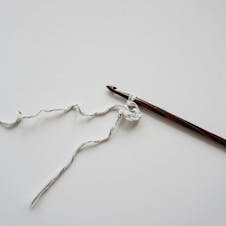 Ch 4, join with sl st in first ch to form a ring.
Pro Tip
You will work in unjoined rounds. Always mark final st with a stitch marker.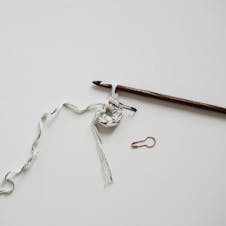 Rnd 1. Ch 1, 6 dc into ring. (6 sts)
Rnd 2. 2dc in each st (12 sts)
Rnd 3. *2dc in next st, dc in next st* repeat to end (18 sts)
Rnd 4. *2dc in next st, dc in next 2 sts* repeat to end (24 sts)
Rnd 5. *2dc in next st, dc in next 3 sts* repeat to end (30 sts)
Continue crocheting in the round, increasing the number of sts between the 2dc increases by 1 each round. The total number of sts will increase by 6 per round.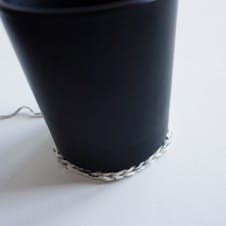 Continue until the diameter of your work matches the diameter of the pot. The work can be slightly bigger than the pot's diameter but should not be smaller than the pot. For example a pot with 3" diameter requires 6 rounds.
Pro Tip
Alternatively, you can measure the pot's diameter with a tape measure. Two rounds will add 1" to the diameter or you can simply check the crocheted piece against the pot.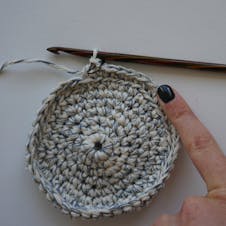 Dc in BLO of each st in the rnd.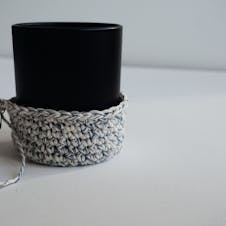 Dc in each st in the rnd. Repeat rnd until desired height is achieved. 4 rnds will give you 1" in height. 
You should check that the cover fits snugly around your pot. The BLO rnd and RS of the crochet should face outwards.
If your plastic pot sits above your recycled jar/pot, continue crocheting until the plastic is covered!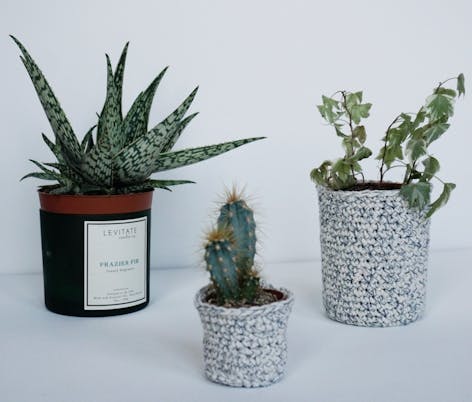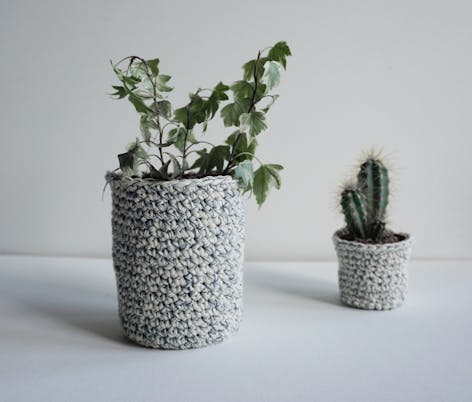 More eco yarns
With this plant pot cover you'll never need to buy a new plant pot again, reducing your consumption and environmental impact. If you are a plant parent to many leafy friends, why not recycle more jars and cover them in a variety of yarns? Here are some more eco-friendly yarns you could use to style your plants:
Wool and the Gang New Wave Yarn
This yarn is made by recycling discarded plastic bottles. By the softness of this yarn, you'd never guess it's made from plastic bottles! It's a thicker yarn than Billie Jean, so this would be best used for medium sized potted plants, such as Aloe Vera.
Paintbox Yarns Recycled Big Cotton
Paintbox have a fab range of plant friendly recycled yarn to choose from. For your big plants, in pots of 19cm and above, this chunky yarn would be perfect and the rope-like texture would create a really different look, meaning you can use this tutorial over and over yet still have a range of styles.
Here's a good budget option for those who've got a jungle to crochet pots for. It's made from recycled textile waste, similar to the Billie Jean Yarn, and comes in leafy and flowery colours as well as neutral shades.
You can find more of Lauren's crochet patterns here and connect with her on Instagram. She would love to see your crochet-covered leafy friends!
More eco-friendly projects