10 beautiful bag patterns to knit and crochet
Published on

14 June 2022
5

min read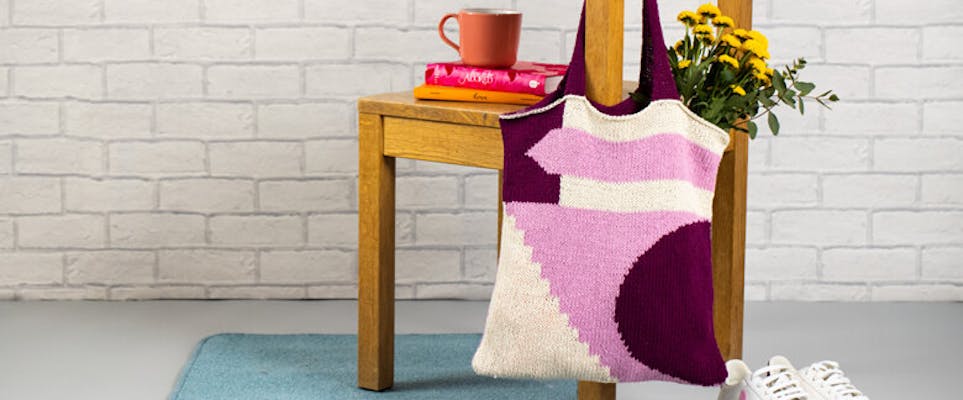 There are so many good reasons to knit or crochet your own bags - they're great fun to make, they're completely original, and you can embellish them to your heart's content. From knitted purses to crochet clutches, the bag-making opportunities are endless!
What's more, making your own bags is kind to the planet. Sourcing good quality, strong, or eco-friendly yarns will ensure that your bags are long-lasting and super sustainable. Make yourself a couple of market bags, and good strong totes, and you won't need a plastic bag ever again! Little, oversized, stylish, practical - there are plenty of gorgeous bag patterns for you to explore...
Knitted purses and knitted totes
Let's start things off with a fabulous collection of knitted bags. In this collection, you'll find patterns that cater for beginners to advanced knitters, and there's plenty to knit for yourself or to gift. Knit yourself a bag for every occasion! Hurrah!
Hanna Tote Bag FREE knitting pattern
We can't get enough of this unique and abstract pattern tote bag. Not only is it eco-friendly and knitted with Paintbox Yarns Recycled Cotton Worsted but it's totally fabulous and fashionable. Slow fashion never looked so stylish. The Hanna tote is a great chance for intermediate knitters to learn new intarsia skills too!
Fun Fringed Bag FREE knitting pattern
Looking for the perfect summer shoulder bag? Why not weave a wonderful fringed bag with this free knitting pattern. This colourful creation is a joy to make for all knitting levels and a splendid addition to your summer style. Get your knitting needles into some colourful yarn and you'll have whipped up a super fun fringed bag in no time. Your cool plaid pattern will stay bright and bold for many summers to come with this machine washable Paintbox Yarns 100% Wool Worsted Superwash!
All-About-Town Tote FREE knitting pattern
Be the talk of the town with this amazing make All-About-Town tote. We love the berry delicious colours of this tote pattern but it would look equally show-stopping in any Lion Brand Vanna's Choice worsted wool shades.
The Classic Produce Bag knitting pattern
You'll love going shopping for your weekly groceries with the Classic Produce Bag in tow. Designed by independent designer Darling Jadore, this simple, sweet bag is knitted in lace weight yarn for a sturdy mesh finish. The finished product is lightweight and folds up to nothing, but can stretch to store all the delicious treats you'll find at the market. Practical, cute, eco-friendly and a great pattern for all knitting abilities. Your grocery shop has never been so stylish!
Timeless Chic Clutch knitting pattern
A houndstooth pattern adds a touch of glam to any outfit and Chatty Cathy Knitting's clutch knitting pattern is no exception. This timeless chic clutch will look paw-sitively fabulous in any colour combination of worsted wool. Make a sustainable statement and repurpose some cool fabric to line your new clutch.
Crocheted purse and crocheted tote patterns
A crocheted bag is a glorious thing to make and to use. This collection of 5 crocheted bags will keep you happy in WIPs and on your next outing out with your newest crochet creation.

Flowers Of Spring Bag crochet pattern
We love K.A.M.E. Crochet's beautiful floral twist on the classic granny square. This unique granny square pattern is great for all crochet lovers, from beginners looking to get their hook into a little challenge, to advanced crocheters looking to whip up a gorgeous new bag for spring and summer. Using the cutest pastel Paintbox Yarns Cotton DK colours, this flowers of spring bag is bound to be by your side all summer long!
Beach Bag FREE crochet pattern
Get your hook in some bright and beautiful sport yarn with this colourful beginner crochet pattern from Annemarie Benthem. This rainbow beach bag is not only great for the carrying all your beach essentials, but also for trips to town, and holiday adventures. It's the perfect accessory for summertime outfits with plenty of room for your bucket and spade!
Granny Squares Tote Bag FREE crochet pattern
Trendy and timeless, this bag is giving grandma chic style with a boho vibe. Whip up this vintage inspired tote bag in no time with this quick and easy pattern by Realm Designs. Grab your favourite Paintbox Yarns Simply Chunky colours and you'll be smitten with the end results. If this bag could speak, it would say 'I'm not like a regular granny bag, I'm a cool granny bag'.
Bobble Clutch Bag FREE crochet pattern
If you're looking for a versatile summer clutch that you can take just about anywhere, this intermediate Bobble Clutch crochet pattern by Emma Wright is the one for you. The Bobble Clutch is a fabulous day-to-night crochet bag. Big enough to pop in all the day time essentials and just as chic for a date night out. It's guaranteed to have friends trying to get their clutches on it! Show off the beautiful bubble stitches to with the luxurious, super soft Debbie Bliss Cashmerino Chunky yarn in available in an array of splendid summery shades.
Passion Petal Tote FREE crochet pattern
This vibrant tote bag is sure to attract attention! The stunning Passion Petal Tote has been designed as part of a collection inspired by Mexican artist Frida Kahlo, famous for her folk brights and bold art. It's sure to become your go-to statement bag (and it's got plenty of room for all your essentials!).
Essential bag yarns
In the need of yarn to make your bags? You can never have too much yarn so of course you are! Here are some all-rounder yarns that have been used by our featured designers for these amazing bag patterns. Let's get making!