An introduction to arm knitting
Published on

28 March 2020
By

LoveKnitting
4

min read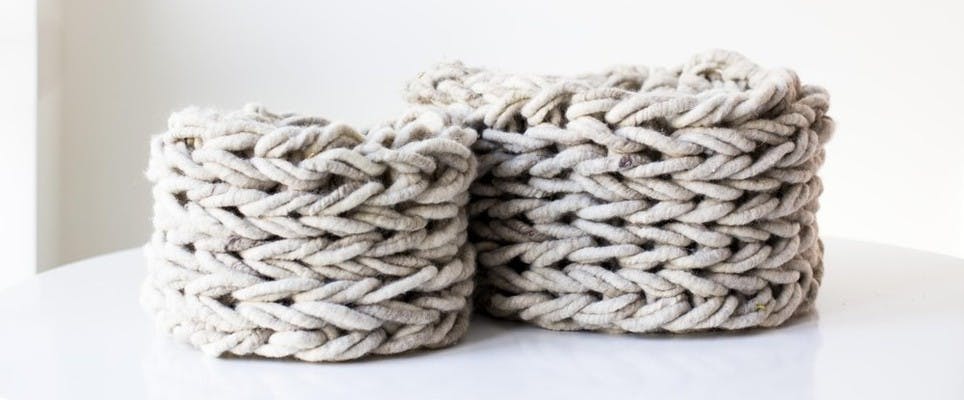 Arm knitting is the clever and unique craft of using your arms, instead of needles, to create a beautiful knitted fabric for statement accessories, homeware and more. If the idea of arm knitting takes your fancy, read on to find out how to get started in arm knitting, plus how to knit a blanket, a scarf and a shawl using this amazing new technique. 
What is arm knitting?
Well, as the name suggests, this is knitting with your arms rather than needles! Stitches are cast on to one forearm, using your hands to work through the stitches to grab the working yarn drawing through to create a stitch, which is then placed on your other arm.
The rows of the project are worked in a back and forth manner. There is no turning of the work in arm knitting as you would in regular needle knitting – you are simply working through the stitches from your right arm and passing the new stitches onto the left. When you're finished working the row, you simply work in the other direction, working through the stitches on the left arm to pass them over to the right!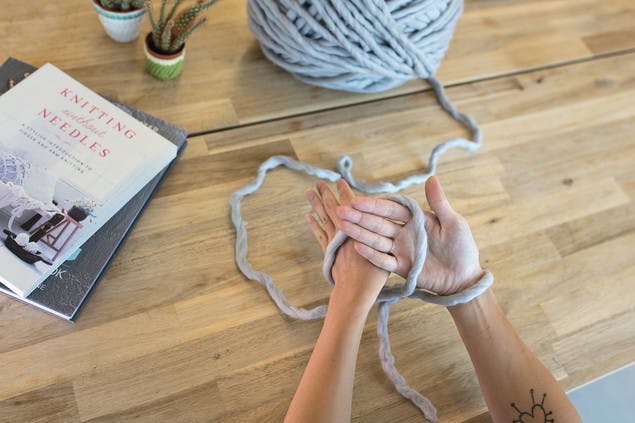 Experienced knitters will soon get into the flow of catching the yarn and creating the stitches, while for knitting newbies, working on such a large scale, is a great introduction to how stitches are created and how they join together in a series to create the fabric of a knitted piece.
For those of us that are a dab hand with the needles, you might be wondering why you would put down your dps, circulars and cable needles in favour of knitting with just your arm alone. Well, there are stacks of reasons why you might like to try this clever and ultra simple technique – primarily speed being one of the main reasons yarn-oholics like to work on arm knitting projects.
How to arm knit
All you need to get started is some super chunky yarn and to follow our simple steps below.
As the tension of the knitted fabric is created by the size of your arms, and not needles, the stitches are so much larger and you can create super-sized projects in just a few hours. Show us a knitter that doesn't want to work up a luxuriously chunky throw in an afternoon!
Arm knitting step-by-step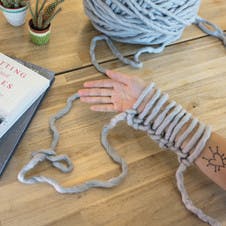 Cast on. Stitches are cast on to right hand forearm.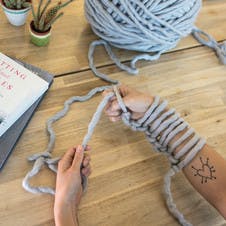 Create a loop. Grab the working yarn and pull through to create a loop.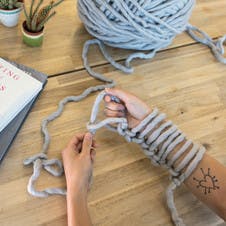 Create new stitch. Draw yarn through loop to create a new stitch.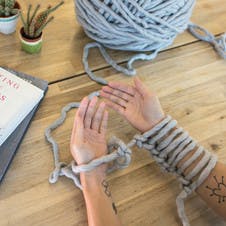 Completing your stitch. Transfer your completed stitch on your left hand arm.
Pro Tip
If you need to stop in the middle of an arm knitting project, take your stitches off your arm one-by-one and put them onto a holder. You don't need to buy one – a roll of gift wrap or a water bottle will do! 
Top patterns for beginner arm knitters
What yarn should I use for arm knitting?
Big knits need big yarn, so your best bet is to use super chunky and extra chunky yarns that knit up quickly with great stitch definition. However, if you've got lots of standard chunky yarn in your stash, you can arm knit by holding several strands together to create a thicker arm knitting yarn.
A few of our favourite yarns for arm knitting
How much yarn will I need for arm knitting?
Vicky from VS Arm Knitting has a great equation for working out how much yarn you'll need. She says: "The math is simple. 1yd x 1yd = 1 square yard. And you need 4lb of yarn for each square yard. So just multiply length by width and times the result by 4 to get the number of pounds of yarn you need. For example, if you want to knit a blanket that's 1.2yd x 1.5yd you'll need 1.2 x 1.5 x 4 = 7.2lb of yarn. Simple as that!"
How to arm knit a blanket
This enormous blanket can made by arm knitting with slightly-felted superwash unspun wool roving. If you've ever wanted to knit in gigantic scale, this is the pattern for you! With our quick tutorial, this fabulous pattern, you'll be ready to cozy up under this amazing arm knitted blanket. 
Five scarves to arm knit
Chunky knits never go out of style and arm knitting is a quick and easy way to whip up some striking accessories. Here's our round-up of five arm knit scarves...
Our top must-make arm knitting scarves, shawls and cowls
Picked your pattern? Selected your yarn? We've got a few final tips before you get started!
Remove jewellery from your arms and hands before getting started. You'll need all the room on your arms and you don't want to snag your chunky yarn!
Try to keep the stitches nice and loose to make it easier to move them from one arm to the other.  
To keep all stitches uniform, turn each loop in a clockwise position when transferring from one arm to the other.
Don't worry if you don't get it right the first time. Arm knitting is big and extravagant and lots and lots of fun – just go with the flow and enjoy it!