12 totally magical toadstool patterns
Published on

8 January 2022
3

min read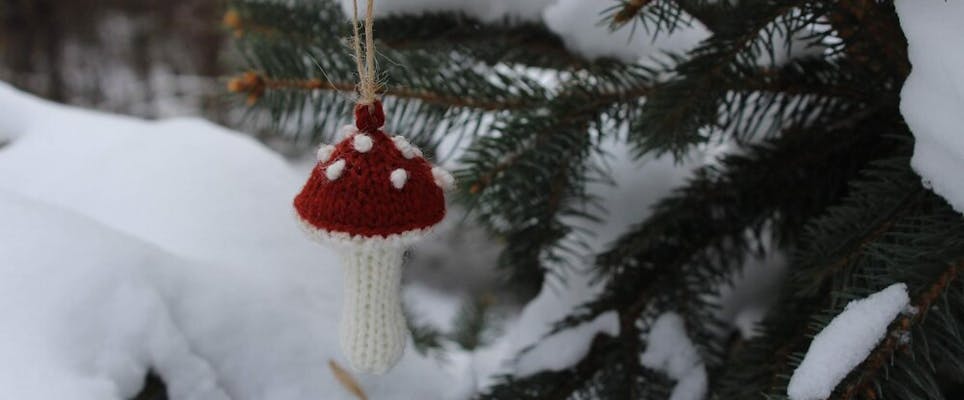 Have you ever wondered why toadstools are called toadstools? It has been suggested that toads find them very comfortable to sit on! Well, who can say for sure? All we know is that these gorgeous mushrooms always charm their way into our woodland makes, thanks to their striking colours and cute spots. 
Toadstool Pillows
Cosy up with your favourite hot beverage and this lovely crochet toadstool. This is an exciting weekend project which will definitely add that bit of extra colour to your home and turn it into your own magical woodland scene. The only real question is: how many of those will you make?
Cute Mushroom Hat 
The perfect make for your afternoon strolls. Practise your intarsia skills and bring your toadstool magic wherever you go!
Tiny Toadstools Ornament & Garland 
Can you think of anything cuter than this beautiful make to add that little extra woodland magic to your home? This gorgeous little toadstool is not only the perfect tree accessory, but can also be made into a magical garland using any leftover yarn you have waiting in your stash. We are here for it!
Toadstool Keychain 
Carry your little mushroom friend wherever your winter boots take you! This quick make will put a smile on your face whenever you open your very own squeaky forest cottage doors.
Toadstool Gift Bag
Wrap up your little surprises in these fun little gift sacks. No peaking! A wonderful cross stitch pattern, which can be enjoyed all year around and would also make a beautiful little framed wall hanging.
Mushroom Fingerless Mittens 
A pattern to be enjoyed by small and big alike. These fun fingerless gloves will make that winter walk that more exciting! They also make the perfect project to try out duplicate stitch, fun-(gi) guaranteed.
Fairy Ring Socks 
Is there a more suitable pair of socks to put on for your next winter walk? Definitely not mush-room for any mistakes with this beautiful design. We need a pair!
Mini Pets - Snails, Bugs and Frogs
If you are still looking for that perfect forest display – this is the project for you. These gorgeous little creatures are not only quick to make but are also very versatile. Turn them into brooches to forest up your winter wardrobe or use them as decoration in the home. Perfect for all the loose ends of  yarn in your stash, just waiting to be turned into some woodland magic.
Tilda the Toadstool 
Imagine finding this cutie on your afternoon forest stroll. We would want to pick him up for sure! This one is definitely a fun-gi that's guaranteed to make everyone happy.
Gnome and Toadstool Scarf 
Wrap up warm with this amazing scarf and keep your hands cosy in the roomy pockets! Choose between intarsia or duplicate stitch to create the little Gnome and his toadstool friends. Adorable!
Cozy Stool 
We know a toadstool when we see one!
These crochet stool covers will add that extra splash of colour to your home and transform any stool into the new favourite seat. Move on over – we want to sit here!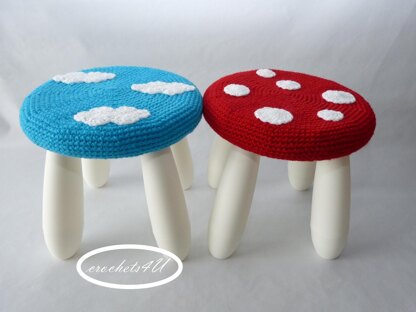 Finn and Phill the Mushrooms
Meet Finn and Phil – your new best friends.
Two little mushrooms which will steal your heart and make you wanna hang out with all their forest pals too. When can we move to the forest please?
More adorable mushrooms to forage!