Learn the tapestry crochet technique with Helen Anderson
Published on

23 September 2021
By

Merion
2

min read
Adding motifs and pictures to jumpers and blankets used to be the province of knitting, but clever crochet designers like Helen Anderson, have created some fabulous patterns to include words, letters, animals and - well, just about anything! Learn how to work the tapestry crochet technique with Helen from made.by.hem, and you'll be adding motifs and colourwork into your crochet like a pro!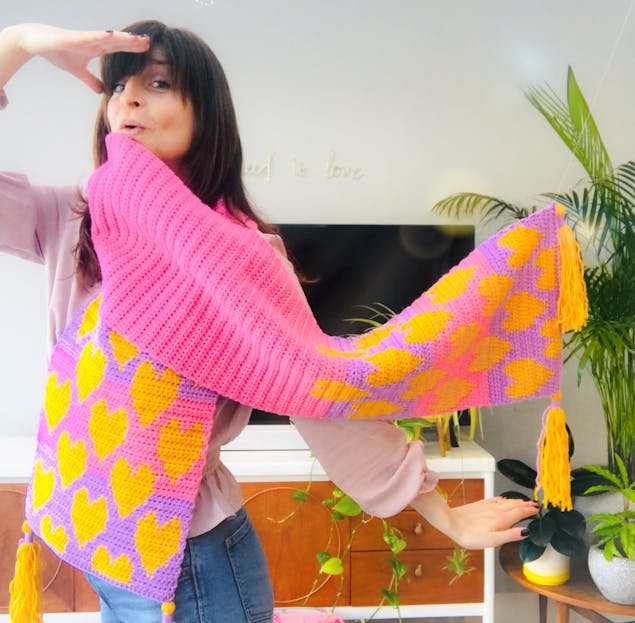 What is tapestry crochet?
There are two ways to add motifs, pictures and words to crochet fabric - using the tapestry crochet method, or the intarsia method. The tapestry crochet method is where a contrast colour yarn is carried along the back of the work, buried into your stitches, until the moment it is needed, where you then switch yarns to use the contrast colour. Intarsia is where contrast coloured yarns are held on bobbins that you loop in and out of the work as required.
Is tapestry crochet hard?
No! It isn't hard to learn, it's a great method when you begin colourwork because you are usually just switching between two colours. It's great fun to see your pictures appearing as you work your stitches!
Helpful tips for tapestry crochet
Remember to make your first colour change in the middle of the last stitch before the colour change, this gives you a cleaner contrast
Keep your tension nice and even - loose tension will make your colour changes baggy, and if you pull the yarn too tight, you'll have an uneven surface.
Make sure to keep your yarns separate and untangled! You can find yourself super tangled if you don't watch out when you turn the work for the next row!
In the video above, Helen shows you how to make this gorgeous Be Kind wall hanging! Just download the FREE pattern below, and follow along!
What's the difference between intarsia and tapestry crochet?
Intarsia crochet is where pictures are created in sections of a jumper or pennant, or blanket, using lots of different yarn bobbins, picking the different colours up and down as you need them. Tapestry crochet is different in that the contrast colour yarn is carried underneath the working yarn along the wrong side of the work. Both techniques work for different projects!
More tapestry crochet projects