18 totally amazing stash-busting ideas
Published on

20 May 2019
3

min read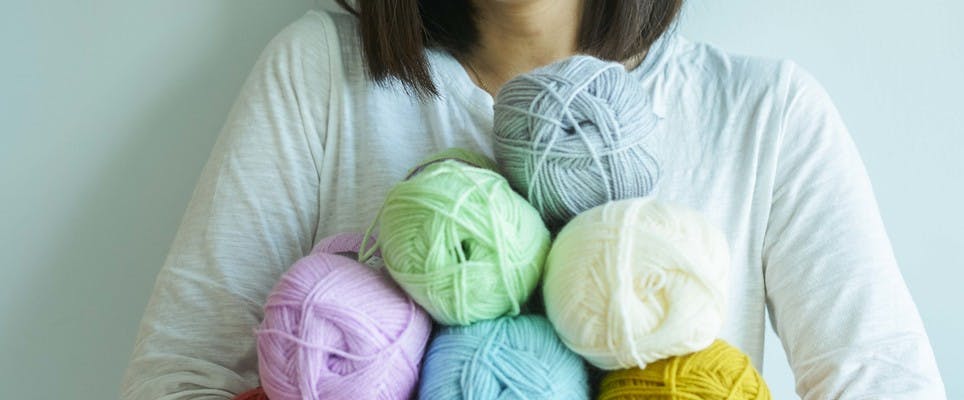 Building up a stash of leftover scraps and odd balls of yarn is inevitable when you're a keen knitter or crocheter, but there's no need to let it go to waste! With our arsenal of stash-busting patterns, you can create something awesome from your leftovers! Start by seeing what you've got in your stash, then sort it by colour or weight. You'll soon be overwhelmed with ideas for the perfect stash-busting project!
Stash-busting beanie
This simple double crochet v-stitch beanie is not only perfect for beginner crocheters, but it's also great for stash-busting! Create a rainbow of colours or simple stripes depending on what you have leftover!
Make fun mini fruits!
These funky little fruits by Amanda Berry only have a few colours in each, so they're perfect for using up any small lengths of yarn you have hiding in your stash. These small but perfectly formed fruits would look great lovingly arranged in a fruit bowl.
Colour burst flower blanket 
Nothing says stash-buster like a beautifully bright colour burst blanket! Made up of lots of granny squares, this is a great project to build upon over time – just make a square whenever you have yarn left at the end of a project!
Rainbows and sunshine wall hanging 
If you've got a rainbow of yarn scraps, this is the ideal pattern for you! You can create this fun mobile using minimal amounts of each colour. The easiest stash-busting baby shower present!
Knock up some socks
It might be a cliché – but you can never have too many pairs of socks! Always a welcome gift and a great addition to any winter wardrobe, a simple pair of socks are quick to knit and also make a great stash-busting pattern if you have lots of small amounts of yarn or a lot of one colour.
Make super scrunchies
Transform scraps of yarn into an accessory you'll have either around your wrist or in your hair at all times! These scrunchies are super quick and easy to make and couldn't be cuter!
Knit beautiful mittens
We've got heaps of gorgeous stash-busting mitten knitting patterns, whether your leftovers are all in one colour, a couple of colours, or if you have lots of little lengths of yarn to use up. The stunning Snowfall Wristwarmers and Colourblock Mittens are perfect for using up any particular colours you have leftover, while the Bracken Mitts will make use of lots of small pieces of yarn from old projects.
Triple spoke face scrubbie 
This pattern has double eco credentials! Not only are you replacing something single use with something reusable, you're also recycling your leftover yarn ends to create something new!
Brilliant blankets and throws
Bundle together your leftover yarn stash and use it to create a beautiful blanket. Not only will it keep you warm and cosy or give your sofa a new lease of life, it'll serve as a constant reminder of your thrifty, stash-busting project!
Now that you've cleared all that space in your stash it's the perfect time to take a look at that new yarn you've had your eye on! Shhh… we won't tell!