How to knit a steering wheel cover and cup sleeve
Published on

22 November 2019
2

min read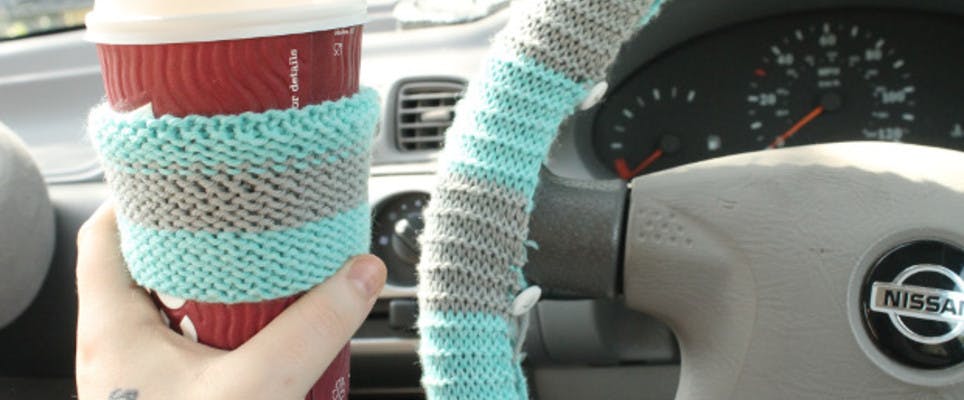 Ever wanted to keep your steering wheel cool in the summer and warm in the winter? This steering wheel cover knitting pattern from Angie will drive you crazy! Don't miss the bonus matching coffee sleeve pattern too. Perfect for your morning commute and long road trips!
Once upon a time, I lived in Texas. Though the winters were generally pretty mild, the summers could be incredibly brutal. In my infinite wisdom, I bought a black car when I lived there  – and at the height of summer, both my seatbelt and the steering wheel would get so hot that it hurt to touch it.
I grew up in Chicago – the winters there are so cold that sometimes it hurts to breathe. Suffice to say that steering wheels can feel like a block of ice, slowly freezing your hands into submission. That's where the crafty idea to knit a cover for my steering wheel came in!
Take a spin around the knitting block with these tutorials
I wasn't smart enough to create a steering wheel cover knitting pattern back then, but I want to share my knowledge and experience with you! (Plus there's a matching coffee sleeve knitting pattern for the coordinated among us, myself included.) To get started, you'll need just a few simple supplies.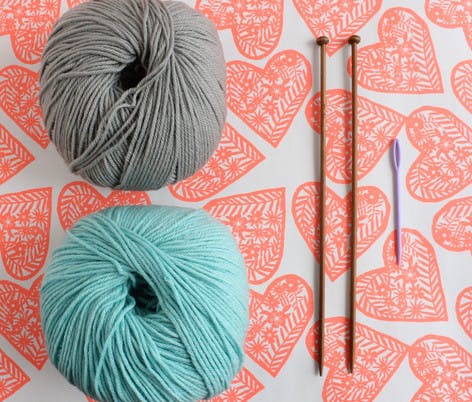 To make my steering wheel cover, I chose to use Cascade 220 Superwash yarn because it's soft, stretchy, and most importantly, machine washable!
Some steering wheel cover knitting patterns out there call to sew them onto the steering wheel, but I'm an active woman, so I like the fact I can easily remove a cover to wash it and then pop it back on. No problemo!
Before you start make sure you have all the materials you need to make your travel accessories.
Materials
A strip of non-slip rug underlay, to prevent the cover for sliding on the wheel
This pattern is knitted flat on 4mm (US 6) single pointed needles, and seamed to create a ring. Once you've knit up the main part of your cover, gather your buttons (I used 11 for my steering wheel cover) and create your button loops.
And don't forget, you can always customise your cover and cupholder with your fave DK yarn, colours and buttons - so your accessories are as unique as you!
Ready? All you need to do is follow these simple steps.
Steering wheel cover knitting pattern
Start! Cast on 25 stitches using one colour.
Time to knit! Knit ten rows in garter stitch.
Add second shade of yarn. Switch to the second colour, and knit ten more rows in garter stitch.
Make your stripes. Continue in this manner until you have 11 stripes of each colour.
Cast off. Seam the beginning and end together to create a ring.
Add buttons. Next, sew buttons to one end of each grey stripe. Use i-cord, braided yarn, or crochet chain lengths to create button loops, and sew to the other side of each grey stripe.
One thing before you secure into place. Before securing to the steering wheel, place a strip of non-slip rug underlay on the wheel to eliminate the possibility of the cover slipping on the wheel.
Button up. Then button on the cover, and you're ready to hit the road!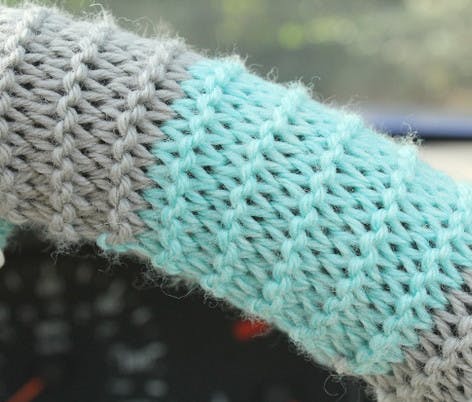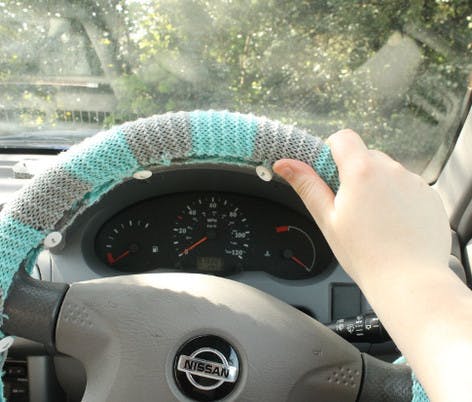 For a matching coffee sleeve (and who wouldn't want one of those?!) I've got the perfect fix. Follow these super simple instructions in your fave shades for a speedy knit you'll like a latte!
Coffee sleeve knitting pattern
Cast on 40 stitches in one colour.
Knit 10 rows in garter stitch.
Switch to the second colour. Knit 10 more rows in garter stitch.
Switch back to the first colour. Knit 10 more rows in garter stitch. Voila!
Green light these fast and fabulous knitting patterns