As the winter nights set in, what better time is there to start a new crafty project? Seasonal Scandi Crafts by the amazing maker, Christiane Bellstedt Myers, is packed with Scandinavian inspired crafts for every season.
This step-by-step guide for a heart patchwork pillow makes the perfect addition to your home or a beautiful festive present to gift to someone you love!
Old quilts, fabric scraps, embroidery... words such as these conjure up cosy creating times. When I am designing a new project, I gather together all of these things and ponder, over tea of course, what can be created.
This project grew from the purchase of an old quilt top. It was beautiful, pieced by hand yet it had never been quilted. I always hope, when turning old handmade things into new creations, that the former quilter would be happy with the results. I added a few hearts using fabrics to complement her own. I think she just might be smiling.
Materials
A selection of prairie print and gingham fabrics
Fusible bonding web
17 in. (42 cm) square piece patchwork fabric (use an old quilt top or some fabric with ready-made squares on it)
17 in. (42 cm) square of backing fabric
16 in. (40 cm) pillow pad
Iron
Template
Pencil
Scissors
Pins
Needle and matching sewing thread
Sewing machine (optional)
1
Following the manufacturer's instructions fuse the fusible bonding web to the wrong side of several squares of fabric that you will use for the various hearts. Using the heart template, draw and cut out several heart shapes from the bonded fabrics.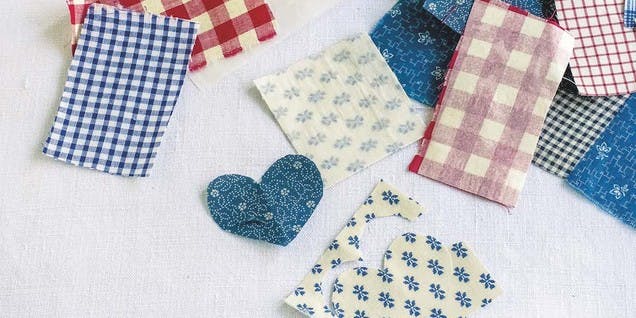 2
Lay all your heart shapes onto the patchwork fabric and decide where they look pleasing. Remove the backing by peeling the paper away from the back of the hearts and lay onto the right side of the old quilt piece. Iron the hearts onto the fabric. Using two strands of the red embroidery floss (thread) blanket stitch neatly around each heart.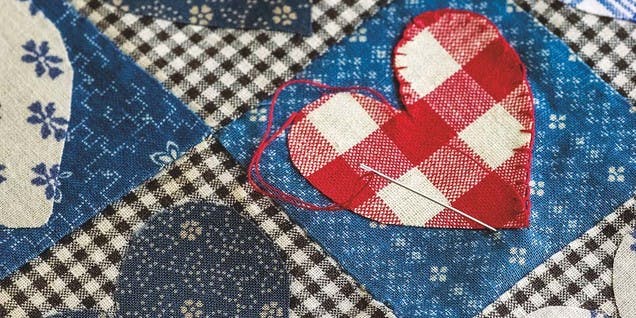 3
Pin the two cushion pieces right sides together and stitch. Either by hand using backstitch or with a sewing machine, with a ½ in. (1 cm) seam allowance. Make sure you leave a gap for turning right side out and inserting the pillow pad.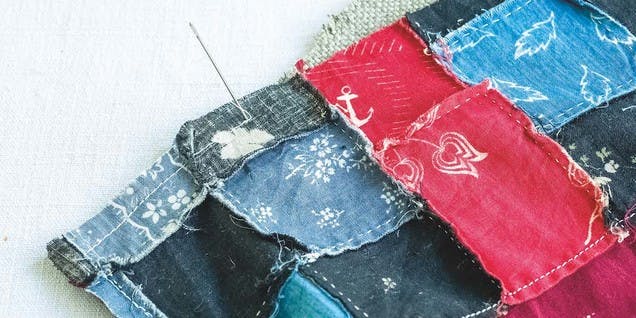 4
Turn the pillow cover right side out. Insert the pillow pad. Sew the gap shut using a slipstitch.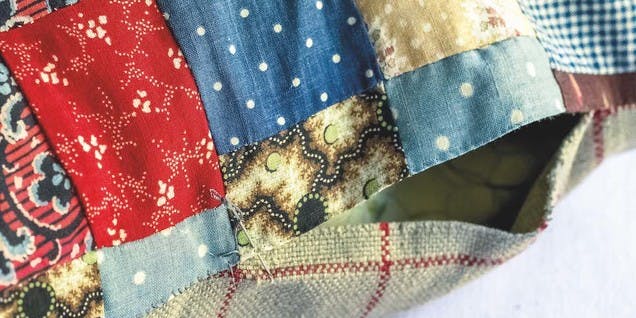 Ready for your next project? Buy Seasonal Scandi Crafts from MAKEetc.com for £10 (RRP £12.99) with no P&P for UK customers - use code LOVECRAFTS10 at checkout.
Photography by Caroline Arber CICO Books.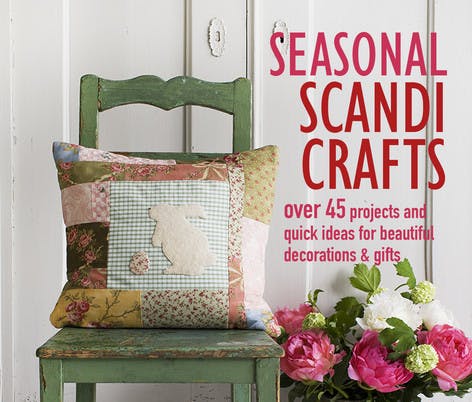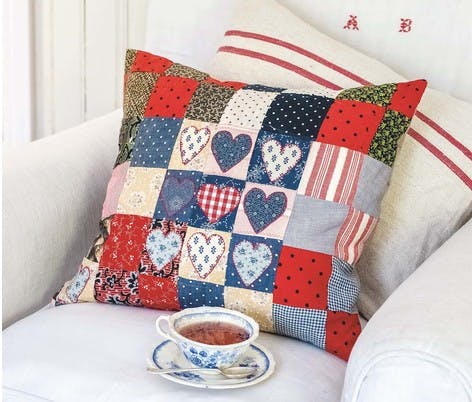 Mastered quilting? Try these knitted patchworks next!