6 of Merion's favourite red and pink yarns
Published on

12 February 2020
By

Merion
4

min read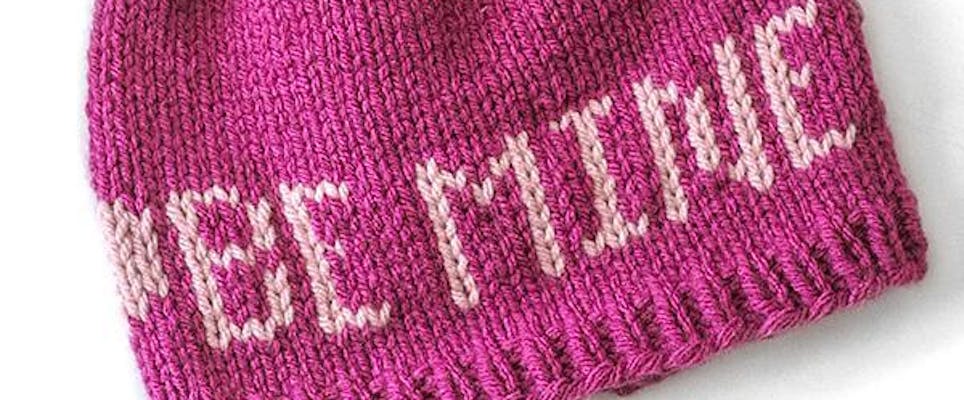 Reds and pinks are perfect colours to show someone how much you love them - on special days, like Valentine's, (or Galentine's or Palentine's), birthdays, and Christmas. Merion loves red and pink, so we've asked her to choose six favourite yarns in pinks and reds that will speak the language of love in any season!
1. Cascade 220 Red Wine Heather
Dreamy Cascade 220 is the best friend of the yarn world. If you need a really rich shade that you just can't find anywhere else, you will probably find it here in the Cascade 220 range. From pastels to jewels, solids to heathers, this reliable aran will keep you warm in any storm, and I love the soft, sturdiness of highland wool. It comes in a skein, so you'll need to wind it before you begin - but it's well worth it, this Red Wine Heather shade is rich and heathery, shot through with marl and depth. I'm a big fan. Try this for your hearty sweaters and homewares, you'll love it.
2. Willow & Lark Poetry in Rose Red
Can you guess the secret ingredient in this elegant DK? It's got two humps and lives in the desert - yes, it's camel fibre, and you won't believe how gorgeously soft it is! A gentle twist brings beautiful stitch definition, the combination of merino wool, microfibre and camel combine to bring beautiful drape and flow, so this is great choice for fine knits for you, and the softness is dreamy next to the skin making it a good choice for babies too. Poetry is a versatile DK - and you can use it for all the Willow & Lark patterns that are written for Nest.
Patterns for Willow & Lark Poetry
3. MillaMia Naturally Soft Super Chunky in Indian Pink
When this yarn first appeared, I remember Katarina from MillaMia saying to me, "you won't find a softer super chunky than this" and I didn't believe her until it landed on my desk. It is simply the most deliciously plump, kitten-soft, cloudlike super chunky merino that I have ever seen. Not only that, it has the most fabulous stitch definition so it shows off all kinds of cables and colour work with ease. This pink is vibrant and joyous, and will bring a smile to anything that you knit or crochet!
Patterns for MillaMia Naturally Soft Super Chunky
4. Rowan Cotton Cashmere in Pearly Pink
Whoever decided to blend cotton with cashmere was a genius - this is the most exquisite, slightly slubby, super stylish yarn with beautiful structure, shape and weight. This combination will keep you deliciously cool in hot weather - but will also take the chill off a breeze in springtime with cashmere's clever thermo regulating properties. I love this Pearly Pink - it reminds me of strawberry ice cream and old fashioned milkshakes. It's a nostalgic, but a very grown up, elegant ballet pink.
Patterns for Rowan Cotton Cashmere
5. Paintbox Yarns Metallic DK in Sangria
Pizazz is Paintbox Yarns Metallic DK's middle name. Shot through with a sparkle, this is a yarn with fun in mind, and it drapes beautifully, so it works wonderfully well for summer evenings - for shimmery shawls over bare shoulders and cheeky tops. I love this shade, it captures the swirling beauty of a jug of Sangria in the sunshine! This just calls out for bigger needles and hooks to create a loose tensioned layer over swimwear or vest tops - although you might just want to save it for your Christmas crafting too!
Patterns for Paintbox Yarns Metallic DK
6. Malabrigo Chunky in Sealing Wax
Have I saved the best until last? They are all beautiful but this heady, cherry red is rich, juicy and full of depth - even the name, Sealing Wax, makes me want to have some in my stash! When you want a red that says love - this must be it. Malabrigo yarns are made mostly by women, hand dyed and lovingly nurtured into life in Uruguay, using as few chemicals and as little water as possible, to create the most environmentally safe process. Malabrigo Chunky is lofty and beautifully soft - let the yarn do the talking and choose a pattern to show it off.
Patterns for Malabrigo Chunky