Lace knitting for beginners: all questions answered
Published on

30 April 2019
By

Elizabeth Bagwell
4

min read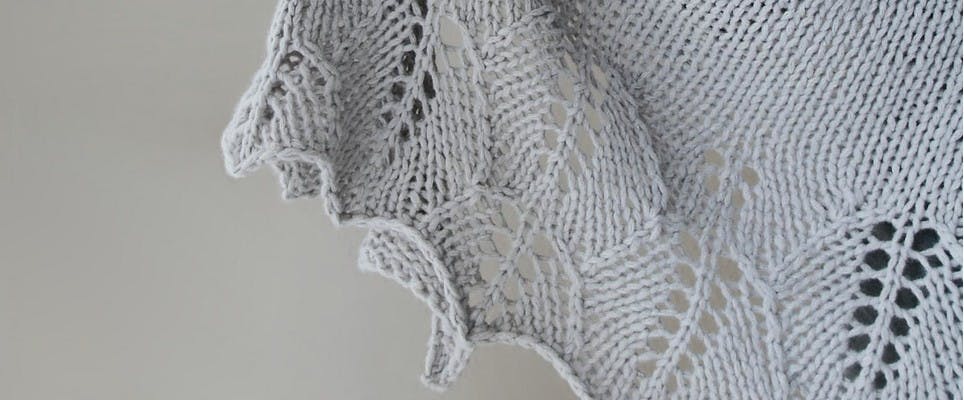 There's always time to learn a new skill, and if you've got stuck in a knitting rut – learning how to knit your first lace is guaranteed to give you all the inspiration you need to take your knits to the next level! Here, Elizabeth Bagwell shares her top tips and answers all the FAQs about getting started with knitting lace.
What is lace knitting?
Lace knitting, also known as openwork, is simply creating a pattern of holes. Lace knitting can be achieved using any yarn from lace weight all the way to super chunky, always with beautifully intricate results.
How do I make holes that don't unravel?
The holes are usually created by doing an increase, most commonly a yarn over. As the name suggests, increasing increases the number of stitches on your needles so most lace patterns pair increases and decreases so that you finish a row with the same number of stitches as you started with.
The two don't have to be next to each other or even on the same row. In fact, you create the lovely wave of the classic 'feather and fan' pattern by ensuring that the increases and decreases aren't next to each other.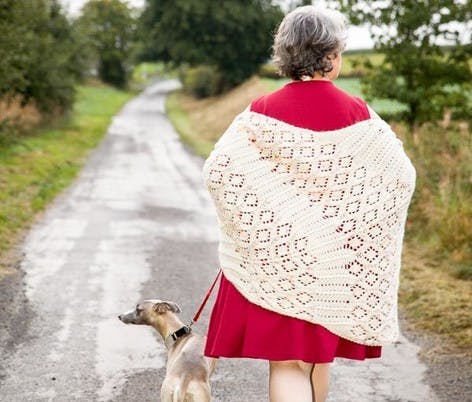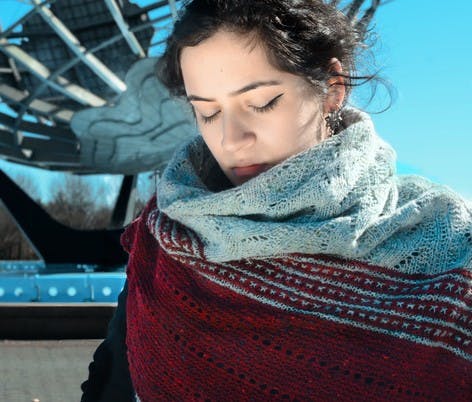 Does it matter how I decrease?
Yes. In lace knitting, how and where you decrease is critical and going off-pattern can alter the whole look of a piece and even its shape. It's important to follow the designer's instructions, even if doing a k2tog is easier than the sl1, k1, psso they've suggested! There are several different ways to increase and various ways to decrease, too.
Getting started
You don't need any special tools to knit lace – just your needles and yarn! You may find a row counter and stitch markers helpful though, particularly if your pattern repeats across the row. It's a good idea to start with a quick project with minimal shaping, such as a neck warmer in aran yarn or DK fingerless mitts. Ideally choose a yarn that's easy to see, so avoid dark solid colours.
Try knitting a lace scarf
What about charts?
Lace patterns are often shown as charts, so if you haven't used a chart before, this is a good time to start. Lace charts typically show what the finished lace will look like, and can make knitting a lot simpler.
What is blocking and do I have to do it?
Blocking is magic, it opens up your lace motifs and turns a crumpled mess into a beautiful lace shawl. It can't work miracles though, and some yarns don't block well. Wool and animal fibres block well, plant fibres less well and acrylic is less receptive to blocking but you can sometimes persuade it with a very cool iron, or a spritz of water and some heavy books on top. Not all lace needs to be blocked. In general, if something is going to be slightly stretched when it's worn (such as a hat, socks or gloves) blocking is not always necessary.
How to block your knitting
Wet your project through. Wrap it in a clean towel and gently squeeze out the water until the whole project is damp. Don't rub or scrub your knitting, as it may felt. Spread the piece out on a flat surface you can stick pins in or invest in some blocking mats. Slightly stretch the knitting, so the lace holes look nice and open, and pin the edges using bobble-head pins or T-pins. Leave to dry, then remove the pins. Your knitting should stay in the shape you pinned it into, with the holes open and looking like lace!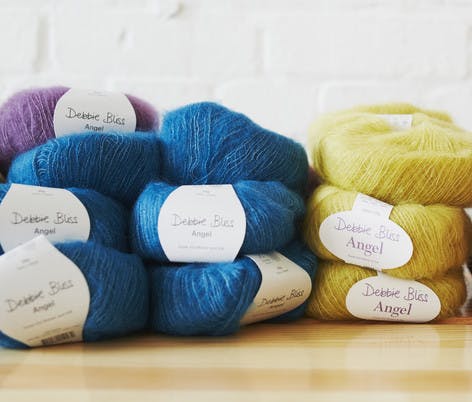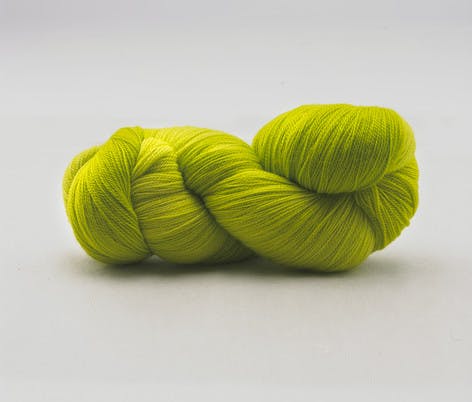 What is lace weight yarn, and do I have to use it?
Some of the most famous traditional lace patterns are wedding ring shawls. They're so delicate that a large shawl (perhaps a metre or more on each side) can be pulled through a wedding ring. They use very fine yarn, which is called lace weight yarn.
There is absolutely no need to start your first lace project with lace weight, and in fact, it's best to start with something heavier like DK. Lace weight is very fine, and is typically knit on needles a few sizes larger than the thickness of the yarn suggests.
Lace knitting patterns using different yarn weights
For your first lace project, try working with a larger yarn to really get to know how the lace motifs work - it's easier to see, and grows quicker. Win win!