Knit by bit: the perfect preemie baby hat
Published on

23 January 2019
By

Angie
Skill level

beginner-plus

Project time

1

hours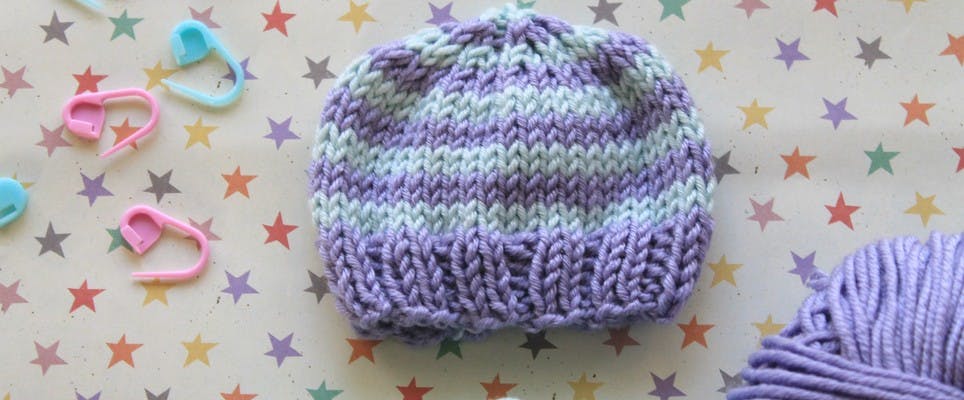 Knitting for charity gives us the warm fuzzies, especially when it's for premature "preemie" babies. Louise designed this super simple perfect preemie baby hat knitting pattern for super small babies!
There's something to be said for knitting for charity. Knowing that someone who needs it will have my knitted project warms my heart and restores my faith in humanity. I asked Louise from the Smiles team to design a super simple, perfect preemie baby hat for today's post, and she came through with flying colours!
Look how sweet that hat is – it fits the tiniest and most vulnerable preemie babies: the ones who need hats the most. Many hospitals collect hats (and blankets) for premature babies and sick kids, so you know that your knitted hat will go to good use. Louise chose to make this hat mint and lilac striped, but you could make a solid version if you wanted, of course.
This pattern is super simple, and it's a great example of knitting for beginners. Louise designed this hat to be super fast and super easy.
Materials
Sublime Baby Cashmere Merino Silk DK

1 ball each of Tiffany (357) and Sweet Leaf (456)

Size 4.00mm (US 6)
Work in a K1, P1 rib for 5 rows.
K2tog across all stitches, reducing your stitches from 48 to 24.
Purl across all stitches.
K2tog across all stitches, leaving 12.
Purl across all stitches.
K2tog across all stitches, reducing to 6 stitches.
Purl across all stitches.
Finishing: Cut your yarn with enough of a tail to seam up your hat, and pull through the last 6 stitches. Seam up your perfect preemie baby hat using mattress stitch, and voila! You're finished!