Human textiles puts a whole new spin on home grown: scientists have grown yarn from human skin cells that can be used to patch us up with less chance of rejection.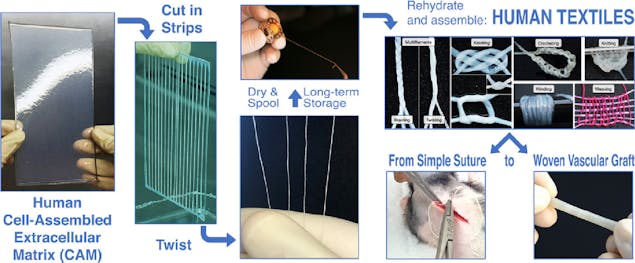 Tissue engineering? What's that then?
Tissue engineering isn't a subject we would expect to be talking about, but the world of science and the world of crafting have come together with a bio-engineered human textile called Cell-Assembled extracellular Matrix (CAM) - that's fabric made of human skin cells to you and me. It is made into thread which can then be used to sew, knit, crochet and weave inside the human body to close wounds, graft arteries and veins, and create patches.
Patches? To cover elbows and things like that? I know this guy who has a jumper that needs patching...
Well not quite, this is for inside the human body, not for old jumpers.
What size needles do I need?
Whoah there Dr Frankenstein, you won't be knitting your own human cells any time soon! This is still at the testing stage, they've only just said "we have produced a woven, tissue-engineered vascular graft with burst pressure, suture retention strength and transmural permeability that surpassed clinical requirements"
So no good for the holes in my friend's jumper then?
Better for the holes in your heart. It's the next generation of medical textiles that will be strong enough to fix things without any "foreign scaffolding" - that means it won't be rejected like a synthetic thread might.
Do say: Wow, that's incredible, the wonders of modern science!
Don't say: Have you got this in a super chunky weight, in a kind of mid-purple?
Body parts to knit and crochet!