How to knit garter stitch
Published on

20 June 2019
By

Sarah Jones
1

min read
Learn how to knit a super simple garter stitch - made up of a simple knit stitch, you'll be quick to pick this one up!
What is garter stitch?
The garter stitch is a simple technique and is the perfect stitch to make up a beginner project or for a quick easy knit. 
This is done by simply knitting every row or purling every row to create a lovely wavy pattern. In this tutorial, we'll show you just how quick and simple it is in three easy steps!
How to knit garter stitch step-by-step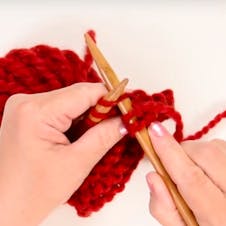 Get started. With your cast on stitch on your left-hand needle, insert the right needle into the stitch knitwise, wrap the yarn around the needle.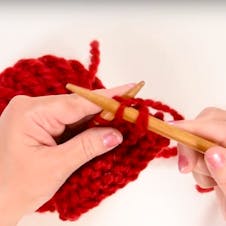 Slide that needle. Slide the needle underneath and through the stitch, slide it onto the right needle.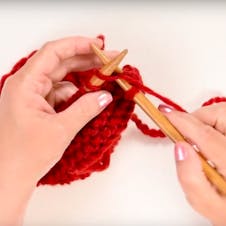 Keep going! Repeat until the end of the row. Yay, you did it! You knitted a whole row of garter stitch. Woohoo!
How do garter stitch in the round on circular needles
It's still pretty easy if you're knitting in the round. The only difference here is instead of knitting every row, you will have to knit one row and then purl the next. Simple!
FREE garter stitch patterns