Want to take your finished makes from just fine to fabulous? Blocking helps to even out stitches, stretch garments that have come up a little bit too small, open up lace motifs, uncurl stocking stitch and make your modular blanket pieces (squares, granny squares, hexagons etc.) all the same size. It's magic! Learn all there is to know about blocking in this handy guide.
What is blocking?
Blocking is the process of dampening or wetting down your knitted or crocheted fabric and pinning it out to dry. This process relaxes the fibres and smooths the stitches, and gives a finished look. As the fibres dry, they "set" into the new pinned shape you have given them. This works for all fibres, but particularly well for animal fibre yarns - plant and acrylic yarns respond by relaxing, so it's a great way to give your work a polished finish.
Do you have to block your knitting and crochet?
No, you don't have to, but it makes a world of difference to the finished piece! If you've spent hours and hours making something, it deserves this final flourish!
Does blocking make your knitting and crochet bigger?
It can do! If you've made something that has come up too small, you can use the blocking process to stretch your work - it will depend on what the nature of the fabric is, (lace, close textured stitches or stocking stitch), but you can definitely increase the size of your work by blocking it. NB you cannot make it smaller!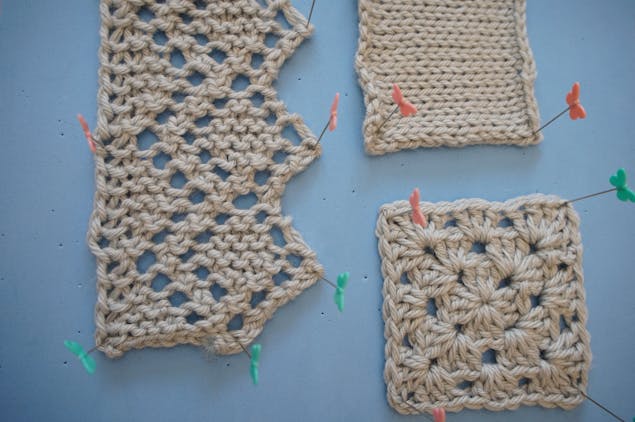 What do I need to block my knitting and crochet?
Pins: longer pins, like these T pins, are easy to use when you are blocking out a piece of fabric. They are also rust free, so you'll be able to reuse them constantly without worrying about rust forming, which can mark your work.
Blocking mats, or towels: you can use modular blocking mats like these Knitpro Blocking Mats, that are easy to shape into different formats for example, long shawls or sweater shapes. If you don't have blocking mats, you can use clean towels or a yoga mat.
Water: choose your method of blocking and you will need either a bowl of warm water for soaking, a spray bottle or a steam iron.
How to block your project 3 ways
Wet blocking
1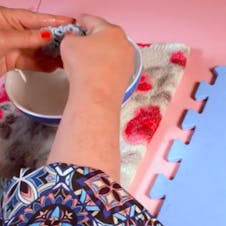 Immerse the fabric in warm water completely. You can add a wool soak or soap if you like, but warm water is all you need.
2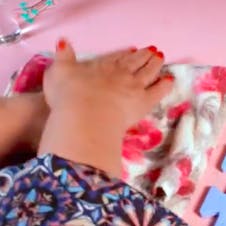 When the fabric is thoroughly wet, bring it out of the water and gently squeeze (don't wring) the excess water out. Fold or roll the fabric into a clean towel and press to remove more of the water, so that your fabric is left damp.
3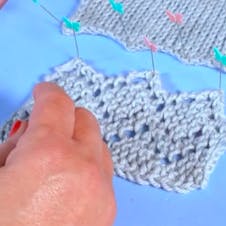 Pin the fabric out on a rubber mat, or clean towel and leave to dry overnight (or until completely dry).
Spray blocking
1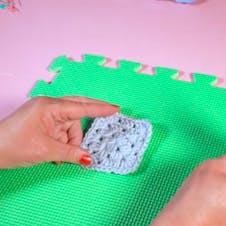 Put your project on to a clean towel ready to pin out, or on to a blocking mat.
2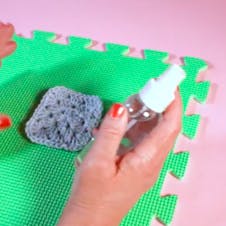 Wet down with water from a spray bottle until the fabric is damp throughout.
3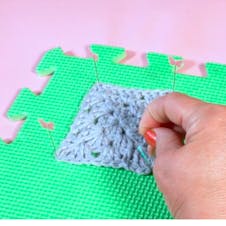 Pin out on to the blocking mat or towel and leave to dry overnight (or until completely dry).
Steam blocking
1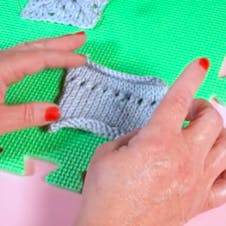 Work with your garment or fabric either on an ironing board or on a blocking mat/clean towel. Stretch out the fabric to begin.
2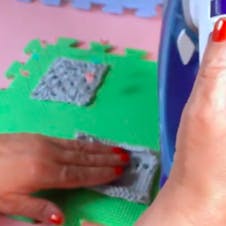 With the iron hovering a couple of inches ABOVE the work, and the iron on its steam setting, let the steam flow over the fabric until it is thoroughly damp. DO NOT let the iron touch the fabric itself, or you will flatten the work and/or melt some of the acrylic and make it shiny.
3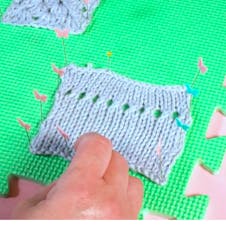 Pin the garment or fabric into shape on a clean towel (or blocking mats) and leave to dry overnight or until completely dry.