Phew, we made it makers. We got through all 2,048,7484 days of January! And we're welcoming the new month with a little treat. With Valentine's Day (and Palentine's!) right around the corner we have no doubt that all our makers are busy crafting, because nothing beats a handmade gift!
As an extra special treat, in physical orders this February, we'll be lovingly packing one of our bespoke fabulous label for FREE to sew into your makes – ideal for reminding someone special of their handmade present with every wear!
Why? We asked our lovely makers what little goodies we could surprise you with you in 2020, just for the pure joy of it, and the winner was loud and clear - a lovely label to add to your handmade treats. Our super talented designer Jo, put her thinking cap on and made magic with these delightful little labels, we even tried them out at LoveCrafts HQ and we LOVE them!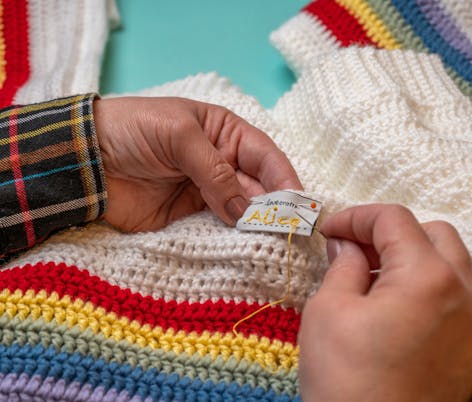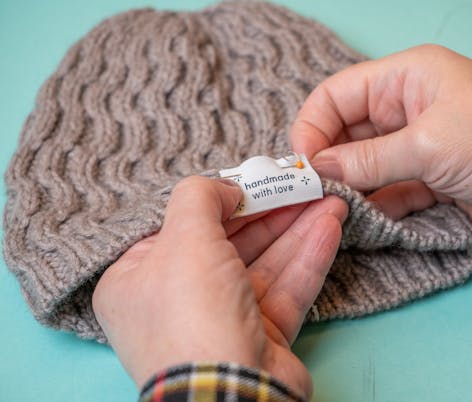 As well as adding a professional finish to handmade garments and accessories, these little labels make the perfect place for a touch of personalisation. On one side the label reads 'Handmade with Love' and on the other there's space for you to stitch a name or message! So get creative with cross stitch or embroidery with your lovely little labels. And if needlecraft isn't your thing, check out our tutorials for getting started with cross stitching and embroidery.
Stuck for alpha-inspiration? Try our free alphabet patterns
Now you've got inspiration for your labels, it's time to turn your thoughts to your makes. These little labels will be right at home tucked into a sweater, beanie or scarf – but what you do with them is up to you!