27 free crochet patterns for beginners
Published on

25 April 2019
By

Sophie
3

min read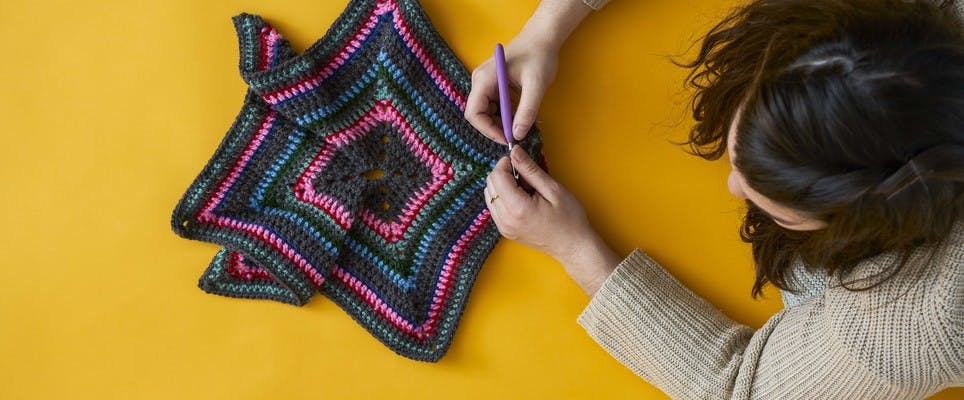 The only thing better than crochet itself is free crochet patterns! For a beginner, a good pattern can be the difference between a defeated crafter with a heap of tangled yarn or a jubilant new crocheter with a beautiful finished project.
From blankets and bags to homeware and accessories – we've put together a roundup of our favourite free beginner crochet patterns to get you off to a flying start. Here we go!
Brilliant blankets and throws
Sipping a hot chocolate, sitting by the fire and wrapping up warm in a gorgeous crochet blanket – what could be more perfect? Luckily, blankets and throws are super easy to make for beginners, and we've got heaps of free patterns to get you started.
Super stylish scarves
New crocheters will delight in the gentle repetition and ease of crocheting their first scarf. Once you get into the rhythm, you'll be making more than you know what to do with! Luckily, they make the perfect present for almost anyone – kids, boyfriends, grandmas and everyone in between! Try our free crochet scarf patterns for beginners.
Gorgeous gifts for fabulous friends
Sure – crocheting for yourself is fun, but nothing compares to the warm fuzzy feelings you get when you hand over a handmade gift. You're guaranteed to get a grin (and maybe even a few tears!) when your friends and family unwrap these gorgeous crochet creations. Made with love and given from the heart, there's no better present to gift!
Simply beautiful beanies
Master one of our super easy free crochet beanie patterns, and you can switch up the colourway to make a hat to suit lots of different styles.
Toys for tiny tots
These easy crochet patterns for beginners make the perfect last-minute gift for a baby shower or a little one's birthday. Not only are they free, they're totally gorgeous and quick to make too! We can't get enough of the mini sunshine cushions – they're absolutely adorable!
Bags of fun to crochet
Not only are these free bag crochet patterns super easy for beginners; they're free too! Best of all, you can replace plastic bags at the supermarket with your stylish new accessory and do your bit for the environment too. We guarantee that when your friends catch sight of you with one of these beauties, you'll have a list as long as your arm of people asking for you to make them one!
Fantastic stash storage
You might associate crochet with delicate designs and fabulous fineness; but these brilliant baskets prove there's more to crochet than meets the eyes! Knock up one of these colourful storage containers – perfect for storing your stash, organising your makeup collection and keeping your craft room tidy!
Happiness starts with homeware
Crochet might be best known for accessories and garments, but its versatility makes it perfect for crafting homeware too. Fill your home with brilliantly bright and colourful crochet and you'll have guests wide-eyed with wonder when they visit.
Perfect pet accessories
Don't keep all the crochet for the humans! From toys and blankets to beds and jumpers – we've got a great selection of pet accessories to spoil your furry friend.
Can't find quite what you're looking for in our round-up?