8 free crochet game day accessories
Published on

3 September 2018
By

Meg
2

min read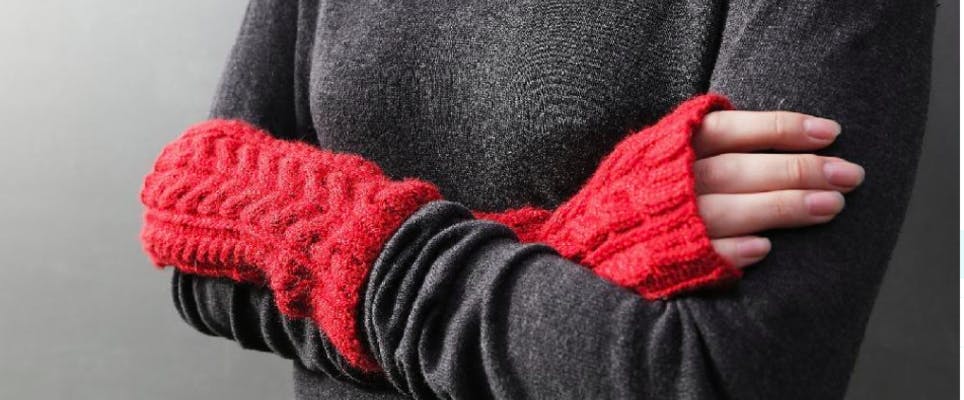 To all the football and sports fans out there, you're going to need to rug up and get to a game. Whether you're sitting in the stands, cheering on your favourite team, or looking for a crafty distraction while the game's on, sports and needlework go hand-in-hand. So, here are the crochet game day essentials you need in your life.
1. Leg warmers
As the weather changes, it's time to bring out our favourite boots. Add an extra layer of warmth to your stylish game day outfit with these stirrup leg warmers. They can be crocheted in your team's colours to really get in the spirit!
2. Fingerless mitts
When you're standing on the sidelines clutching your coffee or tea, keep your hands toasty with these adorable fingerless mitts. They look great and they're super warm!
3. Infinity scarf
Everyone needs a cosy scarf for games on chilly mornings. Make the Infinity Scarf your game day essential as you keep snug and toasty in the stands.
4. Elbow patch jumper
If you're recruiting sports fans early, then you're going to want to dress your little ones for the occasion. If you're a family of loyal fans, then have your kids support your team in this adorably customisable jumper. This versatile jumper with heart-shaped elbow patches couldn't be sweeter.
5. Dog jumper
Don't forget to bring those pooches in your life to the game. With this easily customisable dog jumper, your canine pals can woof along as you cheer.
6. Coffee cosy
What is sports season without hot drinks? Keep warm from the inside out with a delicious coffee or hot chocolate. To keep your hands and your coffee nice and toasty while you're drinking, take a look at this coffee-cosy pattern. Easily customisable too, so you can choose your team colours!
7. Family pompom beanies
Is there anything better than matching with your family on game day? Of course there isn't! This versatile pattern can be used to crochet pompom beanies for the whole family. It's the perfect way to show your support.
8. Chunky throw
Don't get cold sitting in the stands, get yourself snug in this cosy and chunky throw. Crochet it any colour you choose. Want it to match your team coloured beanie? Or perhaps you want something more neutral to complement those colours? This throw can do it all!