6 Crochet washcloth patterns - 2 FREE patterns!
Published on

23 May 2019
By

Merion
2

min read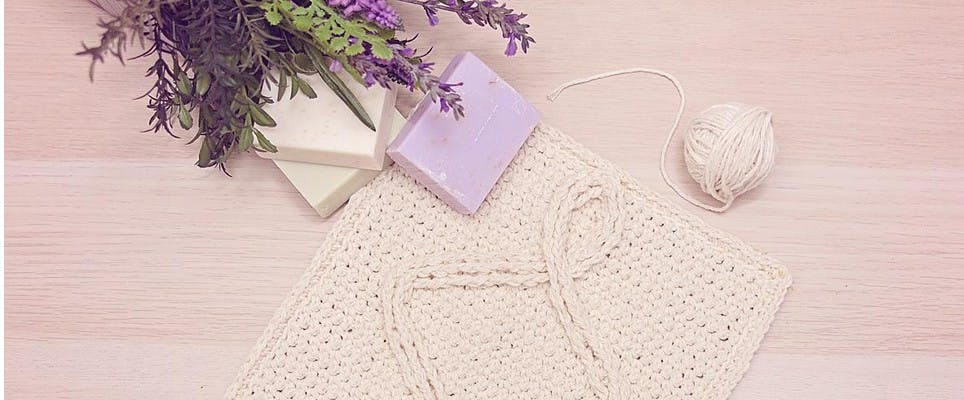 Making your own washcloths is a perfect way to personalise your bathroom. With a huge variety of coloured cottons and any stitch under the sun you can make washcloths for any colour scheme! They make a beautiful housewarming gift, wrapped up with delicious soap tied with a ribbon too!
1. Starlet Wash Cloth crochet pattern
We love this sweet washcloth with its gorgeous scalloped edging! There are two different edgings to try in this pattern with a 5mm hook. Crochet these in a wide range of colours from the suggested yarn, Lily Sugar 'n Cream Solids or opt for Paintbox Yarns Cotton Aran which is the same weight but it comes in 54 shades!
2. Linen Stitch Washcloth crochet pattern
Linen stitch produces a fabulous nubbly texture that is perfect for a washcloth, you'll feel beautifully clean after using these! Make them in solid colours or stripes in your favourite aran cotton, like Paintbox Yarns Cotton Aran.
3. Water Lily Washcloths crochet pattern
These beautiful waterlily inspired washcloths are worked in crochet thread, so they are finer and more delicate than washcloths worked in aran cotton. You could work them in any weight yarn – but the DMC Petra Crochet Cotton Perle No 3 comes in some fabulous shades works up with a 2.5-3mm hook.
4. Washcloths in 3 designs FREE crochet pattern
5. Crochet Cotton Wash Cloth crochet pattern
Betsymakes' classic washcloth uses front post stitches to create a ridged surface, perfect for exfoliating your face or scrubbing mud from little knees! A perfect pattern for DMC Natura Medium and a 5mm hook!
6. Infinity Crochet Washcloth FREE crochet pattern
A free beginner crochet pattern is the best! This infinity print crochet washcloth is no exception! Crochet this gorgeous washcloth in no time at all in your favourite aran weight yarn.