Five autumn knitting trends
Published on

16 August 2018
By

Ella
7

min read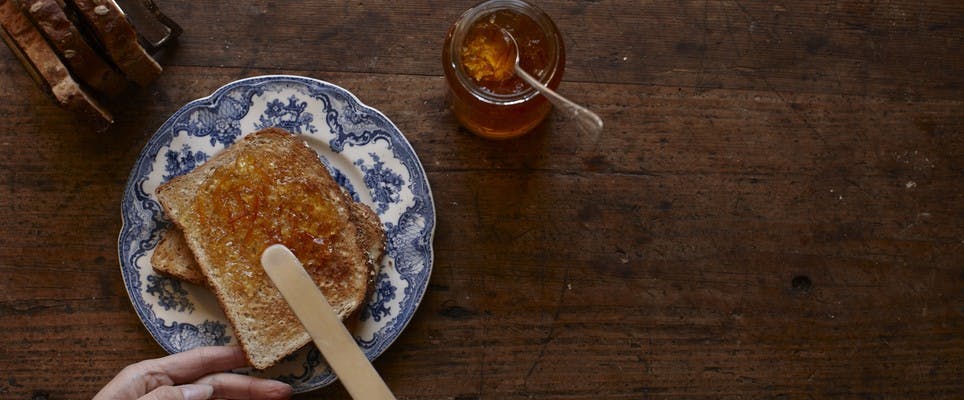 Autumn is almost upon us, with its glorious tumbling leaves, shades of reds, golds and earthy greens. It's a time where we hunker down to knit, take pleasure marching into the wind, kicking leaves and jumping in puddles. We harvest our stash, we squirrel away our favourite summer cottons and prepare to burrow into cranberries, evergreens and deep purples. What will we be knitting this autumn? Enjoy Ella's roundup of the five biggest trends to consider when planning your knits this season.
1. Strong yokes
Yoked jumpers and cardigans come from many sources - we love them for their Icelandic colourwork roots, their Fair Isle heritage, and the vintage charm that moves so easily from gentle Agatha Christie-style cardigans to dark detective dramas: such is the power of the feature yoke.
Colourworked yokes have always been a classic trend, but this autumn we love the flurry of designs that have risen up to meet the demand for this beautiful shape. As knitting techniques change, so does design, and yokes can now be knitted in the round or in one piece on long circulars for cardigans. Where stranded knitting and Fair Isle might once have been the province of flat knitted garments, it is now easier than ever to knit these beauties without fretting over lots of twisted floats and purl rows.  
If you're an adventurer, you can take on the terribly clever Strange Brew sweater by Tin Can Knits and design your own motifs using their pattern which has all the maths done for you.
MillaMia's new collection 'Me and Mini Me' is all about delightful pairings of adult and child sized designs to that you and your little darlings can match.
Wool & Honey by Andrea Mowry
A fabulous example of a feature yoke using texture to create this incredibly tactile honeycomb motif using elongated stitches. Knitted top down, this gem is knitted top-down and has an easy-to-wear boxy shape.
Dog Star by Tin Can Knits
Follow the fabulous Tin Can Knits' pattern for Dog Star or explore their Strange Brew sweater concept where you can design your own motifs. Dog Star comes in sizes from 0-6 months all the way to 4XL for men, so there's no excuse not to adorn the whole family!
2. Textured scarves
There is nothing as satisfying as warm knitwear around your neck and shoulders when there's a nip in the air. This autumn we are treated to more than the traditional straight up and down scarf - although still a marvellous insulator, there are other exciting shapes to explore. Get your needles into textured wraps, deliciously warm shawls of every shape and size and cowls that sit close or double (even triple) up for lots of layers.
Shawls by their very nature are designed to hug the top half of your body whether you wear them with the fuller point at the front, or at the back to keep your shoulders warm. We have discussed textured knitting here at LoveKnitting HQ and decided that any texture, even lace, manages to trap the warmth more effectively than plain stocking stitch.
Grosse Ile Wrap by Annie Lupton
Dive into this heavenly wrap from Annie Lupton - it's as soothing to knit as it is to wear, with texture all the way with cables and purl chevron sections. Cosy, cosy, cosy.
Chalky Way by Orlane S
Dreamily stylish at the same time as being deeply satisfying to knit, Chalky Way is a semi-circular shawl with textured panels and hearty garter stitch scaffolding to give depth and length.
3. Vintage mid-century
Many of this season's knits have been inspired by the fabulous Netflix series The Crown, which charts the life of Queen Elizabeth II and the British royal family.  There has always been a love of mid-century practical cardigans, twin-sets and feminine shapes as worn by Claire Foy as Queen Elizabeth, but thanks to Matt Smith's portrayal of rugged Prince Phillip, a new passion has been ignited for chunky Fair Isle jumpers and stylish tanks. This autumn, we predict a riot of these Fair Isle chunkies, echoing the need for a deep-rooted heirloom feeling, knits made to last, just as they were in the 1950s and 60s. These are not the natty tank tops of Edward VIII to wear with plus fours in the roaring 20s, these are the jumpers of handsome men who rub their eyebrows wearily in a crisis, but always manage a wry smile and a twinkle.
Yabane by Kyoto Nakayoshi
Not Fair Isle here, but manly cables - this sweater will save the day, no matter what is thrown at it - snow, ice, rain, complex quiz questions or rescuing kittens. A dream for any age too, infinitely stylish for teens to octogenarians.
Belmont by Gudrun Johnston
Absolutely classic mid-century shaping nips this cardigan in at the waist with a deep ribbed hem and cuffs and sweet chevron textured lace panels at the front. Designed to flatter, and be worn with 0-1" of negative ease.
4. 90s gothic
The gothic aesthetic is never quite out of fashion, and we've spotted some classic 90s pairings that call up images of those spooky fashions reminiscent of Buffy, Sabrina the Teenage Witch and The Craft - big collars and sleeves you can disappear into, camisoles, batwing jumpers and metallics. All of this combined with great sophistication with lace, pearls and a pair of DMs. It was an eclectic mixture! This trend will be deliciously established by the time we get into October and Halloween trends are in full swing. But how does this translate into knitwear?
Obliquo by Sachiko Burgin
Sachiko Burgin can always be relied upon to create a design with a twist, and this long line cardigan is no exception - clever shaped shirt-tail hems using increases and decreases for shaping, knitting side-to-side. The deep steel shade in the example brings a hint of darkness - but my goodness, what a versatile garment to wear.
Islington Shawl by Kirsten Kapur
If you look back, the 90s was the era of the pashmina, and flowing shawls and scarves were the must-have accessory over just about anything. A hint of mystery and flow shines through with Kirsten Kapur's Islington Shawl here with the classic 90s nod to lace, and a swish of drape.
5. Sweet sugar sherbet
A fabulous antidote to the gothic darkness of the 90s, sweet sherbet pastels are having their moment. Reminiscent of summer holidays and ice creams, knits in pastel shades are a glorious way of hanging on to the summer months as we wend our way into the tumbling leaves. There's very little that a piece of sherbet knitwear can't cure - mint, lilac, cream, ice blue, ballet pink, peach - these sweet shades are full of love and instantly restorative. Pastels are often best friends with cables and textured stitches, showing them off gently but with confidence, and because they are such complementary colours, they work wonders as stripes or Fair Isle.
Phoncible by Alexandra Tinsley
A beautiful illustration of just how well pastels work in colder weather - this gentle hat by Alexandra Tinsley makes use of variegated yarn in pastel colourways. A great introduction to simple stranded knitting.
Pastel Gemstones Shawl by Abbyeknits
A real sherbet styled shawl, showing off a little bit of lace in those peach, mint, pale rasperry pink shades. Note how beautifully those textured bobbles and lace motifs pop in such sweet colours.