The handmade gift guide for your bubba: The one with the world's cutest toes and who jumps at the sound of their own hiccups
Published on

11 November 2021
1

min read
There's no sweeter excuse to make a DIY gift than the arrival of a new baby. These DIY baby gift ideas are so fun to make, and parents will absolutely love them too! If you're making a gift for a baby shower or thinking about handmade gift ideas for the adorable little boys or girls in your life, look no further! Here are top 18 baby gifts to make, that are guaranteed to be treasured.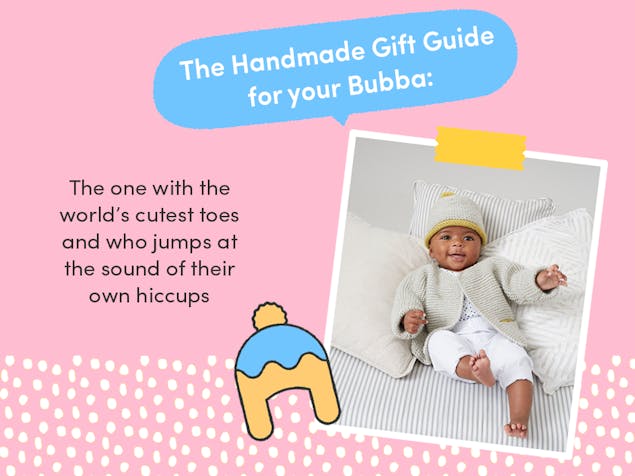 DIY baby gifts to knit
From the cutest knitted cardigans, bonny bloomers and snuggliest jumpers, there are so many irresistibly sweet knits to gift at a baby shower, first birthday or Christmas. If you're a beginner knitter, why not make a cute classic beanie or simple baby blanket in one of our baby soft yarns?
DIY baby gifts to crochet
Soft, squishy, colourful. Stitch a gift you and baby will love! From homemade loveys that your bub will love wrapping their little fingers around, to sweet crochet baby blankets in candy colours. We've even got a host of easy baby blanket tutorials to try if you're new to crochet, including the starry baby blanket or circles blanket!
DIY baby gifts to stitch
From beautiful embroidery to display in the nursery to home-sewn apparel, not to mention the softest toys. There's no end to the beautiful DIY baby gift ideas you can stitch for baby.
Make a DIY gift for baby with these fun tutorials!