The Yarn Collective: Sage Collection
Published on

12 December 2018
By

Merion
5

min read
Be inspired by magic... welcome to the Sage Collection from The Yarn Collective, a gathering of 90s gothic-inspired knitwear designed by Fiona Alice, Sachiko Burgin, Kiyomi Burgin, and Irina Anikeeva.
Magic, minerals and the wonder of witchcraft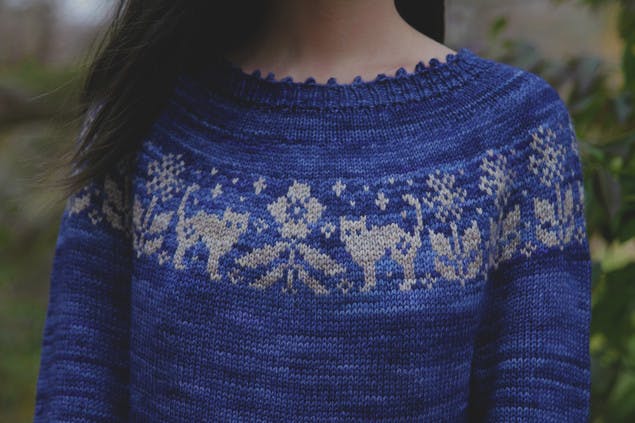 Smoky autumn wends its way to icy winter, and the nights grow longer and darker. It's time to knit, light candles and celebrate the old ways. Herbs, flora and fauna join us in this feminine, moon-influenced collection from The Yarn Collective.
In the heady 90s, we loved spooky fashion, we were enchanted by gothic trends - we loved TV shows like Buffy, Sabrina the Teenage Witch and The Craft, whose heroines combined pagan strands and gothic aesthetic wearing lace, batwings, metallics, pearls and long gloves - an indulgent and thrilling combination. The Sage Collection brings those influences together in glorious Yarn Collective yarns; sumptuously soft in a colour palette full of mystery and intrigue.
The Yarn Collective Bloomsbury DK
The slipped stitches on Fiona Alice's Dark Nights set mimic the flames from candles which can be seen burning through windows."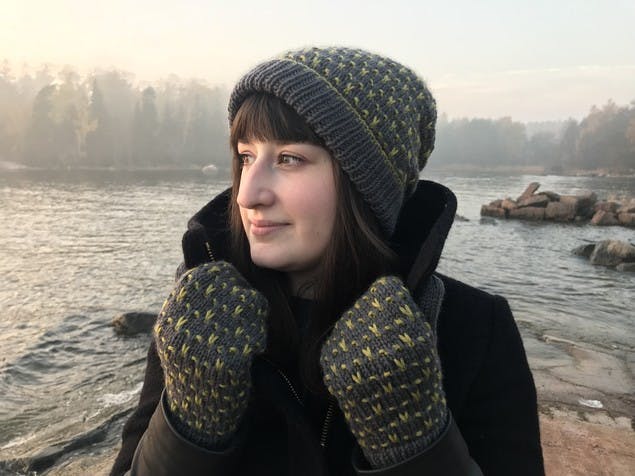 Understanding the inspiration behind a design just enhances the excitement of making it - Fiona Alice's inspiration came from a slip stitch pattern, but we love what happened next. She told us, "I was originally inspired by a simple little slip stitch pattern from one of Barbara G Walker's stitch dictionaries. It was fittingly called, "Bean-Sprout", and recommend it to be knit in shades of greens to due to its springlike nature. However, the elongated stitches reminded me of burning candle flames.
Since moving to Finland, I have been gathering recommendations on surviving my first full winter here and creating a cosy atmosphere with candles is often on people's lists. You will see flickering lights as you walk around the neighbourhood and shops even set them out on the street this time of year to welcome you inside. I felt this "springlike" pattern just needed to be changed to a more saturated and moody colour palette to invoke this feeling of cosiness during the dark winter nights."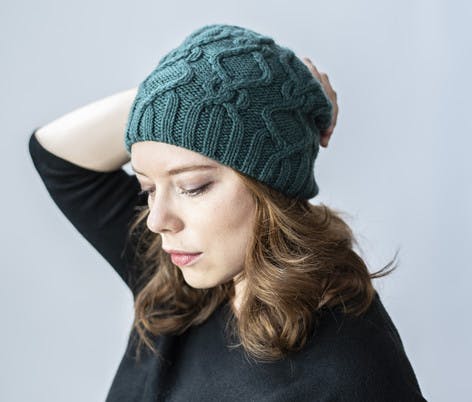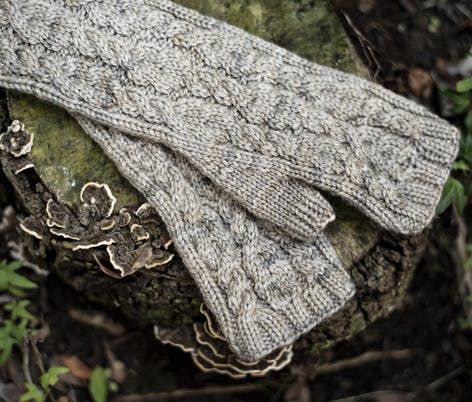 Cable knitting for me is absolutely mesmerizing. The organic movement of stitches, twisting and intertwining, reminds me of growing plants."
The magic of knitting still captivates Irina Anikeeva, and it is her love of cables that led her to the fabulous Kapok Hat and Harvest Fingerless Mitts.
"I think, lots of knitters thought at least once in their life that knitting is kind of magic and kind of witchcraft. Magic or not, the process of a strand becoming a garment or accessory fascinates me immensely even after many years of knitting. The Kapok Hat is named after a tree, that serves as a sacred symbol in Maya mythology. This tree, by Mayan beliefs, connects the planes of terrestrial realm, skies and underworld.
The hat features the all-over cable pattern. The diamonds, intertwining and tying into knots, are grow without interruption from wide ribbing of the brim and create the beautiful rosette on the crown.
The Harvest Fingerless mittens represent the important Holiday in Wiccan Calendar, Lammas, or Harvest Eve, the celebration of the first harvest. The cabled panels on the back of these mitts remind me of ears of wheat or rye, the universal symbols of harvest."
Sachiko's Night Blooms sweater encapsulates dark magic with a kooky twist - it was inspired by thoughts of 'night time walks on a moonlit path, a feline companion, shadowy blues and a playful spirit" and is a joy to knit for colourwork fans. Magical cats, stars and mystical flowers adorn the yoke of this sophisticated sweater and a fabulous picot neckline is enhanced by the stunning violet shade of Bloomsbury DK.
Sweep Sachiko's second design, the Widdershins Shawl, around your shoulders to ward off evil breezes. It's a deliciously deep triangular shawl that begins with a garter tab, works through a lace section to a glorious band of sun, moon and star colourwork before ending with a picot edging.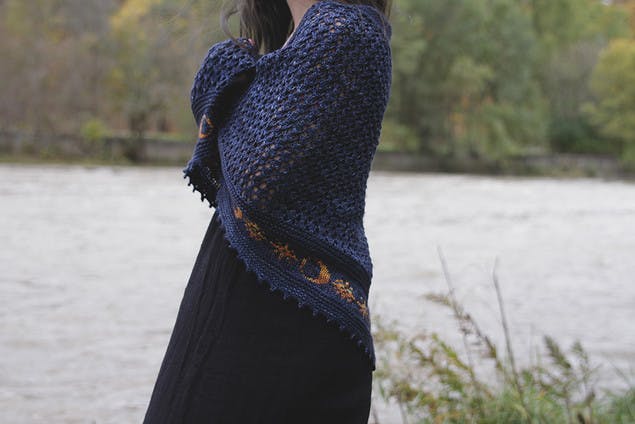 Kiyomi Burgin's designs for the Sage Collection are both full of gothic 90s magic. If you love long gloves, you'll love the Stellium Sleeves. "My arm warmers in the late 90s were literally just an old pair of socks with a thumbhole cut in to them," she told us, "and although that was quite resourceful and I adored them, these Stellium Sleeves are more edgy and put together!"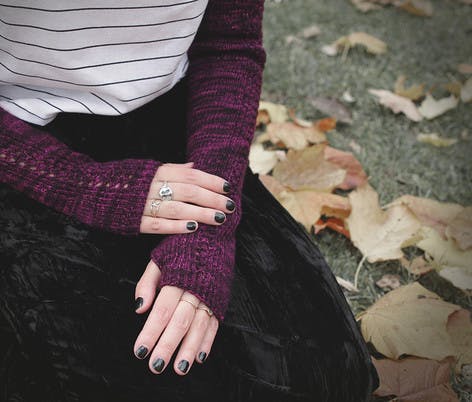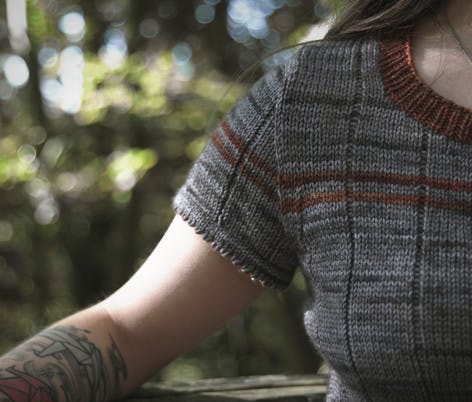 Grunge, girl power, vampire slayers, and Sporty Spice, all knitted up into a teensy 90s dream tee."
Kiyomi's second design for Sage is the Grimoire Tee, a sweet deep ribbed tee with picot edged short sleeves, form fitting with a hint of stripe - this is a tee that evokes magic and daring. Knit in the round from the bottom up, Grimoire blends the Soot and Copper colourways of Bloomsbury DK to create earthy power.
This fabulous colourwork cowl was designed by Cynthia Fong for the Yarn Collective, working with three strands of Portland Lace. Inspired by the way the thread of fate entwines us all, Cynthia created the Rosemary Cowl, a magical combination of three colours and some clever stitchery.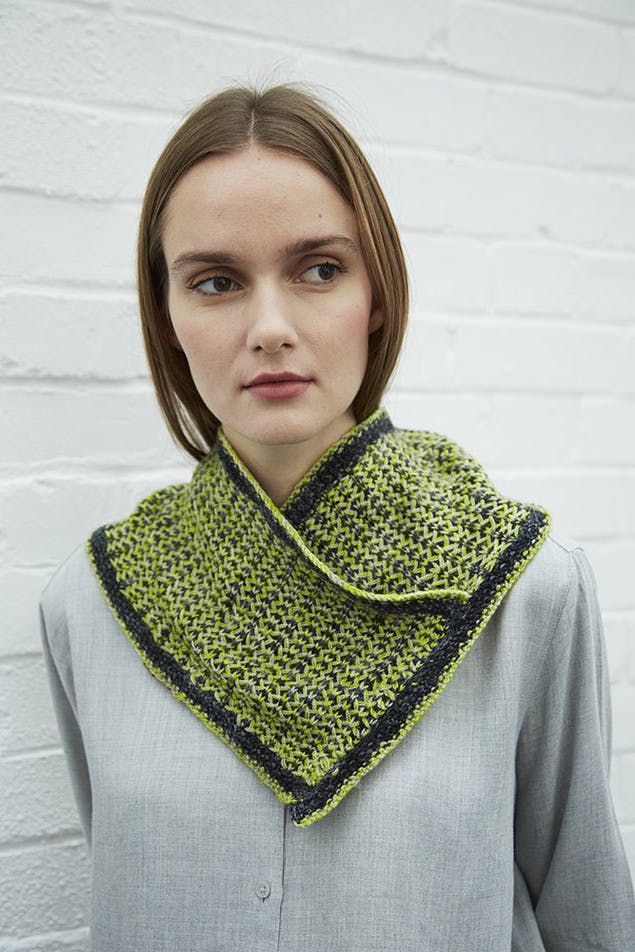 The Yarn Collective Portland Lace