The Cosy Edit: projects and ideas for hunkering down this winter
Published on

22 November 2021
By

Sarah J
3

min read
This time of year calls for the cosy comforts of crafting. Brew your favourite coffee blend, snuggle up with your duvet on the sofa and craft the day away! To inspire your next make for the chillier days, we've rounded up our picks for cosy day makes and winter crafts for adults. 
Arm knitted blankets
There's nothing quite like the warmth of an arm knitted blanket. What's great about this project is you can stay snug under your arm knitted fabric as you stitch! Grab some of the most super duper chunky yarns and learn how to arm knit your very own throw. Anne Weil has a whole library of arm knitting patterns waiting to be made! For beginners, the Arm Knit Chunky Garter Stitch Blanket is the perfect place to start.
Get cosy with cabling
Paired with gorgeous champagne white yarn and delicious vanilla cream shades, knit a classic cabled piece to add to your handmade wardrobe. Debbie Bliss' Winter Whites collection celebrates the wonders of working with white yarns. With crisp stitch definition and dreamy cabling, this is a WIP you won't be able to put down.
Snuggle up with slipper socks
These quick-to-crochet chunky slipper socks are the ideal winter warming project to have on your hook. Crochet as a great gift for your bestie or treat your toes to this toasty warm make. Crocheted in sumptuously soft super chunky yarns, it's as though you're walking on clouds!
Mindful stitching 
As the pitter-patters of the rain hits your window, hibernate at home with a mindful needlecraft project. Cotton Clara embroidery and cross stitch kits are wonderful for mindful makes, to help you relax one stitch at a time. With simple stitches and easy-to-follow patterns, these are an excellent choice for a weekend of crafting and for beginners looking to get started.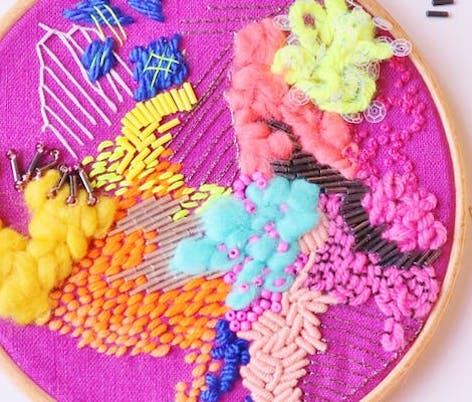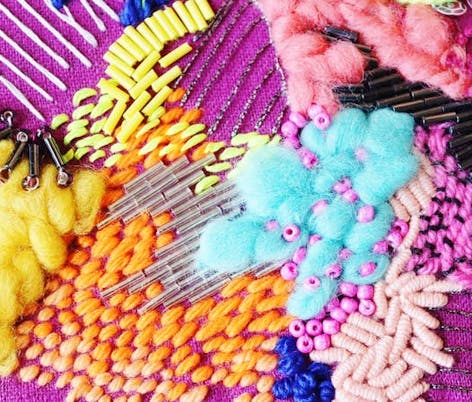 Hats in hours! 
For speedy mindful makes with super cosy results, a hat is always the answer! Cast on the free Anya Hat pattern, using the dreamy Debbie Bliss Merion yarn, for a brilliant bobble hat in just a few hours. Knitted in the round, it's just knit stitches to create the stockinette! Sit back, put on an audiobook or watch your favourite comfort film as you knit away.
For a Parisian twist, it's all about the beret this season! Add some elegance to your winter wardrobe and knit or crochet this quintessential accessory. For your early morning coffee runs, winter walks exploring the city or visiting your favourite gallery or bookshop, be the main character you deserve to be with your handmade beret!
Make your house a home
Home is where the heart is so take some time to create your own pocket of peace. Create a nook filled with handmade soft furnishings and simple storage to give your house that homey feel we love.
Browse even more inspiration to keep you making all winter long!