The Ultimate Gift Guide: What to buy the knitters, crocheters, bakers & makers in your life
Published on

25 October 2022
3

min read
If you've been looking for the perfect gift for a knitter, crocheter or maker, you might have found yourself wondering: 'what can I buy for the maker who has everything?'. Consider your pressie query solved! We're here with the answers – and lots of them!
From the best gifts for knitters to funny gifts for crocheters; we've got everything you need to put a smile on your favourite maker's face. Whether you're celebrating Christmas, Thanksgiving, Diwali, Hanukkah, here's the ultimate LoveCrafts guide to crafty presents.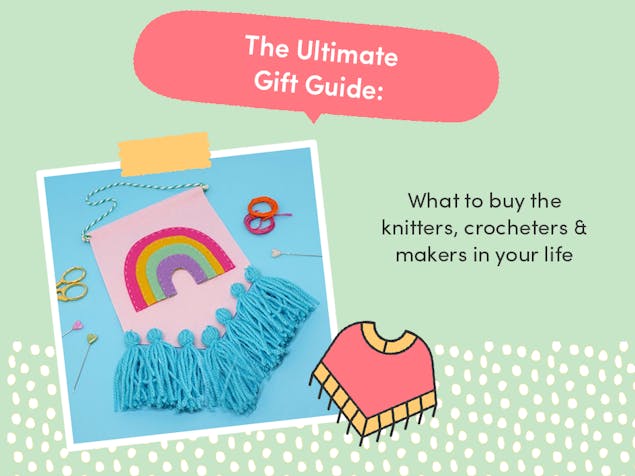 Gifts for style savvy crafters
If you've got someone on your Christmas list who's as fashionable as they are crafty, these are the perfect presents to pick for them! Great for beginners who want to get started with knitting their own garments and stylish accessories, these kits contain everything you need to create projects that are guaranteed to be the talk of the town!
Sleigh it with these embroidery, needlecraft & cross stitch gifts
Fill your sledge with the perfect gifts for embroiderers, cross stitchers, sewists, and quilters this Christmas! You'll find a world of gifts that really are a stitch above the rest, from adorable embroidery kits to quilter packs for all ages and abilities. These stitch kits make perfect stocking stuffers!
Perfect gifts for fabric fanatics
If you're in the market for a gift for a sewist or a quilter – we've got you covered! From quilting kits to packs of gorgeous fabrics, stock up this maker's stash with new, wonderful essentials and more!
Presents for punch needle lovers
If you know a maker whose no.1 love is punch needle, or for a maker who loves trying new projects, these stylish punch needle kits make the perfect present!
Stash storage and tote bags
For makers with an overflowing supply, save them from their forever growing stash with fun storage bags, boxes and totes to keep their supplies in check.
Treat them to the tools of the trade
These sets of knitting needles and crochet hooks would make the best gifts for knitters and crocheters who are keen to spend the festive holidays making up a storm. These needle and hook sets are presents that last a lifetime, and are sure to make a welcome addition to any newbie's creative toolkit!
Best gifts for crocheters
Nifty gifts for needlecrafters
Cross stitch and embroidery fans will be head-over-heels for these perfect pressies! The Lowery workstand is a real investment for passionate needlecrafters and embroidery enthusiasts. In a huge array of colours, there's something to suit every style! Throw in a few Lowery accessories and a set of the beautiful Paintbox Crafts Stranded Cotton and the stitcher in your life will have the best present ever!
For budding bakers
For crafters who just discovered their passion for baking or to keep the hands busy of budding young bakers, these kits and baking sets are a great addition to their presents this year. Get them started with a brand new piping set, have fun with cute cupcake cases, or how about a new set of cake tins? You can never have enough!
Gorgeous new yarns
If there's one thing knitters and crocheters can't get enough of – it's yarn! Fill up a stocking with beautiful new yarns from maker favourite brands like Paintbox Yarns and Debbie Bliss!
Discover more DIY gift ideas for that special someone
There's nothing makers love more than handmade gifts, so why not return the favour and wrap up a perfect homemade present. These quick and easy Christmas crafts make ideal token presents for friends, colleagues, teachers and more. Don't forget to stock up on all the Christmas supplies you'll need to make perfect pressies!