Amigurumi for beginners: everything you need to know!
Published on

19 August 2021
By

Sarah J
6

min read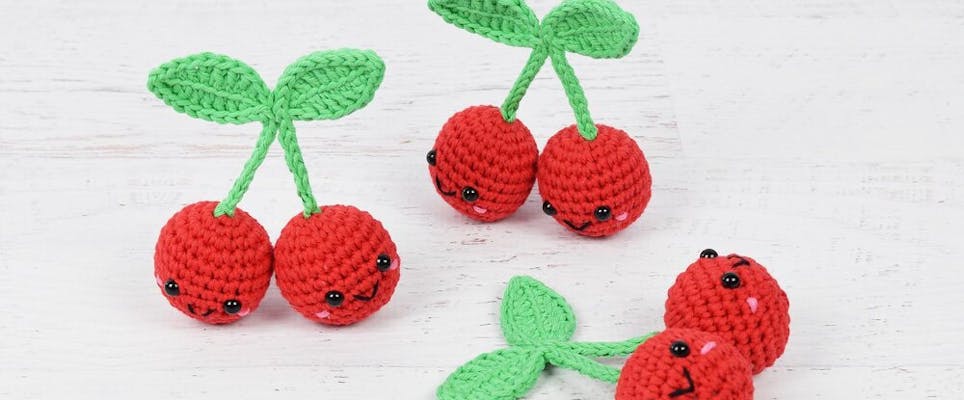 Amigurumi, meaning crocheted or knitted stuffed doll in Japanese, is a yarn craft that is winning over the hearts of thousands of makers! Usually crocheted you can create your own cute designs with adorable animals, food-inspired patterns and so many more crocheted cuties! Get ready to learn all about amigurumi, for beginners and crochet enthusiasts alike, with all your stash essentials, basic stitches and fabulous free patterns. 
What is amigurumi?
The word amigurumi is a combination of two Japanese words: "ami", meaning crocheted or knitted, and "nuigurumi" meaning stuffed doll. You can make these stuffed toys in any size you want, but they're usually small and crocheted in lightweight yarns. 
Amigurumi boomed in popularity in the early 00s in the US and the UK. Meanwhile in Japan, crafters have been in on the secret for decades!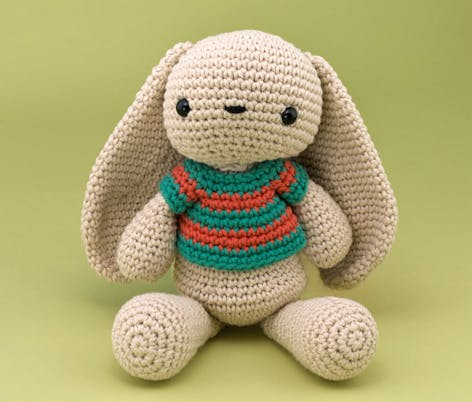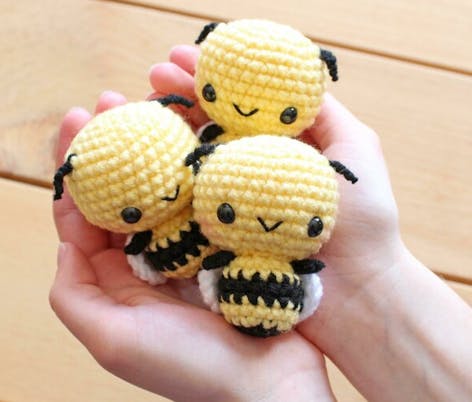 What is the difference between crochet and amigurumi? 
Amigurumi is simply the name given to the little characters, and crochet is the craft most commonly used to make them! Although it's more popular to crochet amigurumi, they can also be knitted. You can find out more about knitting amigurumi in our guide.
Is amigurumi easy? 
Amigurumi doesn't have to be difficult! Once you've picked up some basic crochet techniques and found a beginner pattern that breaks down the steps, it should be smooth stitching! To keep it simple, why not go for a chunkier pattern and yarn? You'll be able to see your stitches and spot any mistakes right away. 
If you have a good grasp of basic crochet techniques, and you know how to read a crochet pattern, making amigurumi will be super easy for you. Hear more about amigurumi in The LoveCrafts Show podcast episode with Vincent Green-Hite aka Knot.Bad!
What you need to get started 
What's the best yarn for amigurumi? Most patterns use lightweight yarns, usually DK weight, for the small and dainty designs but if it's a larger cuddly toy you're creating it might be as chunky as a light worsted or aran weight yarn. At LoveCrafts, we love using 100% cotton yarns that have great stitch definition and produce a super durable design. 
For the softer, huggable makes, acrylic yarns are also a fabulous choice! Build up a stash of beautiful bright colours, and you can make a whole host of animals, foods, plants and more.
We love those lovable 'statement' safety eyes that give your amigurumi the look of love! Make sure you have a stash of safety eyes in different colours and sizes for your future projects. It's important to make sure you use safety eyes if your amigurumi will ever find their way into the hands of children. If you're not sure, you can embroider eyes on to your amigurumi instead.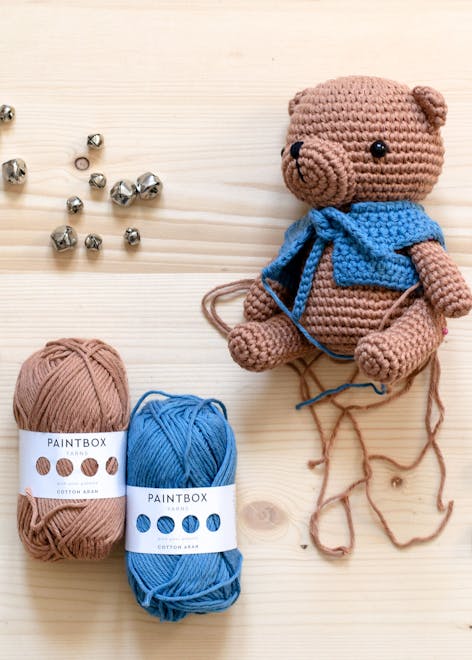 Crocheted stuffed toys and other adorable animals are often worked in rounds of stitches. Stitch markers allow you to keep track of the beginning of the round, and often they are moved as you work through a pattern. Simply slip them onto your first stitch and move as you work each row! 
Grab yourself some stuffing to keep your toy squishy and sweet. Pick up a bag of synthetic, polyester toy stuffing, or repurpose some old materials. Old socks or stuffing from a cushion, read about our alternatives to toy stuffing. 
What's a crochet project without a crochet hook? Pick up your favourite brand and style in the size your pattern suggests. With pocket-sized projects, amigurumi usually uses small crochet hooks. Our guide to crochet hooks can help you pick out the right hook for you! 
To stitch up your final make, embroidery thread will keep your stitches neat and seams hidden. Find a thread that matches your yarn shade for a professionally finished project. You can also embroider features on your amigurumi, like faces or flowers!
To snip off any yarn ends or loose threads from sewing up your creature, embroidery scissors are always handy! 
Find more beginner supplies and inspiration
Once you've got all your essentials, it's time to choose your amigurumi pattern! Browse beginner amigurumi patterns for stuffed animals, novelty designs and more. Or, why not pick up an amigurumi book? Stuffed with charming designs and easy-to-follow instructions, ideal for beginners. 
If you're looking for a quick and easy way to get started, amigurumi kits are the way to go! From brilliant brands like Hoooked and Paintbox Yarns, you'll have everything to kickstart your love for all things amigurumi. 
Essential crochet stitches for amigurumi projects
Every pattern is different, but there are some crochet techniques you're sure to come across time and time again. Once you've mastered these, you'll be set for all your future mini-makes! 
The chain stitch is the starting point for all crochet projects. Once you've got to grips with this one, you'll be ready to try some more challenging stitches. 
A magic ring is an essential crochet technique to learn for making dolls and animals. This creates a ring in which you will crochet into and around, working in rounds of stitches to create a cylindrical shape. The benefit of a magic ring is that it leaves no gap at the bottom of an amigurumi, rather than using plain stitches that are joined, which can leave a hole.
When you work in rounds, you end with a gap between where you started your round and where you've finished. A slip stitch joins your stitches together. This is likely to be the final stitch you make to close off your round, ready to stitch to your other pattern pieces! 
Crochet increase 
When crocheting round pieces like the head of a doll or the belly of a snowman, crochet increases create the desired round shape. Crochet increases are made by working two stitches into one, which increases the stitch count. Your pattern will tell you exactly where to increase and how many stitches to add, but it's oh so simple! 
How you decrease will depend on whether you're working in double crochets, trebles or double trebles. The most common method is to crochet two stitches together (this is abbreviated to dc2tog, tr2tog or dtr2tog depending on which stitch you've been working in). Follow our simple steps to learn how to treble crochet decrease. 
Ready to get started? Browse the cutest and best amigurumi designs!