If you've fallen head over heels for the gorgeous Japanese art of amigurumi, you're in good company – we can't get enough of the cute crocheted characters! In this ultimate amigurumi guide, you'll find out all there is to know about amigurumi and learn how to crochet amigurumi yourself.
What is amigurumi?
Amigurumi are adorable crocheted creatures that boomed in popularity in the early 00s in the US and the UK. Meanwhile in Japan, crafters have been in on the secret for decades!
The word amigurumi is a combination of two Japanese words: "ami", meaning crocheted or knitted, and "nuigurumi" meaning stuffed doll. You can make these stuffed toys in any size you want but they're mostly small and crocheted in fingering weight or DK-weight cotton.
Is it easy to crochet amigurumi?
If you've got a good grasp of basic crochet techniques and you know how to read a crochet pattern, making amigurumi cuties will be super easy for you.
If you're a beginner crocheter, you might find it a bit more challenging. You might find it easier to start with the basics – learn how to slip stitch, chain, single crochet and increase and decrease and you'll be well on your way to creating cute critters! If you want to take your skills up a notch, learn how to make a magic loop. It's a little more tricky to learn, but many amigurumi tutorials use it to shape the little toys.
Get started by reading our how to crochet guide.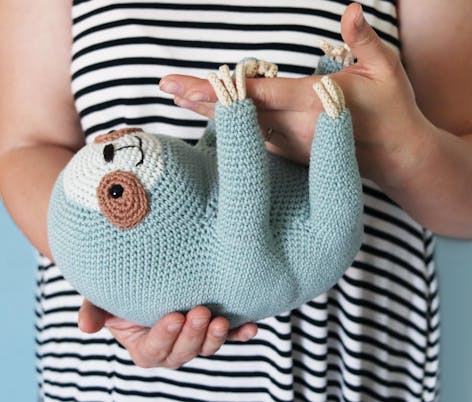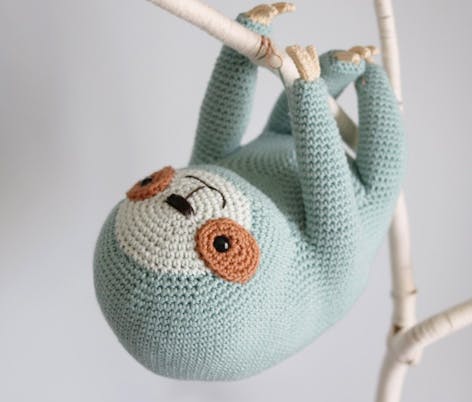 What do I need to crochet amigurumi?
Amigurumi characters aren't only super cute, they're also great for stash busting! When you first crochet your favorite amigurumi characters, it helps if you have tons of different colors in your stash. With a range of colored DK yarns as well as fingering weight cotton thread, you'll have all the shades you need for your favorite little ami friends!
A selection of hooks is an absolute essential, and most amigurumi patterns call for small sized hooks - from 2mm to 4mm - to create dense fabrics. Stitch markers are super helpful for color changes and keeping track of where you are, and grab some small scissors and tapestry needles for sewing up. It's a good idea to have some stuffing on hand to plump out your little makes. Last but not least, a good selection of different sized amigurumi eyes will bring those sweet creatures to life! After all, every amigurumi crochet project looks 100x cuter with some safety eyes!
What's the best yarn to use for amigurumi?
Given the the characters you're going to be creating tend to be small; it's best to use DK or fingering-weight yarns for amigurumi. Build up a stash of beautiful bright colors and you'll be able to make a whole host of animals, foods, plants and more!
Shop amigurumi yarns and tools
What is the difference between crochet and amigurumi?
Amigurumi is simply the name given to the little characters and crochet is the craft used to make them! Although it's more popular to crochet amigurumi, they can also be knitted. You can find out more about knitting amigurumi in our guide.
Ready to get started?
There are tons of amazing amigurumi patterns out there to choose from, from toys to homeware and everything in between. Here are a few of our favorites to inspire you.
Amazing amigurumi animals
Cute and cuddly amigurumi animals make the perfect make for children's birthdays and baby showers! They'll also look right at home in nurseries or tucked into corners of kids bedrooms.
Fabulous foodie amigurumi patterns
Food lovers will delight in receiving a little foodie gift that lasts a lifetime! These good-enough-to-eat mini makes make great kitchen decor, too.
Grow an amigurumi greenhouse
If you're looking for low-maintenance plants, the amigurumi kind could be your best bet! These cute little crocheted cacti and plants will make a welcome addition to any windowsill, or make a great gift.