Stashbust your way to your first afghan blanket, or choose colors to match your home - this is the easiest, fastest blanket to make with no stitch repeats to remember!
Crocheting an afghan is a sure-fire way to solidify your basic crochet skills, and what better project than something that you will keep you warm forever! Whatever yarn you use, this guide is a recipe rather than a pattern. You can use it to bust your stash, or choose yarn in specific colors to match a room.
Afghan or blanket?
Is an afghan a blanket? or a blanket an afghan? Both! Our friends, the Victorians, used the word afghan to describe a woollen or woven blanket from Afghanistan, and we still use it now. You can call your blanket or afghan whatever you like - it's a gorgeous project to make that will hone your skills and use up your stash!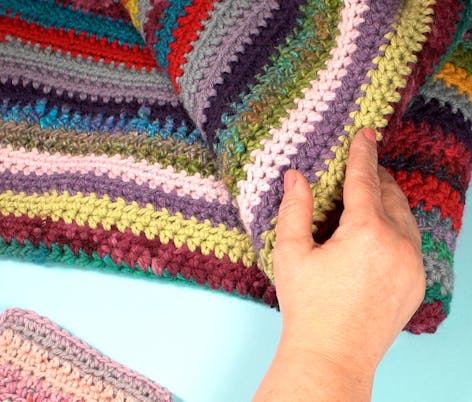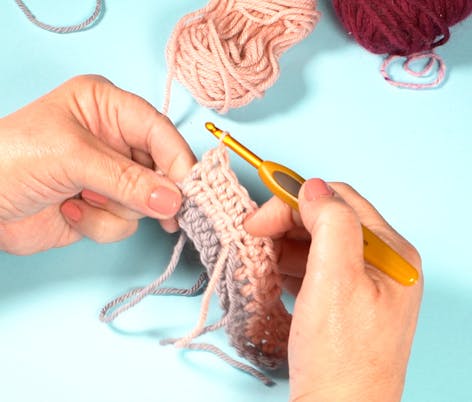 Choosing yarn
You can either use up your stash, or buy new yarn for this project. The only rule is that you need to stick to the same weight yarn - we've worked our afghan in aran/worsted weight yarn with a 5mm hook, but this project will work with any weight yarn and corresponding hook size. A bulky or super bulky yarn will work up super fast, or you may prefer the lighter weight of a DK yarn for a finer finish. Use the size hook that is suggested on the ball band of your chosen yarn.
If you're choosing yarn from your stash, make sure you choose the same weight yarn, but don't shy away from mixing textures and colors! Make the afghan of your dreams!
How much yarn will I need?
This entirely depends on the size of blanket you are intending to make, and which weight of yarn you are using. On average, we would say you need 2,500 yards (approx 2,286m) of aran weight yarn to make an afghan that is approximately (and we say approximately because everybody's tension is different, and every yarn is different) 50" x 65" (127 x 165cm).
If you are making a blanket from your stash, just keep to the same weight yarn and add to it whenever you accumulate any new yarn of that weight; this project can just run happily for months or years on end as a perfect stashbuster!
If you are making an afghan from new yarn, we suggest you choose a yarn that is easily accessible so that you can top up whenenver you need to - dye lots are not essential for a stripey blanket, especially if you are using a yarn that is commercially manufactured and not hand dyed.
Refresh your skills
This is a tutorial for beginners, but you might like to refresh your crochet stitches from one of our tutorials!
Learn the basics in our How to Crochet article, and you can look up stitches in our Guide to Crochet Stitches too! Our YouTube channel is full to the brim with videos and how-to tutorials too!
More Stripey Crochet Blankets